Irene Monasterolo invited to take part in the OECD experts' meeting - LAC Outlook 2022
EDHEC-Risk expert Irene Monasterolo, has been invited by the OECD Development Centre to take part in the next OECD experts' meeting of the Latin American Economic Outlook 2022 which will cover …
Reading time :
27 Apr 2022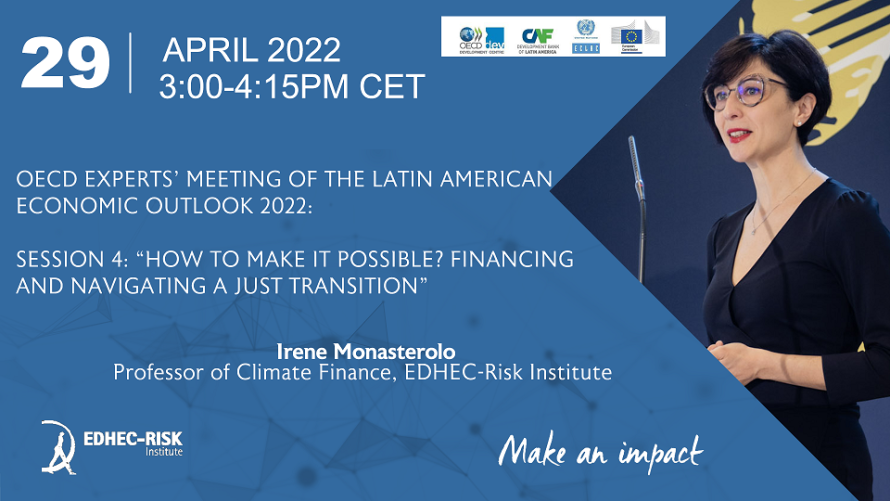 EDHEC-Risk expert Irene Monasterolo, has been invited by the OECD Development Centre to take part in the next OECD experts' meeting of the Latin American Economic Outlook 2022 which will cover "
Sustainable Development in LAC: Towards a green and just transition
".
The meeting will be held virtually on Thursday 28th and Friday 29th April 2022 and will cover 5 sessions:
Addressing the structural macro context and the green transition

Harnessing the potential of the green transition to build a more robust, inclusive and sustainable development model in LAC (Latin America and the Caribbean)

Structural change for a new development model that enables a just and green transition

How to make it possible? Financing and navigating a green and just transition

New partnerships for a green and just transition
The Latin American Economic Outlook (LEO) is an annual publication prepared by the Latin American and Caribbean team of the Development Centre of the OECD, the Development Bank of Latin America (CAF), the Economic Commission of the United Nations for Latin America Latin America and the Caribbean (ECLAC) and the European Commission (EC).
On April 29, at 3:00pm CET,
Irene Monasterolo
, Professor of Climate Finance, EDHEC Business School, will participate in the session entitled: "How to make it possible? Financing and navigating a just transition", together with:  
Chair
Janos Bertok, Deputy Director, OECD Directorate for Public Governance
Setting the scene
Timothy Bishop, Co-ordinator DAF/CFIP, OECD Centre on Climate Finance and Investment*
Julián Suárez, General Advisor, Vicepresidency of Strategic Programming, CAF Representative European Commission
Presentation
Juan Vázquez, Deputy Head of Latin America and the Caribbean Unit, OECD Development Centre
Cristina Cabutto, Policy Analyst, Latin America and the Caribbean Unit, OECD Development Centre
Santiago Lorenzo, Head of Unit, Climate Change Economics, ECLAC
Discussants and Round Table
José Antonio Ocampo, Professor of Professional Practice in International and Public Affairs, Columbia University
Rodrigo Olivares-Caminal, Chair in Banking and Finance Law, Queen Mary University of London
Andrea Costafreda, Program Director for Latin America and the Caribbean, OXFAM
Irene Monasterolo, Professor of Climate Finance, EDHEC Business School
Ulrich Volz, Professor of Economics, University of London
Slim Dali, Economist, Latin America Department, AFD
Jesse Worker, Senior Associate, Climate Governance and Rights; Project Lead, The Access Initiative*
Marcela Jaramillo, Co-president Directive Committee, LEDS LAC
*to be confimed
The session will explore how to finance and govern a just transition. Financing the green transition is associated with the need to mobilise a significant amount of resources, and new opportunities for accessing finance targeted at environmental issues will emerge. Fiscal policy will be essential, and coordinated actions in the revenue and expenditure side, as well as in the international management of debt, will be crucial. Similarly, it is essential to focus on designing green transition policies, holistic and transformative policy packages that take into account the costs they generate and that incorporate mechanisms to compensate those groups who, at least temporarily, are negatively affected. The success and acceptance of the transition will require building consensus and promoting citizen participation in policy-making.
The Organisation for Economic Co-operation and Development (OECD) is an international organisation that works to build better policies for better lives. Thei goal is to shape policies that foster prosperity, equality, opportunity and well-being for all. Theycdraw on 60 years of experience and insights to better prepare the world of tomorrow. Together with governments, policy makers and citizens, they work on establishing evidence-based international standards and finding solutions to a range of social, economic and environmental challenges. From improving economic performance and creating jobs to fostering strong education and fighting international tax evasion, they provide a unique forum and knowledge hub for data and analysis, exchange of experiences, best-practice sharing, and advice on public policies and international standard-setting.