Jean Arnault Campus inauguration: a focus on entrepreneurship and transmission!
On 9 July, Bernard Arnault, LVMH Chairman and CEO, Brigitte Macron, Institut des Vocations pour l'Emploi (LIVE) President, and Bruno de Pampelonne, EDHEC Chairman of the Board, inaugurated Jean…
Reading time :
1 Dec 2021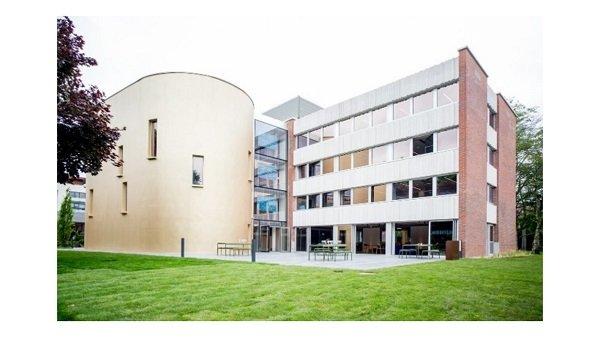 On 9 July, Bernard Arnault, LVMH Chairman and CEO, Brigitte Macron, Institut des Vocations pour l'Emploi (LIVE) President, and Bruno de Pampelonne, EDHEC Chairman of the Board, inaugurated Jean Arnault Campus in Roubaix, Northern France. The Campus is dedicated to Entrepreneurship and knowledge transmission and was developed in partnership with EDHEC and LIVE. The site is located in the historical buildings of Bernard Arnault's family business.
Bernard Arnault attended the ceremony with his whole family to officially pass on a part of the Arnault family's history and heritage. The new Campus is a special place for the Arnault family because it was here, that Bernard Arnault's grandfather and father built the foundations of what has now become one of Europe's leading industrial groups.
A campus in tribute to LVMH's Roubaix-based entrepreneurial roots
The Arnault family's entrepreneurial adventure began in the 1920s when Bernard Arnault's grandfather, Etienne Savinel, created Ferret-Savinel, a construction company. Ferret-Savinel quickly became one of the most reputable companies in the region and then expanded rapidly under the impetus of his son Jean Arnault, who steered the company towards new business activities. After graduating from Polytechnique in 1971, Bernard Arnault decided to start his career in the family business. A few years later, his father handed him the reins and he grew the northern-French company to start the LVMH adventure and turn it into a world leader. "This campus is a tribute to my father, who always supported me," emphasised Bernard Arnault in his inaugural speech. "At his side I acquired entrepreneurial expertise, and, thanks to him, I have built what is today the LVMH Group. When the previous tenants left the premises, I wanted to give the city back this building that has always meant so much to my family. And I chose to focus on an educational public interest initiative, because education, training and transmission are at the heart of LVMH's values." And it was only natural for Bernard Arnault to turn to EDHEC, because of their mutual close ties: around 200 EDHEC graduates work for LVMH, including Bernard Arnault's daughter, Delphine Arnault, Louis Vuitton Deputy Managing Director, and Michael Burke, Louis Vuitton Chief Executive Officer.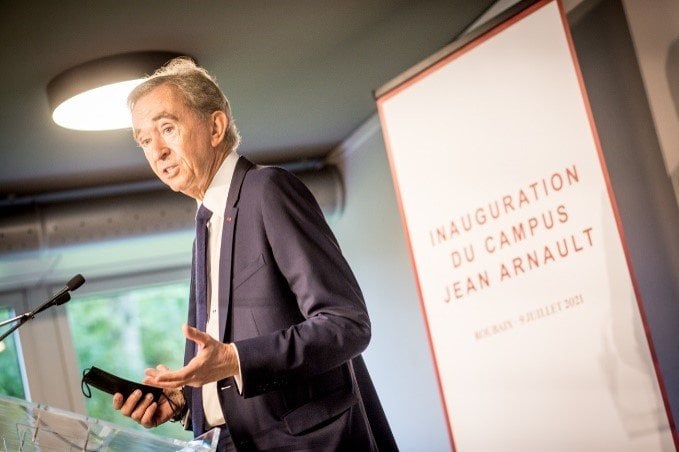 Bernard Arnault
Fostering entrepreneurship and creation in a unique venue
Jean Arnault Campus is both an incubator and a training institute. It is unique in that it brings together EDHEC students, incubator EDHEC Entrepreneurs project owners, and adults who have been out of work for a long time, with the help of LIVE, a vocational training institute chaired by Brigitte Macron, and supported by LVMH. EDHEC Entrepreneurs is located on the third floor of the building and was created 10 years ago to provide support for start-ups and young graduates in launching and developing new businesses. The LIVE association's Roubaix branch is located on the fourth floor. It offers free support for a period of three to six months to help more than 25 adults find a job. Candidates are either people who failed to find employment at the start of their working life, or who have experienced a life accident or a long break from work.. The programme includes professional training programmes, as well as courses in maths, English, digital skills, personal development, oral and written French and general culture. Brigitte Macron is particularly involved in LIVE activities and plays a decisive role both in organising the curriculum and in the courses that she continues to give, to the great joy of LIVE's trainees. "Our aim is to find a job that meets LIVE trainees' expectations and give them more confidence," says Brigitte Macron. "Many of them have had difficult lives, yet they don't give up. We have a 75% success rate at our Clichy-sous-Bois and Valence sites and I congratulate them for their determination!"
Strong regional ties and a quest to transmit knowledge and values
The Jean Arnault Campus inauguration took place in the presence of eminent personalities, including Gérald Darmanin, French Minister of the Interior, the Mayor of Roubaix, the Mayor of Croix, local officials, and EDHEC community representatives. This project reflects all three partners' strong attachment to northern France and their desire to pass on their values to future generations. In creating this campus, Bernard Arnault is affirming his family's roots in this region, his wish to promote entrepreneurship and transmit the knowledge and know-how which has been acquired throughout the family's entrepreneurial adventure. EDHEC has also "inherited its ongoing entrepreneurship spirit from northern France's long-standing families and it remains an essential element in the Institution's development today."  emphasised Emmanuel Métais, EDHEC Director.
EDHEC Entrepreneurs seeks to transmit a vision of entrepreneurship that is sustainable, inclusive and people-focused. "We are convinced that our students will be inspired by this historical, yet living, heritage, to build the future," emphasised Justine Soudier, EDHEC Entrepreneurs Director. Brigitte Macron, who lived in the region for more than seven years, is "proud to open a LIVE site in northern France," and says that it is "a region I'm very fond of."
Immense pride and responsibility for EDHEC
It was with feelings of pride, emotion, and joy that Bruno de Pampelonne, EDHEC President, took the floor after Bernard Arnault's inaugural speech. "You are entrusting us with a building steeped in history and it is with great pride, and a sense of responsibility, that the entire EDHEC community will live up to your trust and give new life to this inspirational place. We share the same values with the LVMH Group: the quest for excellence and an ambition to have a positive impact on the world and on society. I am convinced that our students will be eager to surprise you and to invent here the business models of tomorrow that our society expects. Thank you for your trust and generosity."
Bruno de Pampelonne also thanked all those involved in the bringing this vast project to light and emphasised his delight to be sharing the premises with the LIVE association. "We are delighted to start a partnership with LIVE to build new inclusion and diversity models where our students, teachers and supervisors will work together. LIVE is fully in line with EDHEC's humane and inclusive values; values that date back to its creation and that we have always preserved."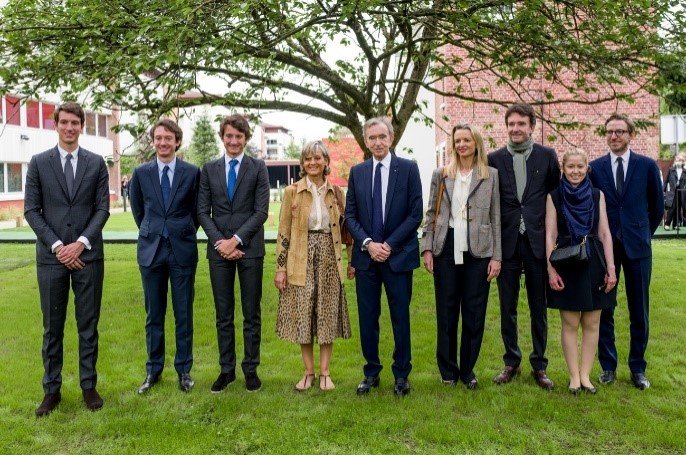 Arnault Family
Transforming an industrial site into a knowledge and transmission centre: Jean Arnault Campus
It took Lille architect Franck Longueval five years to transform the historic premises of Ferret-Savinel into a campus for EDHEC. The red-brick family house at the Campus entrance has been renovated and the main building, designed by Jean Arnault in 1971, has been restored and transformed to offer quality facilities and foster discussion and creativity. The ground floor, with its communal areas which open to the outside, has been designed to encourage interaction between the different profiles on the Campus: students, entrepreneurs, and LIVE trainees. It also houses an art showroom where young artists can exhibit their work. The different floors include classrooms, seminar rooms, alcoves and a library. The basement has been upgraded with a recording studio and a Fab Lab for start-up prototype experiments. Outside, future Campus residents will be able to enjoy a large terrace and a leafy park which includes new varieties of trees and trees that have been present since the beginning, such as a Liban cedar.
From September 2021, the new Campus will be home to around one hundred EDHEC students, thirty or so start-ups, and LIVE association trainees.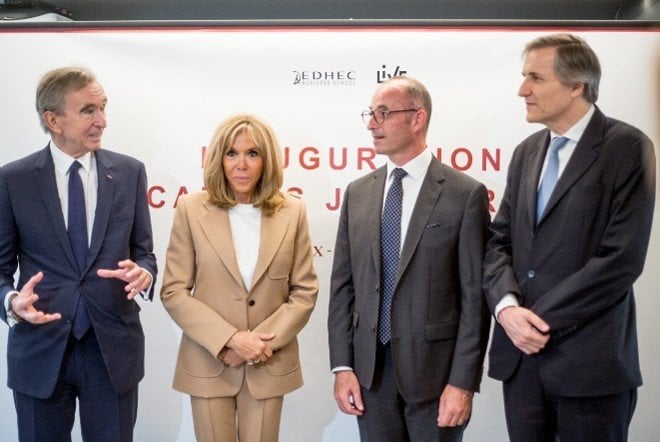 Bernard Arnault, Brigitte Macron, Emmanuel Métais, Bruno de Pampelonne
"It's great to be back in the north because this is where it all started with my grandfather's company. Both my father and I were born in Roubaix and this is our home. I'm very attached to EDHEC where I studied and graduated in 1998."
Delphine Arnault, VP Louis Vuitton
"I am delighted to hand over the keys to our partners. It is now up to them to bring the Campus to life with the creative spirit that has driven its precursors since the beginning."
Bernard Arnaud, LVMH Chairman and CEO
"Merging our brands and values is highly promising for our future students, EDHEC and LIVE trainees who will join us in the months and years to come."
Bruno de Pampelonne, EDHEC President