EDHEC holds its first sustainable campus challenge based on behavioural sciences
Committed to taking an exemplary approach, EDHEC is pursuing initiatives to foster more sustainable campuses. To this end, it organised its first Sustainable Campus Challenge. 
Reading time :
14 Oct 2022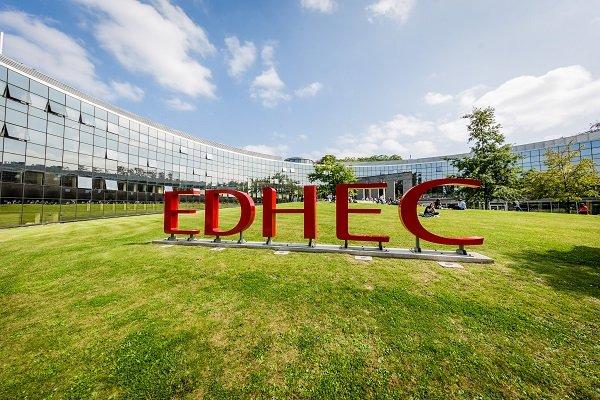 The start of the school year in September is an opportunity to bring together more than 700 second-year masters students on the Lille campus to raise their awareness of ecological issues and co-create virtuous environmental solutions.
The event was held on 7 September in partnership with Behaven, a company that draws on tools from behavioural sciences and design. Its goal: to harness the power of behavioural science to turn individuals into actors of sustainability and get them to adopt sustainable behaviours. To bring about change, it is necessary to understand the context and motivations of and constraints on individuals, as well as their influences, be they conscious or unconscious.
Using science to change behaviour
In the Sustainable Campus Challenge, students are invited to work as a group and come up with an action plan to encourage sustainable ecological behaviour on the EDHEC campus, based on methodology developed by Behaven. Using the tools at their disposal, the students can identify the most relevant pathways then translate them into solutions adapted to real life.
With the help of about 30 facilitators trained in the tools and the expertise of many staff members involved in the event, the students, divided into teams of six, made videos to present concrete actions. Each team worked on one of the following five themes, identified as being among the most likely to generate behaviours that would limit the pressure of human activity on the planet:
Digital usage on campus

Sustainable food

Mobility to/from campus

Waste management on campus
Reduction of energy consumption (heating and electricity) 
The Sustainable Campus Challenge aims to raise awareness among students and staff of the importance of individual behaviour on campus and to involve them in defining and implementing sustainable solutions throughout the school year.
At the end of the event, a jury met to choose the five best groups on each of the themes. The winning teams will take part in a training trip to the sustainable campuses of the University of Amsterdam from 26 to 29 October.
---
Round table held in the lead-up to the event
The school hosted a round table with alumni to discuss the ecological transition. The panel comprised:
Gaëlle de Broissia (EDHEC 1997), founder of NaturaBee, a start-up specialising in the installation of beehives in companies and local communities
Marie Soudré-Richard (EDHEC 1997), co-founder of Revival, the first thermoplastic recycling platform
Juliette Mérour, Senior Sustainable IT Consultant at Capgemini Invent

Aurélien Modurier (EDHEC 2017), Deputy Mayor of Annecy, Head of Smart City and Digital Transformation

 
---