Les étudiants Global Business sont arrivés à Singapour
Les étudiants du parcours Global Business sont arrivés à Singapour ! Ces étudiants BBA, qui ont étudié un an à UCLA à Los Angeles et qui reviennent d'un stage en entreprise de six mois à l'étranger,…
Reading time :
14 Jan 2020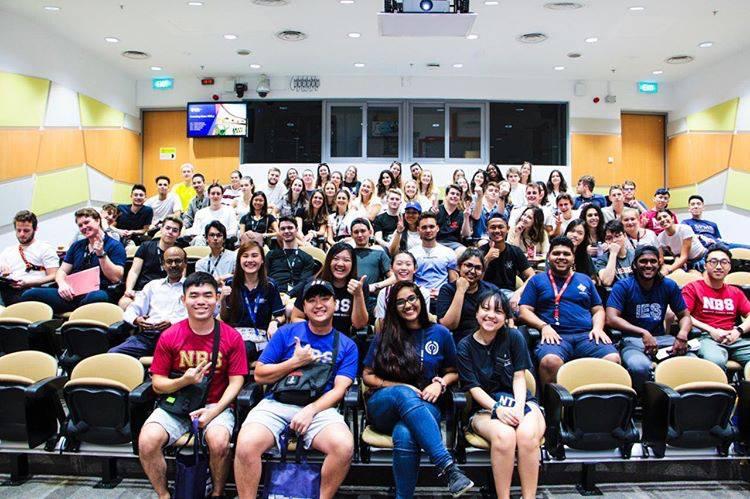 Les étudiants du parcours Global Business sont arrivés à Singapour ! Ces étudiants BBA, qui ont étudié un an à UCLA à Los Angeles et qui reviennent d'un stage en entreprise de six mois à l'étranger, ont fait leur rentrée à Nanyang Technological University à Singapour. Ce partenariat exclusif entre EDHEC et NTU est conçu sur-mesure pour nos étudiants en programme post-bac. A la fin de cette année académique, ils obtiendront un certificat en Management International de la prestigieuse institution asiatique (classée #2 en Asie par le classement QS TopUniversities). 
Vendredi 10 janvier, nos étudiants ont été accueillis par nos équipes dans les bureaux de l'EDHEC à Singapour. Ils y ont reçu des informations pratiques sur la vie locale par la country manager EDHEC Joyce Cuff et le directeur de parcours Global Business Angelo Bisignano. Le lendemain, nos étudiants ont rencontré les équipes pédagogiques de NTU. Ils ont également découvert le campus de l'université Nanyang grâce à un jeu de piste.
Lire des témoignages étudiants 
A Nanyang Technological University, les étudiants vont étudier les spécificités du marché asiatique. Ils suivront des cours entièrement enseignés en anglais tels que :
Investment analysis and portfolio management
Cultural intelligence: How to be an explorer of the world
International Finance
Digital Marketing
Ces cours sont enseignés par des professeurs hautement qualifiés. "Nos professeurs un curriculum d'exception et c'est un honneur d'apprendre auprès d'eux " nous confie Joanna Adriano dans son témoignage. "Ma professeure de Finance Internationale est Dr Siriwan Chutikamoltham. Elle a un doctorat de Harvard Business School, un MS in Applied Economics de l'université du Minnesota et un B.Sc in Economics de Chulalongkorn University à Bangkok, Thailande. Elle est également PDG de Golden Land Properties, une agence immobilière".
A propos de l'EDHEC International BBA
Entièrement enseigné en anglais à Nice, le parcours Global Business s'adresse aux étudiants qui recherchent une formation à forte dimension internationale les rendant polyvalents et compétitifs sur la scène mondiale.
Dispensé successivement sur 3 continents, ce parcours s'adresse aux étudiants ayant le souhait de suivre leur scolarité intégralement en anglais dans un environnement multiculturel. Ils alterneront périodes de cours et stages longs, afin de comprendre les enjeux de la mondialisation et de se préparer à une carrière internationale dans un monde globalisé. Le premier cycle (années 1 et 2) est commun pour tous les étudiants du Global Business, puis les étudiants partiront à UCLA Extension à Los Angeles et enfin, Nanyang Technological University (NTU) à Singapour. Les étudiants recevront outre leur diplôme EDHEC International BBA un certificat de la part des écoles partenaires, après y avoir vécu une véritable expérience interculturelle sur des campus World class (accès à l'ensemble des services).
En savoir plus : bba.edhec.edu/fr/parcours/global-business