"Les Rencontres de L'Agora", 1 year of inspiring conversations to understand the world better
In September 2020, L'Agora, EDHEC's student Conferences and Debates Association, launched "Les Rencontres de L'Agora". The new, short online interview format was created as temporary solution during…
Reading time :
9 Jun 2021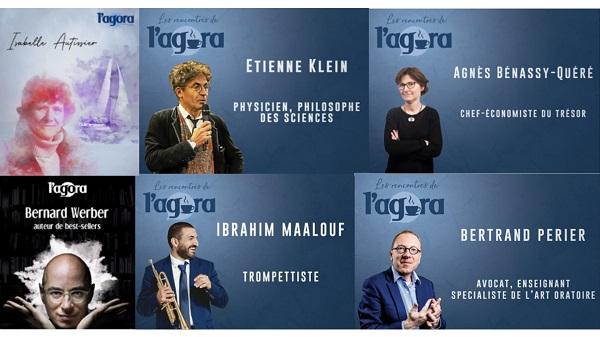 In September 2020, L'Agora, EDHEC's student Conferences and Debates Association, launched "Les Rencontres de L'Agora". The new, short online interview format was created as temporary solution during the health crisis and has now become a regular event.
Each year, L'Agora organises two monthly conferences with well-known figures from the economic, political, sporting and cultural sectors. The aim is to promote democracy, the freedom to debate and develop critical thinking for all who attend. The conferences allow a range of issues and current events to be discussed and reviewed and are free and open to all Lille residents.
A new format for a different context
Faced with the pandemic's constraints, L'Agora has come up with a different format to continue to meet high-ranking figures: 15-minute interviews broadcast on social networks (Facebook and YouTube) and fully retransmitted in a 45-minute podcast format. This concept is more practical and flexible in terms of organisation and content production: "Our guests' availability is more aligned with this format, which only requires two hours compared to half a day for the conferences," explains Corentin Godard, a Master 1 Business Management student and the Association's Press and Communications Manager. "As a result, from September 2020 to May 2021, we organised nine "Rencontres de L'Agora", including six in March, which works out as one per week! "
Inspiring meetings
In March 2021, "Les Rencontres de L'Agora" welcomed well-known figures from a wide range of backgrounds: the writer Bernard Werber; Isabelle Autissier, navigator and honorary WWF France president; Etienne Klein, physicist and doctor of philosophy of science and director of research at the Commissariat à l'Énergie Atomique (CEA) and alternative energies; Bertrand Périer, French lawyer and teacher specialising in oratory art; Agnès Bénassy-Quéré, chief economist at the French Treasury; Ibrahim Maalouf, internationally renowned Franco-Lebanese trumpeter and composer and Margarítis Schinás, vice-president of the European Commission in charge of Migration and the Promotion of the European Way of Life. During each interview, the guests' diverse expertise led to a focus on topical subjects: the recovery plan with the economist Agnès Bénassy-Quéré; the migration crisis with Margarítis Schinás; and the possibility of escaping through novels in difficult situations with the writer Bernard Werber.
Victims of their own success
Today, "Les Rencontres de L'Agora" record 10,000 views just one month after each broadcast and reach 30,000 people! Given this success, L'Agora's next generation will continue this format. As his time at L'Agora comes to an end, Corentin Godard is pleased with just how involved the Associations' members are, especially the new recruits, who have shown that they are highly adaptable, despite joining during a complicated context.