Ensuring MBA Career Change Success with CareerSMART
"By working closely with the world of business, forming partnerships with prestigious academic institutions, and encouraging multiculturalism amongst its students, teachers and graduates, EDHEC provides a unique experience in tune with the globalised challenges involved with doing business worldwide."
Reading time :
24 Jan 2022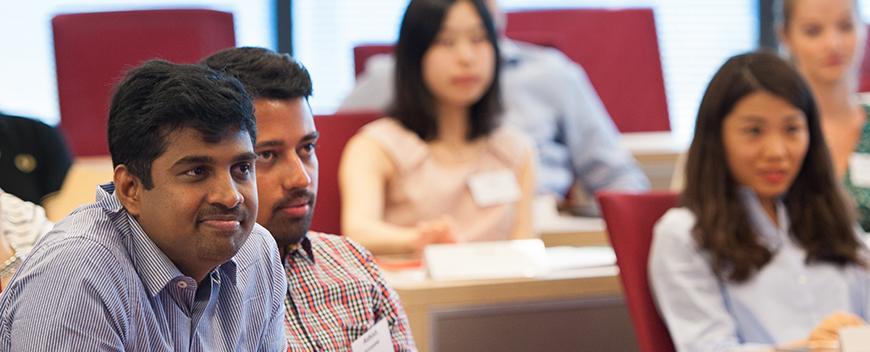 In line with EDHEC Business School's 'Make an impact' Mindset statement, the Global MBA seeks to provide a pragmatic, high-level, internationally oriented MBA designed to catapult professionals into the next phase of their professional advancement. Career development is a primary motivator in professionals getting their MBA, and EDHEC's Global MBA provides the education and support to do just that. 
An MBA career change may be challenging, but with EDHEC's guidance and support, our alumni come out of the intensive Global MBA ready and qualified to obtain their dream jobs.
The EDHEC Global MBA was ranked 1st worldwide for best return on investment by QS in 2020. Students are consistently satisfied with the professional and academic outcome gained from the time and money they have invested. EDHEC Global MBA graduates enjoy an average payback period of 1.9 years, versus an overall average of 3.6 years for other MBA programmes.
One of the elements which contributes to the success of our alumni is our CareerSMART programme, which includes two 1-week intensive sessions provided to all students enrolled in the Global MBA. 
What are CareerSMART Days?
The CareerSMART programme is an innovative and highly personalised intensive workshop series designed to help candidates develop their career and job search strategy, excel in interviews, and prepare them to enter into the workforce in their field of choice. 
EDHEC offers the CareerSMART programme throughout the MBA and in the form of two intensive weeks so our Global MBA students have the chance to focus solely on their future career goals, and nothing else. This way, there are no distractions of having to attend classes or complete coursework. 
With an average of 8 years of work experience, EDHEC Global MBA participants are already adjusted to life in the workforce; they have established career paths, and they have reached a moment in their lives and careers in which they are looking to accelerate to new levels. Many participants are also going for an MBA career change, taking advantage of the intensive 10-month course to change their career completely. 
Fully integrated into EDHEC's core curriculum, the CareerSMART programme is divided into two separate sections: a one-week intensive at the beginning of the MBA, and a second session as students prepare to graduate and launch themselves into the world at large.  
EDHEC's Global MBA Career and Corporate Services Manager Cécile Benchetrit says that both parts of the programme are critical to the development of the student's progress within the MBA as a whole. "The students have two career weeks. The first is when they arrive in September, which is more of an overview to the theoretical practices within the MBA and the course as a whole," Benchetrit explains. "The second career week happens four months before leaving the programme, and it is much more concrete in terms of curriculum and career preparation, as students understand they now have to start looking for a job."
Defining Success for EDHEC Global MBA Students
CareerSMART's title directly reflects the multidimensional support it provides, with each letter representing an element of the process:
Self-assessment: Through individual career coaching sessions and group-based assessments, participants hone in on what their strengths, weaknesses, and goals are within their professional careers.
Marketing Strategy: EDHEC Global MBA Career Services work closely with participants to help them decide on a post-graduation projectory, and what strategy they must implement in order to achieve it.
Analysis of Sector: Participants gather up-to-date intel about the current job market they are most interested in and learn how to conduct an efficient job search, leveraging different online tools.
Relationship Building: Career Services assist participants in actively networking with other companies and MBA alumni, then follow up with them to make sure any opportunity leads to a meaningful professional situation.
Targeted Approach: Students participate in job fairs, meet with partner firms, and when they do apply for a job, Career Services guide them through updating their CVs, filling out application forms, and preparing for interviews.
One of the key strengths of CareerSMART is the importance given to individual coaching, from the very start of the programme until after it is finished. Students are given one-to-one meetings with specialized coaches in areas such as finance, consulting, entrepreneurship, sales and marketing, technology, supply chain, and services. They are also given coaching on the general trajectory of their career paths.
At the end of the week, students participate in student-run round tables, meeting with EDHEC Global MBA alumni from all over the world to share their career success stories, and to give advice on how current students can get the most from their MBA programme. 
The second portion of the programme is much more individualized, focusing on the practical elements of CV writing, creating contacts, and searching and applying for jobs/internships. 
Launching Your MBA Career Change with Personalised Guidance
Benchetrit speaks about the personalisation of this process, noting that she meets with each individual student and delves into their strengths, weaknesses, and goals before directing them to hand-picked contacts. "For me it's easier to push the right candidates to a company when I know them better through one-on-one meetings," she says. "It's easier to target them and to send quickly the right profiles to the companies, because the environment is very competitive."
Companies from around the world have great success recruiting top EDHEC Global MBA graduates. Some of the industry giants which have hired candidates from the CareerSMART programme include Amazon, American Express, BNP Paribas, Deloitte, Facebook, Google, Microsoft, and Sodexo. Amazon, Amadeus, and Royal Canin also have active partnerships with EDHEC, providing personalised lectures, presentations, and workshops specially for CareerSMART participants.
The success of CareerSMART as a tool for personal and professional transformation is clear from the impact it has had on participants: 59% of 2016 MBAs made the "triple jump" after they graduated, changing function, sector, and location, while 86% made at least one of those changes in their career after the MBA.
If all of these bright EDHEC alumni have had success in their MBA career change, it's certainly obtainable for you.
Click here to find out more about the CareerSMART programme, and how participating in the EDHEC Global MBA could change the course of your career.
Are you ready to transform your career?
Download the brochure to find out how the EDHEC Global MBA will give you the tools, knowledge and confidence you need to accelerate your international career