MBA Hackathon: Global MBA students solve real-life challenges for top international organisations in consulting case competition #Smartertogether
Reading time :
22 Jan 2021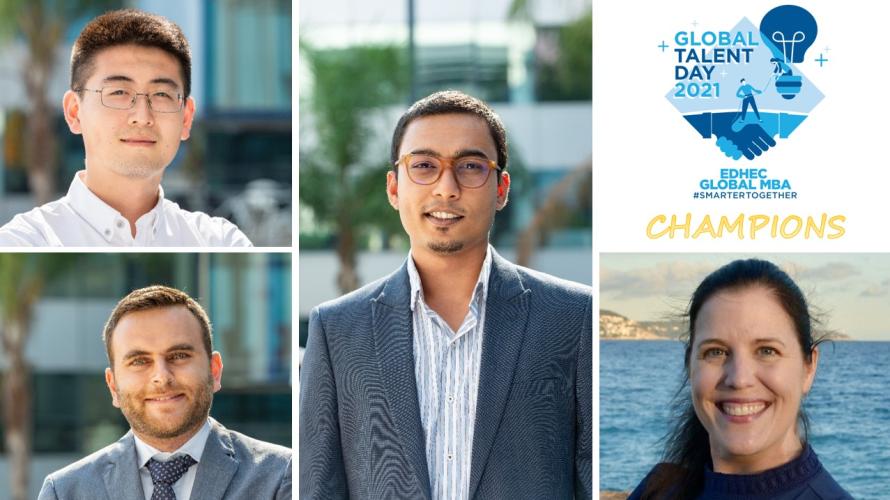 As part of this year's Global Talent Day, which is organised by EDHEC MBA Careers & Corporate Services team, our current Global MBA students had an incredible opportunity to put into practise their problem-solving & critical-thinking skills in our first ever Consulting Case Hackathon.
Kicking off with client briefs from Accor, Amadeus, IBM, Royal Canin, Techinque Solaire & Uber, MBA students were split into 12 teams and given just 2 hours to tackle a real-life challenge and develop a strategic solution.  During the first stage of the competition, each client had 2 teams of student consultants working against the clock (and each other) on their brief for a place in the final. After an intense, frantic and exciting morning, the teams presented back to their respective clients and a judge from each organisation decided which team would move to the final stage.
The cases presented to the teams covered a range of strategic challenges including developing client loyalty, building a consumer communications strategy, developing a global solidarity initiative, creating a new business model, proposing a market-entry strategy and defining a new business development strategy; all elements which are covered and practised (along with communication, teamwork and agile thinking) in the MBA curriculum but with a time-pressure and a good measure of healthy competition!
Having eliminated 6 consulting teams, the remaining 6 groups then faced the ultimate challenge – (virtually) pitching to a panel of professional judges and their fellow classmates, with the winning team being decided by an MBA student vote.
Led by head judge Michael MIRAMOND, Vice President & Managing Director, Carrefour Global Integrated Account at IBM and with Alain DUFOSSE, Business angel, former managing director at Pernod Ricard, Martin BARBIER, Executive Director EDHEC Alumni Association and Sandra RICHEZ, EDHEC Global MBA Programme Director, the judging panel assessed the finalists pitches before letting the Global MBA students decide on a final winner.
"Although it was a really high-pressure environment and we had very little time, it was a really exhilarating experience. Given the fact that we work all the time in different teams with people from very different backgrounds and perspectives during the MBA it made it easier to quickly organise ourselves and work out how to tackle the case question."  Swapnajit Sengupta, EDHEC 2021 Global MBA student.
Despite only having a few hours to develop a proposal and pitch, the judging panel and the clients were unanimous in their appreciation and admiration for the structured methodologies, problem-solving techniques and creative thinking demonstrated by all the consulting teams. With solutions ranging from international partnerships, a new virtual business model and a community-based web platform.
"We had a great demonstration of very structured approaches, high quality creativity, richness. I also noted a lot of alignment between the teams. I think we had a very good sense of unity. I was impressed by what has been done in 2 hours, I am very proud to be an EDHEC alumnus and to see how these teams are going to represent us in the future." -  Michael MIRAMOND, Vice President & Managing Director, Carrefour Global Integrated Account at IBM and Hackathon Judge
MBA student and hackathon participant Swapnajit Sengupta reflected on the fact that the diversity of the MBA class and the emphasis on team work and collaboration helped the groups to quickly grasp the issue at hand and identify the best way to work.  
After a very tense wait and an extremely close result, Stephanie Ayars, Swapnajit Sengupta, Henry Naaman and Ye Qiao (pictured), claimed first place for their pitch for Royal Canin which included innovative community-based web platform. According to Stephanie, the hackathon was a unique opportunity to apply the international perspectives, critical-thinking techniques, and problem-solving skills that are central to the Global MBA experience.
Obviously our team were delighted to win, but the result was very close – which doesn't surprise me given the quality, focus and determination of my classmates! What a great experience!" Henry Naaman
Spencer Hamilton, Head of Careers and Corporate Services and his team created the hackathon and the Global Talent Day event to enable Global MBA students to get to grips with a problem, analyse it and propose an executive-level solution within tight a deadline. Those are essential skills in researching, networking and interviewing for jobs too- and all the finalists impressed our VIP panel.
Are you ready to transform your career?
Download the brochure to find out how the EDHEC Global MBA will give you the tools, knowledge and confidence you need to accelerate your international career