Meet an Alumnus: EDHEC's Master of Finance, a steppingstone to investment banking
Zhihuo Luo joined the MSc in Corporate Finance & Banking. He will be working at Natixis Honk Kong. He shares insights about his EDHEC degree. Why did you choose France? I have been learning French on…
Reading time :
20 Jul 2022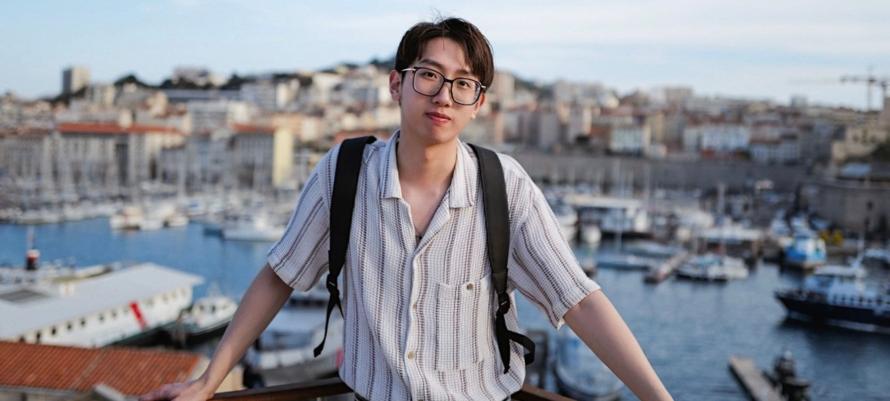 Zhihuo Luo joined the MSc in Corporate Finance & Banking. He will be working at Natixis Honk Kong. He shares insights about his EDHEC degree.
Why did you choose France?
I have been learning French on and off since my freshman year, so living in France had become something I thought about every day! In my junior year, I applied for an exchange program in Paris, and from then on, I fell in love with France and always wanted to return to France someday. After my undergraduate degree, I entered one of the Big Four Accounting Firms, but because I always wanted to enter the financial industry, and at the same time, I also learned that French Master of Finance programs rank very high in Europe, so I put studying in France on my agenda.
Why did you choose EDHEC's MSc in Corporate Finance & Banking?
I think one of the main reasons is that I wanted to work in investment banking since my undergraduate degree. When I applied for graduate schools, I found that the major of EDHEC was quite compatible with my career plan, so I applied.
What were the main highlights of this academic experience?
There are many main highlights. Firstly, EDHEC has many excellent professors who can provide us with professional knowledge related to investment banking. Secondly, EDHEC's Career Centre will also help us when looking for a job. In the end, I really met many good friends from all over the world during my postgraduate year at EDHEC.
What is your favorite course?
In retrospect, I'm surprised that my favorite course wasn't Investment Banking or Mergers and Acquisitions, but Private Equity. Although this is one of my favorite classes, it is also the one that "tortured" me the most! Before taking this course, I didn't really know much about private equity. My unfamiliarity, coupled with the quality content of the class, made me highly concentrated every minute of the class. Through the lectures given by the professors, as well as the subject assignments that I did by myself, I finally gained a better understanding of private equity after the course.
How is the EDHEC campus in Nice, France? Do you like the city of Nice?
I often joke that Nice is a bad place to study. Just imagine that you are sitting in a classroom, and you can see the endless blue Mediterranean Sea through the window, and your thoughts may be taken to nowhere by the plane that happened to take off in front of you. But I have to say that the content taught by the professor in the class is more attractive. Nice is a small city, but such a small city is full of surprises, such as the Mediterranean sunset that is staged on time every evening. Nice is a place that you don't want to leave anymore.
Can you talk about your current job? Is it linked to your MSc?
I have got the offer of IBD from Natixis in Hong Kong. In the future, I will be mainly responsible for assisting client companies to issue bonds and M&A. Natixis is the investment bank of BPCE, the second largest banking group in France. During the interview, the interviewer actually appreciated my French background and recognized my professional knowledge, so EDHEC's MSc program was very helpful to my job search.
Can you give some job-hunting advice to our current students?
There are three main recommendations.
First, submit your resume. When I was looking for a job, I submitted nearly 200 resumes, covering France, the United Kingdom, Hong Kong SAR, and other places. After all, the financial industry is very competitive and it is relatively difficult to find a job. When everyone is trying to get into the top nine investment banks, they need to consider whether there is a plan B if the autumn recruitment is unsuccessful - maybe they can advance to small companies and gradually accumulate experience.
Second, always be ready. If you are looking for a job on your own, you really need to work very hard. A successful interview is often inseparable from a long period of preparation and work. Whether it is technical or behavioral questions, everyone needs to practice in advance, so that they can be comfortable in the real interview. You can take a moment to look at the "400 questions on investment banking" in advance.
Third, network. I was a person who was very afraid of networking at first, but I found out that networking is actually a good way to get an offer. I myself got an interview with Citi Private Bank by networking with EDHEC alumni. There are often people around you who can find jobs earlier than you through networking, so everyone must have the courage to step out of their comfort zone.