Meet Valentin Grinner, Pre-Master student
Valentin Grinner "I've started a MOOC to learn web development" Valentin, 20, is currently a Pre-Master student at EDHEC. He plans to join the Financial Economics track in Nice next year. How have…
Reading time :
28 May 2020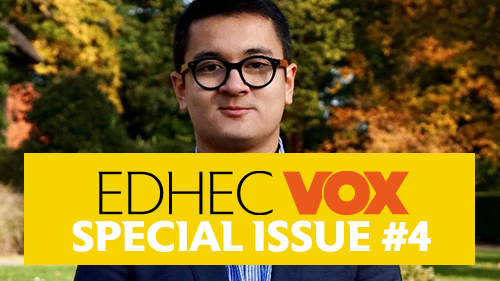 Valentin Grinner
"
I've started a MOOC to learn web development
"
Valentin, 20, is currently a Pre-Master student at EDHEC. He plans to join the Financial Economics track in Nice next year.
How have you organised yourself?
Once confinement measures were announced, I returned to my parents' home in Strasbourg. Every day, I try to prepare a schedule and list all the things I have to do. The aim is to keep a certain working routine. I spend the morning on writing up my classes, on the exercises sent by our professors and on the live sessions that are scheduled. It's the time of day when I feel the most efficient. In the afternoon, we generally have fewer classes and I concentrate more on group work: we communicate by telephone, Messenger, Discord, Zoom etc. These team projects have the advantage of maintaining links and keeping us in contact. At the end of the day, it's relaxation time: sport, online games or FaceTime with my friends…
Since the start of confinement, I've had a bit more time and this gave me the urge to start a web development course. I found a MOOC of around 15 hours on Udemy. I do 30-40 minute sessions in the evening to learn the basics of web development.
What changes did the switch to online classes entail?
Getting to grips with the tools was easy. Right from the beginning of the year, we were given work or exercises to do online and had to read certain presentations online before working on them in class. The really new thing is having to follow video-conference classes live! All the class gets together on Blackboard Collaborate. The classes are fairly interactive, thanks to the chat system and other functionalities. The difficulty is in remaining attentive in front of the screen. The classes go by faster when the students are involved. I'm thinking particularly about one of my electives "Advanced Excel", during which we have to do exercises using formulas in a live situation. I prefer being active during classes.
What are your tips for working more efficiently at home?
I recently looked around for techniques to improve my concentration. I came across several interesting approaches, particularly the famous "Pomodoro" method (the name comes from the tomato-shaped timer used with the technique), developed by Francesco Cirillo. It's really simple! The idea is to sequence work in highly productive 25-minute sessions, separated by 5-minute breaks to rest your mind, get some air, listen to music … but avoiding the telephone! The method is supposed to gradually increase your ability to work and expand your attention span up to 45 minutes without any breaks. I use the Plantie app which times the cycles and offers a system of "rewards" to increase motivation. I try to find external stimuli to make concentration more fun!
What are your plans at the end of confinement?
I've found an internship with Crédit Agricole in the Grand Est region. The aim is to discover the banking business, understand the range of financial products and services, and assist sales staff, as later on I'd like to steer myself towards the banking industry. I secured the internship back in January, so I hope it can go ahead as planned this summer.  
What is your view on the current crisis?
I don't believe society can emerge intact from this crisis. It's going to have to rebuild itself and rebuild differently. The epidemic has opened eyes as to the need to bring back the production of certain things to France, particularly certain medicines or masks in the healthcare field. From a professional standpoint, I feel the crisis could act as a trigger for more widespread teleworking. Working at home has now become inescapable, even though certain sectors hadn't really adopted the practice beforehand. And in personal terms, I'd say that the crisis allows you to take a step back. Not being allowed to see your grandparents, those you love, is not a minor thing. It's something that touches me and I think touches everyone.