#MyMBAStory: Hashika Lalla – Leveraging an MBA to explore new career opportunies aligned with my values
A strong focus on sustainability and diversity is what attracted Hashika to the EDHEC Global MBA, with the aim to promote and foster sustainability in the Banking and Finance sector 
Reading time :
20 Mar 2023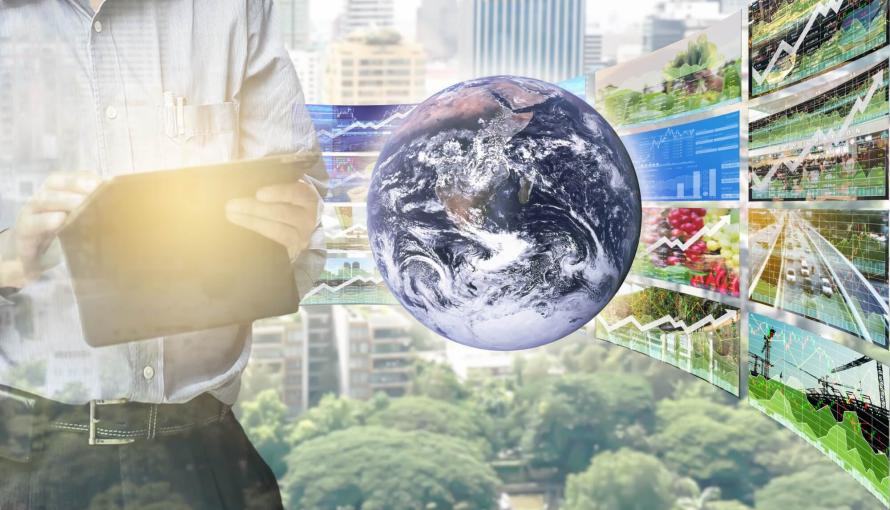 Hashika Lalla is a CFA charterholder and a qualified Chartered Accountant from Johannesburg, South Africa. After spending 12 years in the financial services sector, she wanted to explore other avenues. She decided to pursue an MBA as it offered a great opportunity to learn new things and broaden her horizons.  
Diverse cohorts and equity  
When it came to choosing the school for her MBA, EDHEC stood out for two reasons; it's mission to drive gender parity from the classrooms to the boardrooms and the diversity of the cohorts.  
"As a South African, diversity is something I am very familiar with because South Africa is well known as a 'rainbow nation,' however, I appreciate the fact that in my cohort I could meet 27 nationalities in one classroom. I have been able to learn a lot from my peers about other cultures, different norms and value systems which have helped broaden my mindset."  
Hashika is passionate about sustainability and wanted to discover how sustainability is incorporated in the financial industry specifically in the European market. The aim is to leverage her experience in the finance industry while fostering sustainability to make an impact. It is another reason she was drawn to the EDHEC Global MBA as it is ranked #3 worldwide for ESG. 
"I am not interested in just working for a salary, I want to engage in work that aligns with my values and allows me to make a positive impact." she reinforced.       
Career services and leadership development  
The Global MBA's career development programme combines a range of innovative tools, assessments and courses with personalised workshops and coaching, to prepare MBAs for the next steps in their post-MBA journey and future leadership career. For MBAs seeking to broaden their industry knowledge and build connections with leading brands, the EDHEC Hackathon and job-shadowing exercises are two prime examples of such opportunities.
Hashika was able to demonstrate her extensive knowledge and experience in the financial sector during a job-shadow exercise as part of the Global MBA CareerSmart programme. The job-shadow exercise entailed spending three days with a mentor and getting exposed to their day-to-day operations. 
She had the opportunity to gain first-hand insights from Anne-Sophie Castelnau, the Global Head of Sustainability at ING Bank in the Netherlands. Reflecting on the experience, Hashika remarked, "It was a great opportunity to learn how ING approach sustainability. Their 'Terra' approach is a unique and innovative way to measure the carbon intensity of its lending portfolio, which I have never encountered before in my career."
An MBA focused on sustainability to align her future career with her values 
In the same spirit of broadening her mindset and exploring, Hashika decided to team up with her MBA classmates for the annual Renewable Energy Case Competition. The competition is hosted by Ross School of Business at the University of Michigan. The team entered the competition with a very limited time and a full MBA schedule, however still managed to claim a 3rd place win in the competition and the highest-ranking non-US placing.  
"Participating in the competition was a great learning experience for me. Working alongside my teammates, each with their unique skills, allowed me to acquire valuable insights on various technical aspects, such as LDES (Long Duration Energy Storage) technology and power grid considerations, that I had not previously encountered in my career."  
Hashika is keen to get out of her comfort zone and has chosen the entrepreneurship track for her specialisation. The entrepreneurship track will enable her to explore other interests outside the financial sector as she continues her self-discovery path.
On her experience of the programme Hashika admits it's an intense programme but she has enjoyed making time to participate in other extracurricular activities, including signing up as one of the Class Representatives for her cohort, liaising between MBAs and the faculty. It's an opportunity for her to contribute and make an impact, no gesture is too big or too small.          
An MBA as a tool for self-discovery  
"I would recommend an MBA for anyone who is searching for their passion or looking for their next career move. The programme's broad business subjects offer exposure to all organizational functions, providing an excellent opportunity to explore and determine your interests." concluded Hashika.    
Find your way with an MBA
Whether your dream is entrepreneurship, changing careers, moving to a new country or aligning your work with your values, the EDHEC Global MBA enables you to gain the necessary skills and business practices to transform your career and lead with confidence.