#MyMBAStory: Sanjay Rana First to Receive New Sustainability Scholarship at EDHEC
Meet Sanjay Rana and hear about his journey to the Global MBA and his experience so far. What would #yourmbastory be?
Reading time :
12 Dec 2021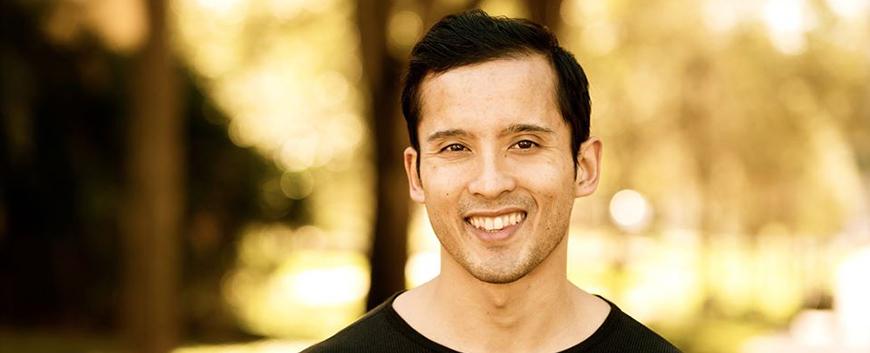 EDHEC's Global MBA students come from all walks of life, but one, in particular, stands out in 2019's class. Why? He's the first of his kind. Not because he's from a unique country (Nepal) or speaks three languages (English, Nepalese, and Hindi) or even because he's eaten lunch with the Queen of England (it's true). Sanjay Rana is unique because he's the first student to receive the new Global MBA Make an Impact scholarship at EDHEC.
In 2019, EDHEC launched the Make an Impact scholarship to further its commitment to sustainability and ethics. This particular scholarship is based on the potential to drive these themes in business. Recipients receive 30% off their programme fees but need to prove their passion for supporting these principles in their work. Once you hear Sanjay's story, you'll understand exactly why he won this award and how he's making an impact.
His Journey to the MBA
Sanjay was born in Katmandu, Nepal, with parents who were tremendous supporters of education. From a young age, he prioritised his studies and dreamed of creating a better life for both him and his family. After high school, the army became a gateway to education. Joining the force would pay for his schooling so, at age 18, he joined the army in the midst of a civil war. 
After 5 ½ years of military service, Sanjay secured a full scholarship to the renowned liberal arts school, Rollins College, in the United States. His time there opened his eyes to social impact studies and sustainability which quickly piqued his interest leading to multiple internships in the field.
The first took Sanjay to Costa Rica where he got a taste of social entrepreneurship helping launch a spa business that employs underprivileged women. His second internship was in Peru where he helped women set up their own businesses selling goods in Lima. His travels continued when he later studied abroad in both Japan and Italy. His experience in Rome planted the seed to make him want to one day live in Europe.
After his time at Rollins College, he secured a job at a real estate firm in Washington D.C. His type-A personality set in and shortly into his job, he was yearning for more. He then decided to obtain a Masters from the prestigious Georgetown University whilst working.
"Learning has always been a big factor for me," Sanjay said. "I get really bored when I'm not challenged."
It's evident that complacency simply isn't on the cards for Sanjay. He was ready to make his next move but realized he "couldn't help people the way he wanted to." Despite his other degrees, he lacked formal education in business. His past experiences in social entrepreneurship opened his eyes to business failures and he wanted to learn how to manage them properly to help people and companies reach their full potential, as well as his own. An MBA was his next step.
Sanjay dove into MBA programme research and admired that "EDHEC had an entrepreneurial history behind the school." EDHEC's Global MBA attracted him because it was based on the Cote d'Azur and was also a shorter programme compared to other schools. It was these factors that helped him choose EDHEC over other European contenders. 
"Nice is so perfect for a stressful work environment because I can easily distress. I run a lot so it's great for that," Sanjay said. "I just love Nice. It's the right size since I'm not a big city person. I like being close to nature."
Life in Nice
It's been over three months since Sanjay began his 10-month Global MBA journey. So far he's enjoying the programme but he admits it's quite intense. That's understandable since EDHEC's accelerated programme includes all the core business fundementals of an MBA plus 2 global business trips, a month-long specialisation and a 2-month tailored project.
"A month ago, I didn't know anything about accounting. Now I can pick up a financial statement and decide whether I should invest in that company or not," Sanjay explained. "It's crazy that I learned all that in six days of classes. I really love the professors here, they're really good at what they do - and they do it fast. They cover so much!"
The MBA programme offers more to Sanjay than just knowledge and business acumen. He described that "EDHEC as a school and as a class is very friendly and supporting. There's not a lot of aggressive competition and stepping over each other." Sanjay respects his international classmates and loves seeing the "collaboration in and out of the classroom."
He's most looking forward to the year's class trips - sustainability in South Africa then Singapore as part of a month-long specialisation - but he's also excited that "there are so many classes I've never taken before." Regardless of what his programme experience will bring, he knows he "made the right choice" coming to EDHEC.
Making an Impact
Sanjay has led an interesting life, but it was the inspiration from his early childhood that led him into a career of social impact and making a real difference for others. He recommends anyone interested in seeking an MBA to widen his/her intellectual and personal experiences as much as possible.
"Do things outside the classroom, don't just study for the GMAT," he said. "Volunteer, broaden your horizons, take different classes from philosophy to archaeology. Don't just focus on business. If you want to get the most out of your MBA, have a more diverse background. You'll learn and contribute more."
With his MBA, Sanjay hopes to launch his own business one day that employs people from Nepal or provides opportunities for them in Europe. Whether he stays here long term or not, his life will come full circle because he's always just wanted to "do something for the people back home."
Since completing the Global MBA, Sanjay is now working as a Consulting Analyst at Accenture in the UK.
Could this be you?
Evaluate your profile to speak to one of our career advisors and see how you would fit in with our next cohort.