QS Global MBA Ranking 2020: EDHEC Global MBA Ranked #10 in the World for Return on Investment
The results of the QS Global MBA Ranking 2020 have just been revealed and EDHEC is proud to announce that our Global MBA programme has been ranked as one of the leading 50 programmes worldwide and…
Reading time :
26 Sep 2019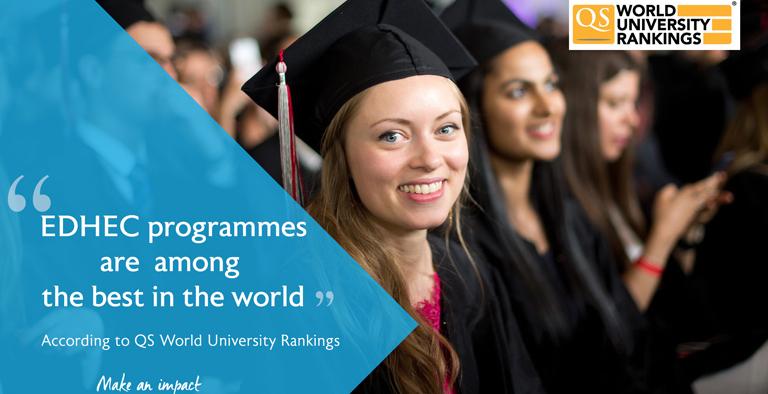 The results of the QS Global MBA Ranking 2020 have just been revealed and EDHEC is proud to announce that our Global MBA programme has been ranked as one of the leading 50 programmes worldwide and one of the top MBA's for return on investment, employability and diversity.
Placed 46th worldwide and 18th in Europe, the EDHEC MBA stands out at a global and regional level for return on investment, where it ranks #10 in the world based on factors such as tuition levels, opportunity costs, salary growth, and expected career progression.
EDHEC Global MBA participants also obtained exceptional results in terms of immediate returns, post-programme salary and long-term career possibilities. According to the QS Rankings, 93% of EDHEC candidates are employed within 3 months of graduation and with an average pay-back period of 1.9 years (versus a global payback period of 3.6 years), the rankings demonstrate EDHEC Global MBA's outstanding value and experience.
Typically, the programme has 30+ nationalities within a class of 100 participants and this diversity is reflected in a top 50 placement worldwide.
Sandra Richez, EDHEC MBA Programme Director commented, "We are exceptionally pleased to be recognized for the outstanding value of the programme. This is in part due to the intensity and duration of the program, the accessible tuition fees and transparent scholarship policy, but most importantly the successful careers of our alumni who are now working throughout the world."
Earlier this year, EDHEC Executive Education was also recognised in the Financial Times Custom Programme rankings with EDHEC Custom Programmes placing 10th in the world and the 3rd best worldwide for learning new skills.
About QS Global MBA Rankings
With 240 schools evaluated in 38 countries, the Best Global MBA Ranking carried out by British think-tank Quacquarelli Symonds (QS) is one of the most comprehensive and prestigious of its kind. Criteria used by QS include alumni employability and the way MBA graduates succeed in their career. Programmes are also evaluated on the diversity of class and faculty (in terms of nationalities and gender) as well as the return on investment they represent for participants.
Click here for the full QS Global MBA Rankings report.