A seminar on resilience to kick-off the Executive MBA
From September 10 to 15th, the EDHEC Executive MBA team welcomed the executives and entrepreneurs participating in the EMBA (Paris and Lille) on its Lille campus, for their integration days. Full of…
Reading time :
25 Sep 2018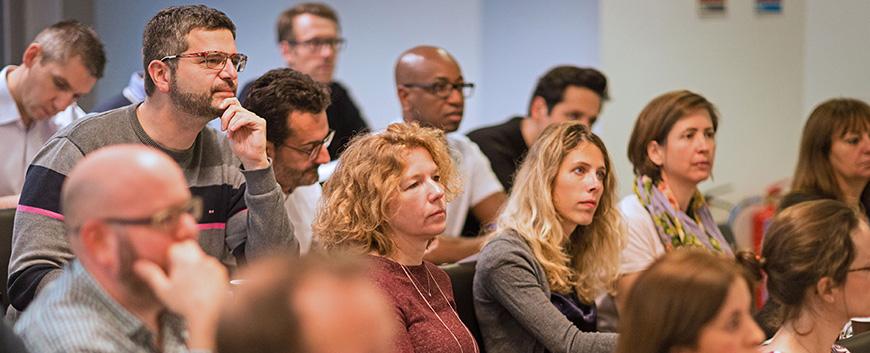 From September 10 to 15th, the EDHEC Executive MBA team welcomed the executives and entrepreneurs participating in the EMBA (Paris and Lille) on its Lille campus, for their integration days. Full of encounters and discoveries, this week kicked off the personal and professional transformation experience that is the EMBA.
During five, intense days, all new EMBA Lille and Paris participants, coming from various functional and industry backgrounds, were able to meet each other. After a campus tour, the EDHEC team presented all the services provided during the programme, whether to support them in their studies, like the e-learning platform, or to guide them in building their professional project, like coaching, a start-up incubator, or the EDHEC Alumni network.
Participants also explored key subjects such as Interpersonal communication, with a seminar led by Simon Elliott, or Macroeconomy, with a class taught by Serge Besanger, turning an uncompromising spotlight on what's going on in today's business world. Each time, teamwork or sustained discussion contributed to initiate the group dynamics that will develop all along the programme.
"During this integration week, when we interacted with speakers and professors, other participants or the EDHEC team, I was stricken by the great kindness and openness of all exchanges."
Marie-Ange N'Zounati, EMBA participant.
Practical resilience, a key issue for executives
"Practical resilience" was also the theme of a one-and-a-half-day seminar led by Laurent Levisalles, Partner Europe at The Resilience Institute. Its vocation was to enable everyone to leverage all their resources, so they can face their daily challenges with enthusiasm and navigate the unknown with serenity - undeniable qualities for leaders. Leaning on scientific research from different fields, from biology to neuroscience, this seminar not only addressed the intellectual dimension of individuals, but also their physical, emotional, cognitive or spiritual dimensions. They were thus encouraged to become aware of the "negative spirals" in which they're sometimes stuck, and to implement practical rebound strategies.
"This seminar has a revealing and exciting effect. It gives practical tips to lead a more fulfilling professional and private life, while preparing these professionals to take up the challenge that is an EMBA, so they can make it the most rewarding experience possible."
Laurent Levisalles
This innovative approach to leadership illustrates well the importance of personal development in the EMBA programme, and the idea that any collective or organizational transformation is always rooted in an individual one.
For more information about EDHEC Executive MBA, don't hesitate to contact us: [email protected]