EDHEC Criminal Risk Management Chair launches a series of video reports with Le Monde
From 7 November, Le Monde will be broadcasting on its website the first episode of the Narcobusiness series, produced by Bertrand Monnet, Professor of the EDHEC Criminal Risk Management Chair, as part of a partnership between Le Monde and EDHEC.
Reading time :
7 Nov 2023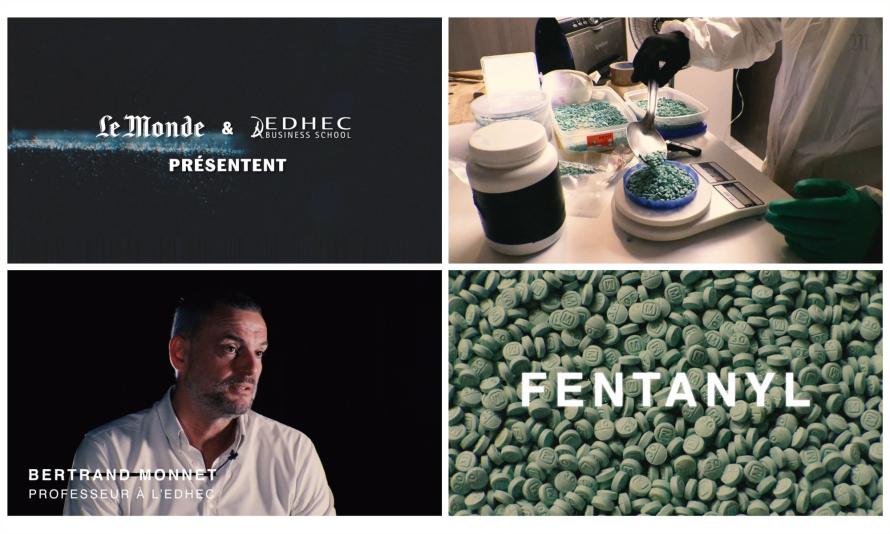 Following in the footsteps of previous documentaries by the Criminal Risk Management Chair, whose aim is to contribute to a better understanding of the major issues at stake in the criminal economy, this series looks at every stage of the drug traffickers' business model. The investigation here focuses on fentanyl, a powerful synthetic opioid, from its manufacture in the laboratories of the Sinaloa cartel in Culiacan to the drug addicts in Manhattan, via the money laundering specialists in Dubai. 
The series will comprise three 20-minute episodes: 
- Episode 1: "In the labs of hell", online on 7 November 
- Episode 2: "The Cooperative of Death", online on 17 November 
- Episode 3: "Dubaï Connexion: how to launder 1 million dollars", online 1 December 
Each episode will be freely available 10 days after its first broadcast.
With this new report, Bertrand Monnet and the Criminal Risk Management Chair are continuing their work on understanding major trafficking and analysing the way in which those involved in the criminal economy contribute to damaging whole swathes of society: "Working with Le Monde is particularly useful and enables me to fulfil my mission of informing as widely as possible about these issues and the risks of these practices for the economy and society, throughout the world. While the role I have to play in this respect with EDHEC students is essential - for their careers and the role they will have to play in the economy - I think it is just as important to make these issues known to as many people as possible". Following the broadcast of this video series, the work of analysis will continue with Le Monde, through in-depth articles and a podcast scheduled for publication in early December. 
- Watch the first episode "In the labs of hell"
- Watch the second episode "The Coopérative of Death"
- Not a Le Monde subscriber? Until 31 December 2023, you can take advantage of a free month's subscription thanks to our partnership.