Sport at EDHEC, ready, steady, go!
EDHEC and sport make a winning team. Pool, gym, dance room, fitness room, dojo or squash court, EDHEC offers numerous sports facilities for students on its campuses. Sport is a big feature of life on…
Reading time :
9 Jul 2020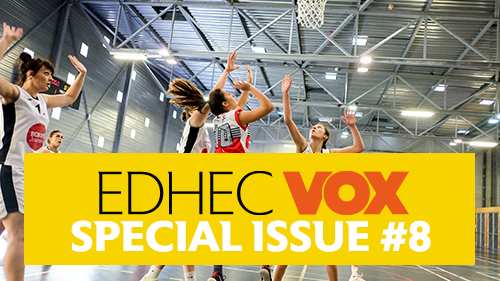 EDHEC and sport make a winning team. Pool, gym, dance room, fitness room, dojo or squash court, EDHEC offers numerous sports facilities for students on its campuses.
Sport is a big feature of life on EDHEC's campuses, whether practised by top athletes or by engaged students. EDHEC's many sports associations, like the Course Croisière EDHEC sailing association or those related to sport, like the Sports Committee (Bureau Des Sports or BDS), make the School a reference in sporting circles and are a major source of cohesion for the EDHEC community.
Stéphane Planque, Sports Manager at EDHEC, gives us an insight into sport at the School, a widely appreciated, practised and respected activity.
Sports classes at EDHEC
Sport as leisure, for relaxing and keeping in shape
Students on EDHEC's Nice and Lille campuses have access to high-quality sports facilities. Dance, futsal, squash, swimming or weight training to name just a few…, students can practice their favourite sport at EDHEC alongside their studies, on a voluntary basis, with or without a coach proposed by EDHEC. EDHEC's campuses offer over 3,500m2 of sports facilities in total. In 2019-2020, 3,752 EDHEC students registered for leisure sport and booked sports facilities for over 80,000 hours of use.
Sport as an elective, for improving your ability and progressing academically 
More competitively-inclined students can sign up for a sport elective, on which they are graded out of 20 as part of their academic programme. Students can then do their favourite sport on a regular basis with supervision from coaches, and compete in two main national student championships, the French University Sport Federation (FFSU) championship in which all French higher education institutions participate, and the French Business School Cup (Coupe de France des ESC).
Since the start of the 2019-20 academic year, EDHEC has offered this sport elective to first- and second-year students on the Bachelor and Masters programme in Lille and Nice. The sport elective counts for 2 or 3 ECTS credits. In practical terms, 15 points out of 20 are assigned for individual engagement, while the other five are linked to sporting and collective performance.   
"
When we talk about sporting performance at EDHEC, we're talking indirectly about the collective performance of a business. How to ensure you perform well together with a common objective
"
Stéphane Planque, Sports Manager
Students who have been engaged in their sport elective throughout the year and performed at national level can obtain a final grade of 15/20 or even 20/20 for their elective. However, the degree of engagement required of students involved in the final phases of competition can be enormous. During the 2019-2020 academic year, 122 EDHEC students opted for the sport elective, in order to do sports as varied as basketball, tennis, volleyball, futsal, handball, football or rugby.
Sports associations
Two types of sports associations
There are two types of student associations related to sport at EDHEC.
The first type consists of associations that create sporting events like Sport Business Consulting (SBC), a junior agency specialised in events, Team Golf EDHEC (TGE), which arranges golf tournaments, OJO which manages a multi-sport tournament for students of France's seven top business schools, or Raid EDHEC in Nice, which organises multi-sport trail races.
The second type comprises sports competition associations like Club Voile EDHEC, a sailing club that trains in Dunkirk near Lille notably with a view to taking part in the EDHEC Sailing Cup (Course Croisère EDHEC), Chess EDHEC, which organises chess tournaments or Hello World EDHEC, which arranges e-sport competitions.
All in all, there are over 15 active sports associations at EDHEC, so students find the ball is in their court when choosing the association they want to join when they arrive!
"
What's the best sport? It's the one that you do!
"
Stéphane Planque, Sports Manager
The EDHEC Sports Committee (BDS) association plays a key role in sporting life at EDHEC. It uses sport to energise campus life, by imagining and managing fun sports events for all students throughout the year.
September, for example, sees the Sports Committee hold its annual sports integration week, during which the Committee presents its role via different activities open to all students: the EDHEC Color Run held on the School's campuses, bungee jumping, "jump free", which involves jumping from a height of nine metres onto an enormous inflatable cushion while kitted out like a parachutist, the Koh Lanta game or the Laser Game. The installations are spectacular and students love them!
The Sports Committee also supervises events designed for EDHEC International BBA students and for those on the programme Grande Ecole. All students help each other during these events, whatever their level in the School.
The Sports Committee also organises the Derby du Nord, a competition between four of Lille's biggest schools, based on four sports: football, basketball, handball and volleyball.
For the 2020-21 academic year, Loris Colossimo, a second-year student on the EDHEC International BBA, will be Co-President of the Sports Committee. Loris is also an excellent tennis player. For the Programme Grande Ecole, Emmanuel Kulasingham, a former top athlete, has been elected as Co-President for the Master level.
The Sports Committee is a fine example of an association that regularly brings together and unites students at different levels of the School - from the BBA to the Master - through participation in important events.
Student performances
Many EDHEC teams managed to get to the finals of the French University Sport Federation Championship and the French Business School Cup this season, with the girls leading the way!
"
Women's sport shone more than ever at EDHEC this season! In terms of sporting performances, the women shone the brightest for the School this year.
"
Stéphane Planque, Sports Manager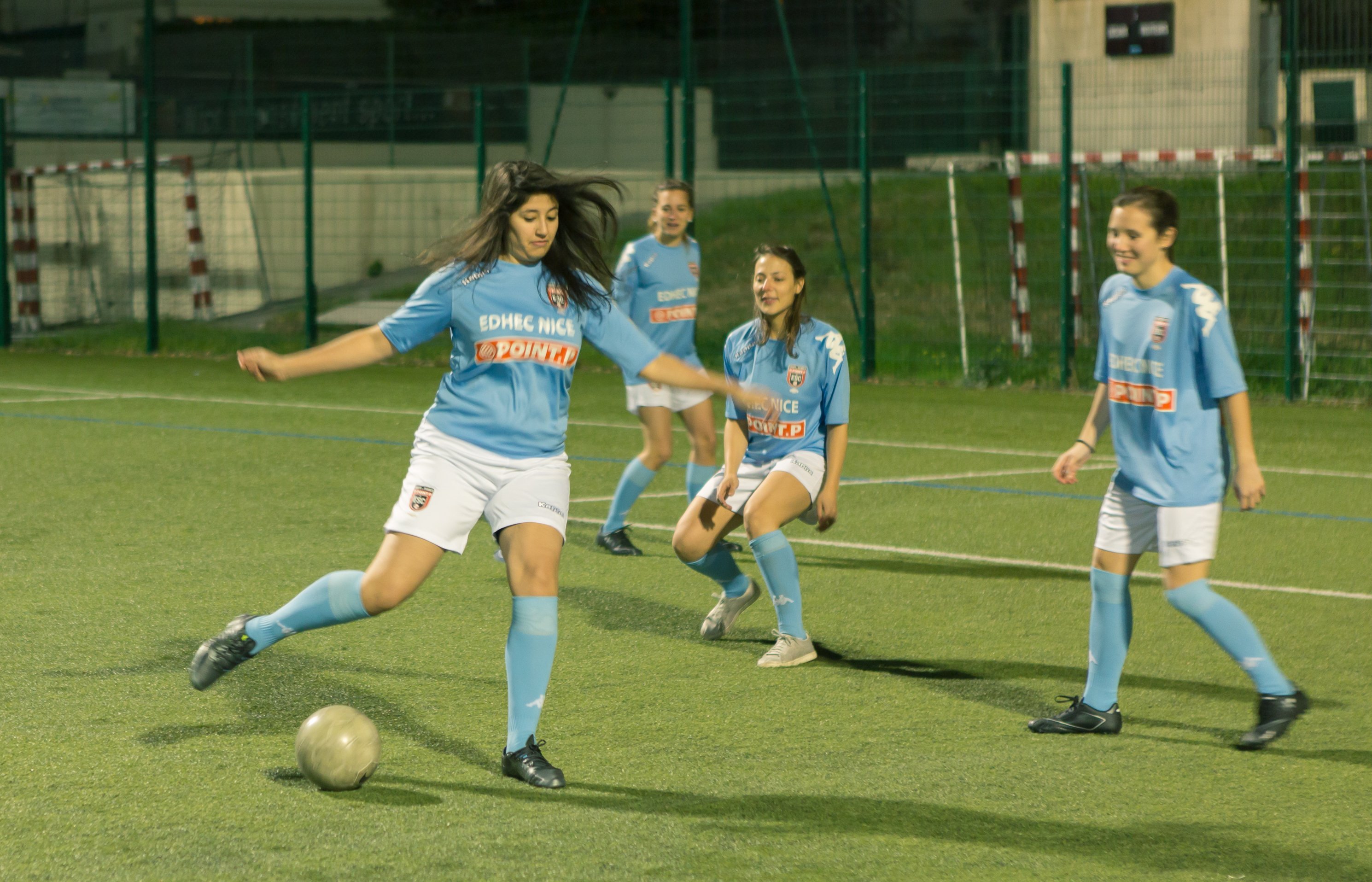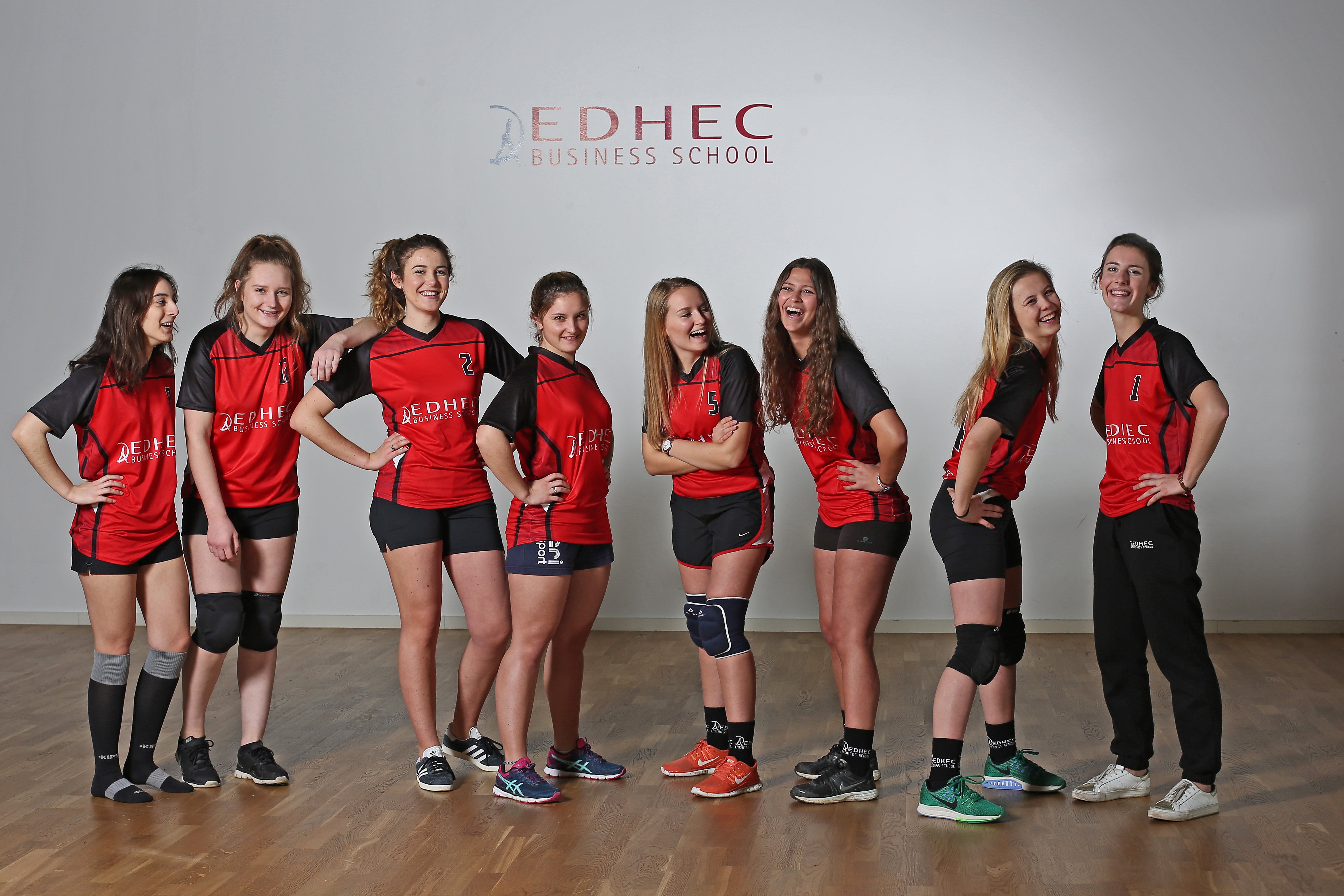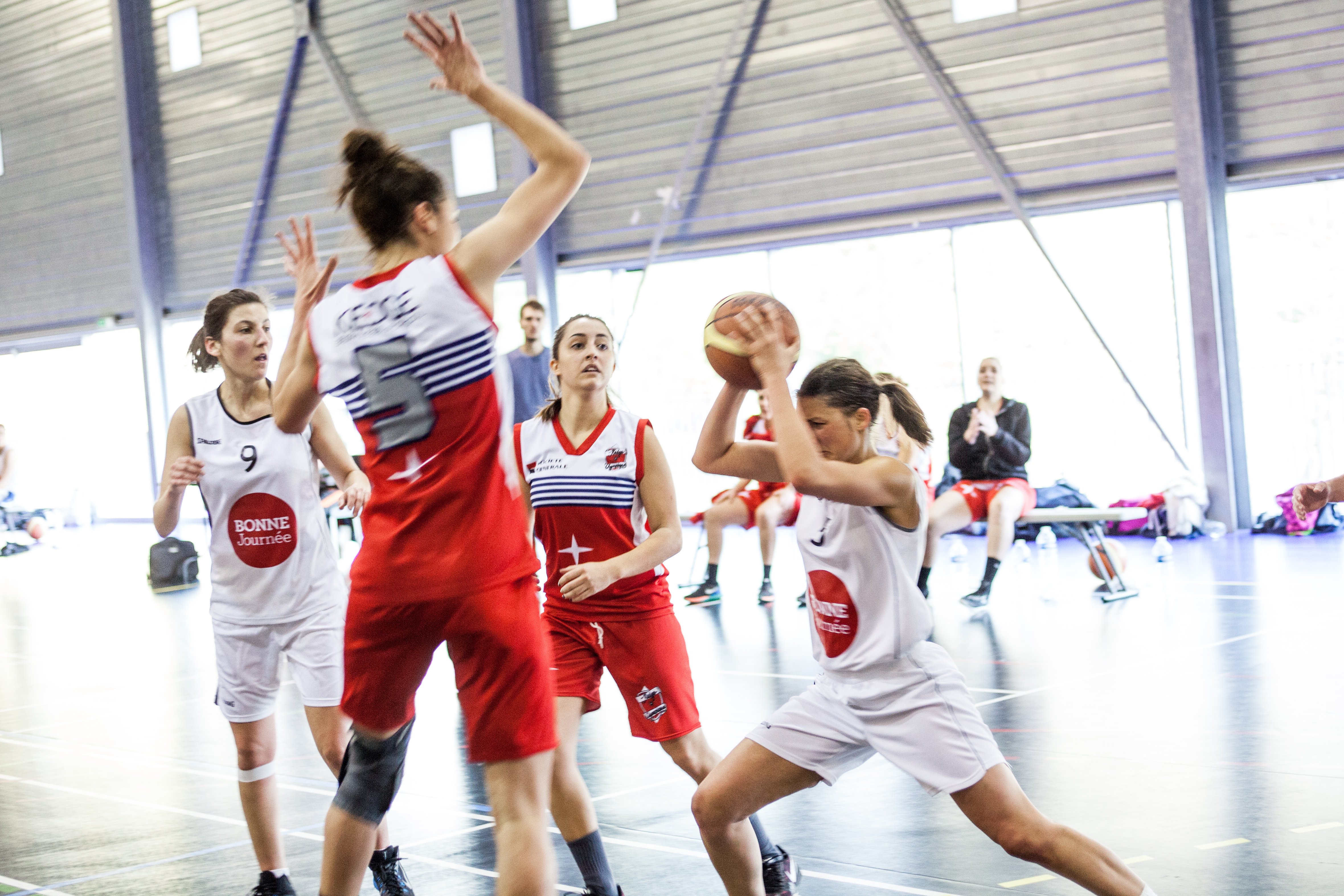 EDHEC's women's football team, the Louves du Nord, reached the final phase of the French Business School Cup held at France's national football centre in Clairefontaine, ranking among the top six teams, while also finishing among the top four in the French University Championship.  
EDHEC's women's handball team, the Mouflettes, finished in the top six French teams in the French Cup and in the top eight in the French Championship.
EDHEC's women's basketball team, the Red Girls, were also classified in both competitions.  
The men also showcased all their talent, with the volleyballers being selected for the final phase of the French Cup and the tennis players – men and women – ranking among the top four French teams. Note that in only its second year of existence, the futsal team succeeded in qualifying in the top six for the French Cup.
"
EDHEC's student competitors showed 200% engagement, both physically and mentally!
"
Stéphane Planque, Sports Manager
Upcoming challenges
EDHEC's Sports Department comprises 3 members based on the Lille and Nice campuses, in direct, continuous contact with students. The team also counts on over 40 qualified coaches operating on the School's campuses. The department's two main objectives are to reinforce the 'sport-health' concept at EDHEC and develop the [email protected] app.
Looking beyond the first objective of sport, namely to keep fit and active, EDHEC wants to develop its sports offering by adding a health aspect, more specifically by developing sport as a means for students to feel better, both mentally and physically. The goal of this approach? To perform better academically, be more concentrated and increase self-esteem. The idea is to foster a virtuous circle that enhances students' performance and well-being.
Students can also couple their sporting activity with dietary control, while well-being tools and classes are also available. The School has developed partnerships with the Heartfulness meditation institute and with the Petit Bambou app, so as to provide students with meditation classes, both face-to-face and online. Sophrology classes will also be available soon, offering students relaxation and stress management exercises. A catalogue of well-being classes at EDHEC is currently under development.
Launched a year ago, the [email protected] app can be downloaded from app stores and the MyEDHEC platform, and is available to all students and staff members. It groups together all information relating to sport at EDHEC: upcoming events, the list of sports associations and their social networks, teams' results… you can find everything on [email protected].
The Sport Business Consulting association and the Sports Committee work closely with the Sports Department to strengthen the app and make it a real hub for sport.
"
Our aim with the

[email protected]

app is to make it a genuine hub, a real-time database of sport at EDHEC for everyone
"
Stéphane Planque, Sports Manager
EDHEC's top athlete students
EDHEC Business School is proud to teach and develop the skills of its sporting students, and hails the champions of French sport who are studying or have studied on the EDHEC International BBA Online. Here are some of them:
Lara Grangeon, swimmer and bronze medallist in the 25km open-water event in the World Championships in South Korea
Guilhem Guirado, captain of the France rugby team
Manon Brunet and Charlotte Lembach, fencing, members of the France's women's sabre team  
Pape-Philippe Amagou, French national basketball champion with the Le Mans club in 2017-2018
Florian Latorre, racing driver in the Porsche Supercup
Florent Vanverberghe and Antoine Zeghdar, members of France's world-championship winning under-20s rugby union team  
Peters-Deutz Cristoforo, European champion with the France B field hockey team
The EDHEC International BBA Online is the only fully-online programme tailored to the requirements and constraints of students unable to physically attend campus, whether top athletes, entrepreneurs, musicians and/or persons in situations of handicap. The programme allows top athletes to pursue the academic studies they need alongside their sports career.
Lastly, EDHEC Business School organises regular conferences on the theme of high-level sport. One example was the conference titled 'France 2023 – 2024: sport as a global economic stake', held on the Nice campus in March 2019.
Whether as a leisure activity to keep fit, in a more engaged way by opting for the sport elective, at competitor level to win titles, or at the top level to shine on the world stage, sport plays an integral part in student life at EDHEC, helping you to find the right balance and making a positive impact on your studies and professional and personal lives.