Studying Sustainability
An Inspiring Learning Expedition to Slovenia
Reading time :
13 Dec 2022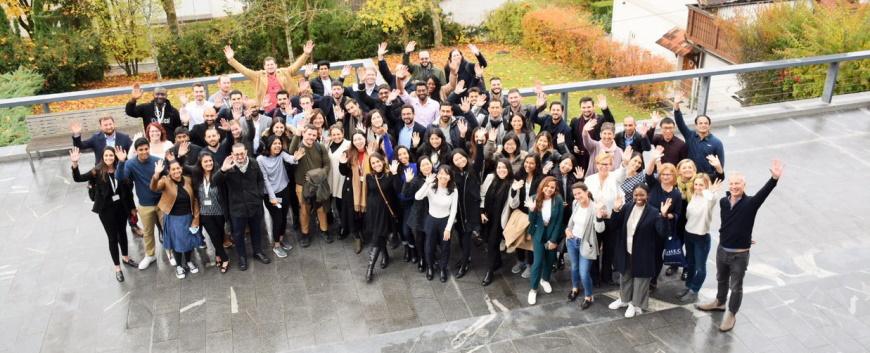 Making a positive impact is EDHEC's primary focus and building a Global MBA programme that allows candidates to study sustainability is part of that mission. Read on to learn more of how our current cohort travelled to Slovenia studying Sustainability.
EDHEC's Global MBA curriculum is powered by integrated learning journeys. Whether on campus in Nice or in countries around the world, EDHEC MBA candidates are enriched with the world's leading industry and business trends—sustainability being among them.
"EDHEC's Global MBA has always been invested in helping our students learn about responsible business and sustainability," said Sandra Richez, Programme Director of the EDHEC Global MBA.
Exploring Slovenia - one of the most sustainable Countries in the World
For 10 days, the entire Global MBA class explored Slovenia, an eco-leader in Europe and #9 in the UNSDG Index which measures a country's commitment and success in implementing the United Nations Sustainable Development Goals. Students visited Ljubljana, among the top eight most sustainable cities, as well as Bled, Kranj, Koper, Idrija, and Anhovo.
Each day of the journey was filled with enriching activities from company visits to walking tours, cultural experiences to wine tastings and even partaking in sustainability challenges sourced from leading local firms. Students attended lectures at the prestigious IEDC-Bled School of Management and even enjoyed a gala dinner at beautiful Bled Castle. The trip had one concrete goal: to learn more about companies and cultures that are making an impact through sustainability initiatives.
Julian Boucherat was one of the trip participants and is a member of the current MBA cohort. "I had never been to Slovenia, and I had no idea what to expect from this trip," he said. "I believe that is what allowed me to discover such a beautiful country."
"Slovenia is not a country where just the government is engaged in sustainability, but also the companies and citizens. Spending quality time in the country and talking with Slovenian people, you realise that sustainability is ingrained within the culture."
Donar
Iskraemeco
BTC
Petrol
Port Luka Koper
Salonit Anhovo
Hidria
Soline Nature Park
 Lek (Novartis)
Guerila Biodynamic Wines
Learning through practical Experience and Applied Learning
The highlight of EDHEC's sustainability learning expedition is business challenges that engage MBAs to work on real consulting projects with local companies on current issues. For example, MBAs were able to consult for Petrol d.d. As the biggest oil and gas company in Eastern Europe, Petrol was facing a steep sustainable target: education.
"Consulting in Slovenia allowed me to discover what companies are doing to evolve, how they power the country and change the minds of their customers," he said. "Working for Petrol, our consulting project was to brainstorm new ways how the company can educate its customers and employees about their carbon footprint. They shared their internal initiatives with us as well as their long-term strategy to install a network of electric vehicle charging stations throughout the country."
Ready to make a sustainable Impact
After 10 days in Slovenia, EDHEC's MBAs were inspired by both the country and the positive impact local and national sustainability efforts have already made. Activities, like discussing ecology on an eco-tour around the capital Ljubljana or learning about ecological farming with a biodynamic wine grower or working on sustainable consulting projects, shed light on sustainability efforts across industries and their positive impact.
Are you ready to transform your career? 
Download the brochure to find out how the EDHEC Global MBA will give you the tools, knowledge and confidence you need to accelerate your international career