A SUCCESSFUL BET FOR EDHEC ONLINE JUST 18 MONTHS AFTER LAUNCH
THE RAPID DEVELOPMENT OF CERTIFYING AND GRADUATE PROGRAMMES Since November 2018, EDHEC Online has been offering EDHEC Business School degree and certificate programmes, adapted to all needs, both in…
Reading time :
18 May 2020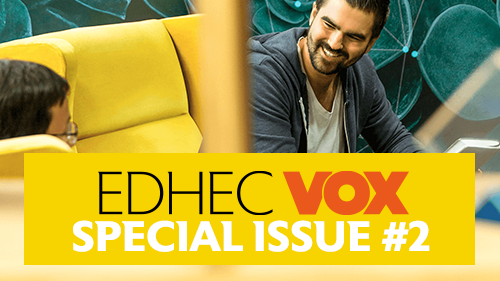 THE RAPID DEVELOPMENT OF CERTIFYING AND GRADUATE PROGRAMMES
Since November 2018, EDHEC Online has been offering EDHEC Business School degree and certificate programmes, adapted to all needs, both in English and French. EDHEC Online's two main assets are certification from a prestigious business school and the agility afforded by close-contact e-learning via personalised coaching. Participants in EDHEC Online programmes also join the EDHEC community and the School's excellent Alumni network.
Ranging from the BBA for top athletes, to programmes for those holding positions of responsibility in business and executive education, EDHEC Online is designed to be "a global, high-quality e-learning platform" says Benoit Arnaud, Director of EDHEC Online.
To further improve agility, EDHEC Online operates as a genuinely start-up business within EDHEC Business School. It delivers e-learning degrees for students of all profiles who cannot study on campus for timetable or geographic reasons, or who prefer to learn online.
The majority of students are employed with positions ranging from young professionals to managing directors. EDHEC Online's array of programmes allows them to gain access to positions of high managerial responsibility, to implement digital transformation in their companies or to steer them commercially or financially.
EDHEC Online's dedicated Online Campus gives participants access to the services and resources they need to learn: selections of videos, articles, podcasts, and their virtual classes. The Online Campus represents a space of professional and personal development for the participants.
Ever since launch, EDHEC Online programmes have been customised and closely tailored to "human" needs, so as to provide genuine "close-contact e-learning" via continuous support.
"
All our students benefit from individual follow-up through weekly meetings. Our ambition is to provide our participants with an unprecedented and tailor-made "EDHEC experience" thanks to a collaborative platform which allows them to be in constant contact with other learners as well as the entire teaching team
"
specifies Benoît Arnaud.
MULTIPLYING QUALITY PARTNERSHIPS ON THE CUTTING EDGE OF TECHNOLOGY AND TRAINING
With prestigious universities 
Right from November 2018, EDHEC Business School joined the Future of Management Education (FOME) alliance, in order to set up the first international platform of 100%-online degrees with six other leading international business schools: Imperial College Business School, ESMT Berlin, BI Norwegian Business School, SMU Singapore, Ivey Business School and Melbourne Business School.
FOME is combining its technological and educational know-how to transform the global market for online degree training.
The alliance enables EDHEC to provide the greatest number of people with access to its high-quality content, underpinned by cutting-edge technological innovations. Examples of innovation include augmented social learning to facilitate group work at distance, a hologram that enables the platform to host professors from all over the world and, in the near future, adaptive learning to customise the learning experience.
"
In a fast-expanding global online education market estimated at over $180 billion, we have strong ambitions to impose ourselves as a pivotal player
"
explains Emmanuel Métais, Dean of EDHEC Business School.
October 2019 saw EDHEC Online team up with Stanford for its BSc online programme. Participants interested in entrepreneurship now have the chance to take four educational modules incorporated in the Stanford Innovation and Entrepreneurship programme.
These specialisations delivered in full by Stanford professors enable participants to acquire a genuine culture of innovation, prepare enduring corporate strategies and develop their decision-making abilities. The curriculum is recognised via a Certificate of Achievement delivered by the Stanford Center for Professional Development.
"
We are delighted to work with EDHEC. Stanford's innovation and entrepreneurship modules fit perfectly with the BSc Online. They offer EDHEC students the same working environment and tools as Stanford students, and teach them skills they can put into practice in their working life.
"
says Paul Marca, Associate Vice Provost, Stanford Center for Professional Development
With companies and institutions in a variety of sectors
EDHEC Online signed a partnership geared to developing mobile-specific content with the mobile learning specialist Teach on Mars in October 2018.
Around the same time, another partnership was signed with Union Nationale des Entreprises Adaptées, this time to improve the accessibility of programmes to persons with disabilities.
Then in July 2019, Institut Régional des Chefs d'Entreprise (IRCE) and EDHEC Business School signed an agreement, and also conducted a joint survey designed to gain a clearer picture of business leaders' expectations in terms of distance learning.
EDHEC Online's objective? Offer each learner a tailor-made learning experience and a proximity with companies and leaders.
Since its launch, EDHEC Online has been working with start-ups in the EdTech, artificial intelligence, social and adaptive learning fields, in order to provide the best support to participants in their e-learning experience. For example, participants are offered augmented coaching to help them in real-life situations in the workplace via immersive methods.
Lastly, EDHEC Online works continuously with businesses within the framework of its online programmes. Companies like IBM, Numberly, Hubpost and SAP intervene regularly in training sessions.
 PROGRESS IN FIGURES: POSITIVE AND PROMISING
160 active participants on the Online campus
89% satisfaction with the quality of support service
97% of participants complete their programmes
12 different nationalities among students
10 countries from which participants undertake their studies
87 companies represented among participants
9,396 kms between EDHEC Online teams and the most distant participant
20 people on the EDHEC Online team, based in Paris and Nice
3rd worldwide for 'innovations that count in 2019' alongside Cornell University and Saïd Business School of Oxford University.
STRONG AMBITIONS OUT TO 2025
Since the launch of EDHEC Online, the main reasons for students to enrol have been to capitalise on their experience, reinforce their skills, train themselves without putting their career in hiatus or resume their studies.    
EDHEC Online's distance learning programmes cater perfectly to professional and decision-makers needs, by offering high-quality, effective support, whether for in-company digital transformations, managing teams at distance or professional re-conversions.  
The FOME partnership expanded in 2020 with the arrival of IE Business School, meaning there are now eight partner universities working together to guarantee the international excellence of online education. EDHEC will chair the FOME alliance for a period of six months as from June 2020.
EDHEC Online aims to reach 1,000 participants by 2025.
With distance learning set to be a genuine model for the future, EDHEC Online is stepping up its array of programmes:
New Executive certificates focused on the fundamentals of strategy, finance and entrepreneurship
Launch of the MSc Online in International Business Management in October 2020. This new MSc will be delivered fully in English to cater to the needs of international profiles  
Innovations in existing programmes (BSc, Programme Manager), with different specialisations/electives to suit individualised pathways
Expansion of enrolment and opening of four intakes a year for degree programmes
Thanks to its pivotal and high-quality positioning, the EDHEC Online start-up has succeeded in its mission of delivering EDHEC Business School's quality degree programmes at distance, providing both a customised and innovative learning experience in an online training market in heavy demand.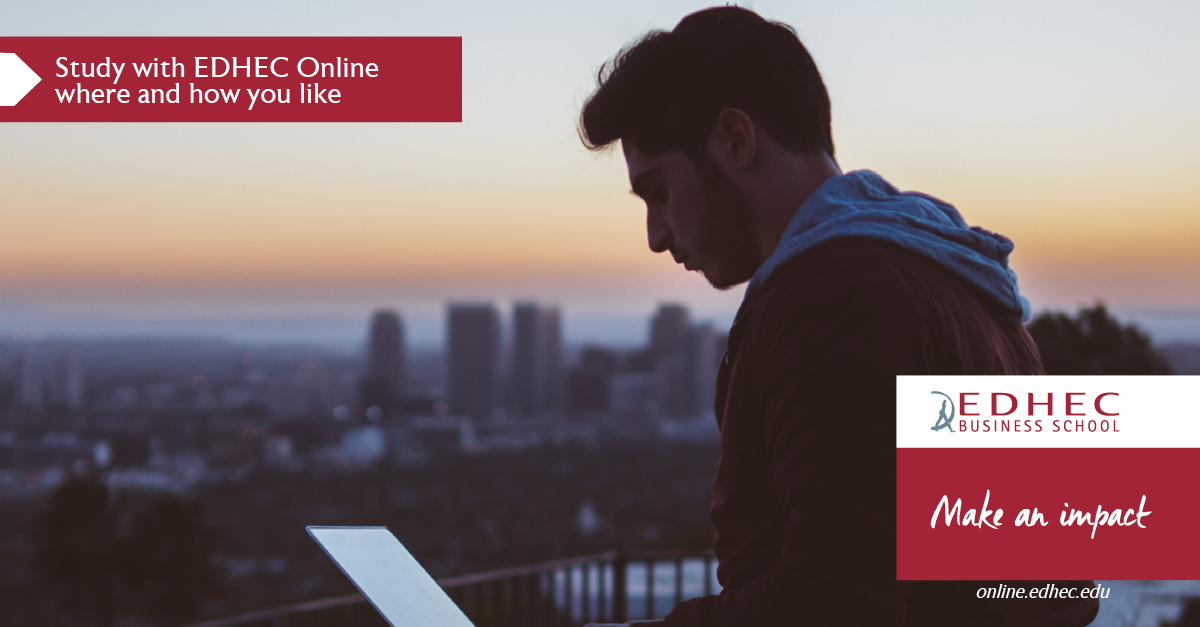 For more information: EDHEC Online programmes
To follow the news: EDHEC Online on Linkedin