EDHEC Summer Programmes in full swing
EDHEC Summer courses give Bachelor, Master and MBA students the opportunity fo gain greater insight into a specific subject, extending their professional and international experience. The EDHEC…
Reading time :
21 Jun 2018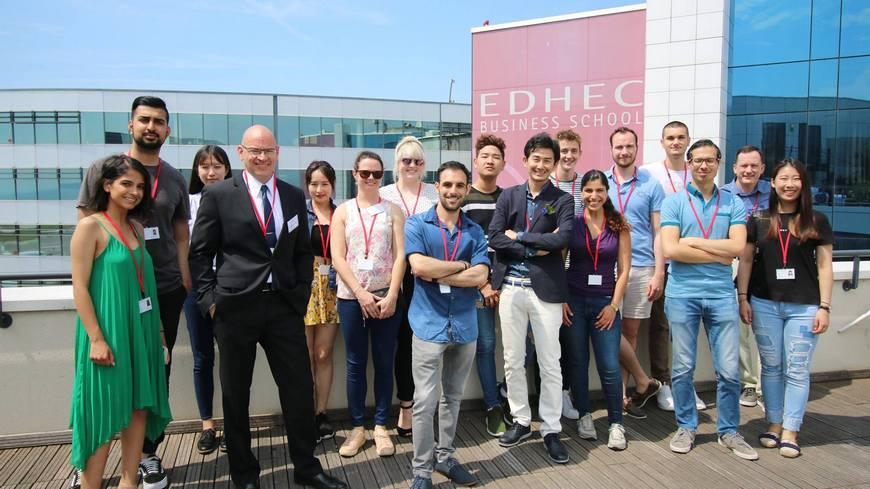 EDHEC Summer courses give Bachelor, Master and MBA students the opportunity fo gain greater insight into a specific subject, extending their professional and international experience. The EDHEC Summer courses 2018 have now started on the Nice Campus with students from the US, Canada, UK, Israel, South Korea, Thailand, Japan, Italy and the Netherlands. On the agenda during 3 weeks : courses in cross cultural management, European institutions and business models, leisure research, as well as business and tourist visits. 
Two different programmes are on offer: 
The "Globalizing Europe" programme examines topics of key interest to business and economics students unfamiliar with European institutions, and key institutions relating to the European Union. Three focus courses acquaint participants with European business challenges and opportunities acquainting participants with the larger political and cultural framework that encapsulates the EU.
The "Leisure & Lifestyle" programme investigates how consumer trends particularly noticeable in Europe lead to construct meaningful vacations and free time since Europeans have more vacation days than the world average. Key industries generated by leisure, cluster around well-being services such as nutrition, fitness and diet programmes, whereas others are packaged as touristic and pitched to affluent working populations with economic means. Jobs in these industries range from marketing, financial analysis, strategic consulting and corporate communication to new economy niches such as social media management, alternative tourism, coaching, "agritainment & agritourism" and digital product development. 
 
​ "Summer courses offer participants a small class learning environment, an exceptional exposure to an international group of well trained students in business and economics coming from world class institutions, and the opportunity to think about business in terms of social trends and changing political institutions." says Anne WItte (Ph.D), Summer Programme Director. " Learning isn't only confined within the classroom:  business visits, research projects with local sponsors and excursions in the neighboring countryside provide a panoramic view of the scope that the south of France offers to its community of learners."