Supporting high-level athletes: Interview with Bernard Curzi, Director of the EDHEC International BBA Online
Sports sequence: a series of interviews in which members of EDHEC's sports ecosystem share their visions of the School's sports culture.
Reading time :
20 Feb 2023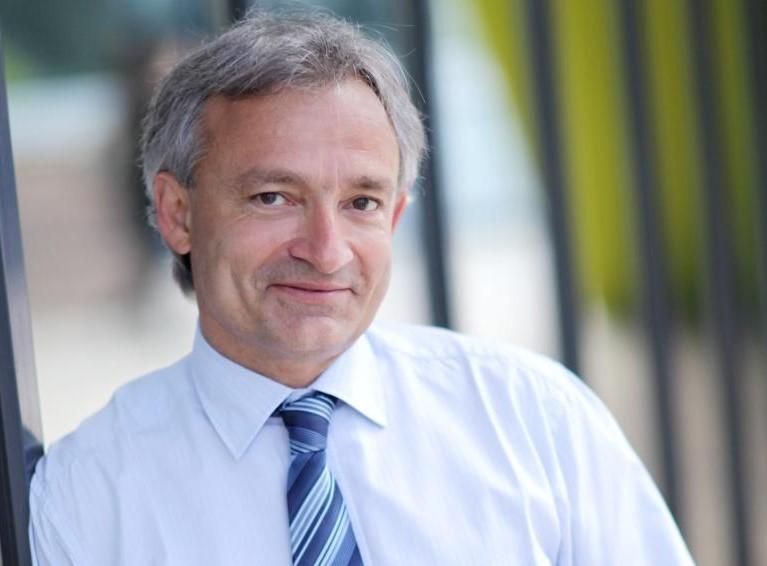 The values associated with sport – respect, excellence, team spirit – form part of EDHEC's DNA and are embedded in the day-to-day life of the school's students, particularly via the many sports disciplines offered on campus. This proximity between the practice of sport and the continuation of studies naturally led EDHEC to create a programme devoted to high-level athletes in 2021, now renamed the EDHEC International BBA Online. As of today, some 200 athletes are studying on this online programme, a fine illustration of the experience amassed by the School in supporting these high-potential individuals. For close to 20 years, first as Director of E-learning, then as Director of the EDHEC International BBA Online, Bernard Curzi has been devising methods and tools to help high-level athletes continue their studies. In this interview, he gives insight into the variety of sports-related activities offered by EDHEC, the sports facilities on the School's campuses and the wealth of sports-related student associations that exist. 
How has EDHEC acquired its legitimacy in the field of sport and specifically in educating high-level athletes?
At EDHEC, sports culture has always been embodied by our dynamic student associations, notably via the organisation of large-scale events like the Course Croisière EDHEC yachting cup or the Raid EDHEC trail run. The practice of sport is also embedded in the School's overall educational project. In the same way as the teaching dispensed at EDHEC, taking part in individual or collective sports offers students access to solid values: discipline, selflessness, generosity and the sense of leadership.
From a programmes' standpoint, EDHEC moved as early as the mid-1990s to set up an environment of innovative tools that enlivened and facilitated learning. These developments included the creation of a pedagogical intranet in 1995, the launch of the Blackboard e-learning platform in 1999 and the creation of a laboratory in 2006 that allowed professors to record their classes in video format in full autonomy. A revolution at the time that attracted the curiosity of all leading schools. Thanks to this environment and the experience built up over time, EDHEC then launched the first blended learning programmes, followed in 2011 by the launch of the "High-level Athletes' Track", which is now the EDHEC International BBA Online, taught 100% at distance. The programme is open to all learners unable to follow classes in person on campus, due to constraints related to time and/or place. 
How is this vision of sport reflected in the student experience and on programmes at EDHEC? 
EDHEC's Lille and Nice campuses offer students and staff extensive sports facilities (pool, sports hall, dance room) and are home to a rich and varied range of sports-related student associations (5ème Set, Cross EDHEC, La Voile Solidaire, etc.). Sports performance is also valued directly on students' grade sheets, thanks to the inclusion of a Sport elective on programmes. More specifically, the EDHEC International BBA Online offers high-level athletes the possibility of graduating with the EDHEC International BBA degree, while benefiting from the same quality, depth and breadth of teaching, and acquiring the same skills, as on the in-person programme.
How are high-level athletes supported on the EDHEC International BBA Online?
Given the multiple constraints facing high-level athletes, flexibility and agility lie at the heart of our approach. I often say we're not managing a class of 200 students, but 200 classes of 1 student! Consequently, the EDHEC International BBA Online works with each learner to define a customised organisation. For example, we can organise an academic semester over several months or over a year depending on the athlete's timetable, and adapt to any changes over time. The student's academic training is also built around close-knit support, notably involving an individual tutor, whose role is to help them define realistic objectives for their progress over time and to avert all feelings of isolation.  
Can you give us a few examples of athletes who illustrate the quality of support provided by the School?
Well I can start with Mathilde Grumier, one of the first students to join EDHEC's High-level Athletes' Track in 2011. She was fencing at a very high level and was World University Champion and a silver medallist at the European Under-20 Championships. She's now a Client Director at Cdiscount Advertising. Jérôme Nave, a professional rugby player from 2000 to 2012, joined the programme a year before he retired from rugby. He's now a Branch Manager at Crédit Mutuel. A more recent example is Pape-Philippe Amagou. After anticipating the end of his career, he completed the EDHEC International BBA Online programme and won the French Basketball Pro A Championship with his team Le Mans both in the same year. He's now a Senior Consultant with Cap Gemini.
The City of Paris is gearing up to welcome the Olympic Games next year, what are your thoughts on it? 
Paris 1924 / Paris 2024, the summer Olympic Games in France! I'm obviously thinking about the continuous participation of EDHEC International BBA Online students in this prestigious competition. In 2021, during the last Olympic Games in Tokyo, nine of our learners qualified to compete in their disciplines, with five of them winning medals, including two golds. For 2024, between 10 and 12 students will probably be selected, the highest number for EDHEC to date. It's a great source of pride for the School to have helped these athletes pursue their dreams to the full, while also enabling them to continue their studies in higher education and thus to plan for their future without stress. This is the real meaning of EDHEC's "Make an Impact" leitmotif.