Tackling automotive sustainability to make an impact!
CEO of The Green Link, Bernard Lebelle graduated from EDHEC Business School in 1994. This semester, he has the pleasure to come back as an external lecturer to EDHEC's Lille Campus to teach a module on automotive sustainability in the MSc Global and Sustainable Business.
Reading time :
28 Sep 2023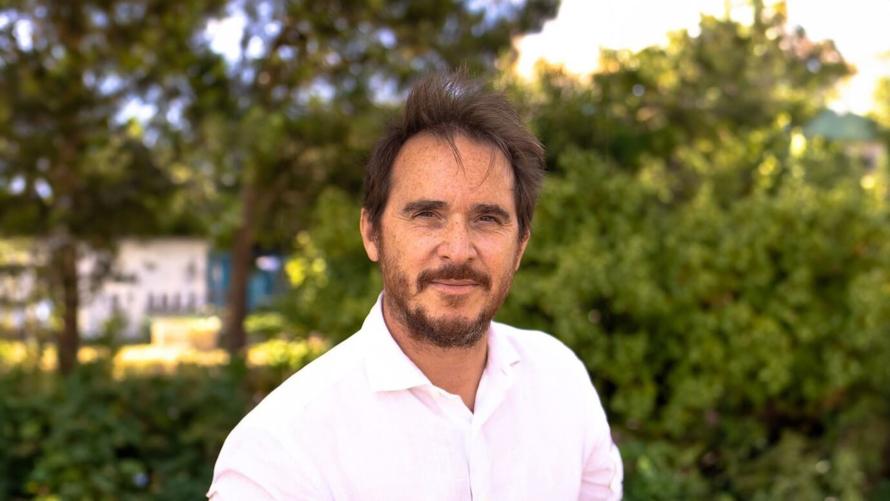 Can you tell me about your company 'The Green Link' 
During my tenure as the National Innovator Director of Deloitte in Canada, my team and I were working on assessing the impact of upcoming disrupting technologies just over the horizon, e.g., AI, blockchain, neuroscience, etc. I realized that a vast number of existing clean technologies / alternative materials could already help companies improve their environmental footprint. In order to secure a sustainable future for our 4 sons, my wife Lila and I decided to launch our own company – The Green Link - to bridge the gap in Sustainability between strategic intent and tangible results. We provide 'IDEAL: sustainability as a service', an AI-enhanced online sustainability strategy management portal. Clients can setup strategic goals - CO2, water, energy, biodiversity, etc., launch collaborative innovation challenges to their staff, leverage our libraries of over 6,000+ best-practices, cleantechs and alternative material for inspiration, define tangible sustainability initiatives, monitor the strategy execution, progress made and results achieved in order to avoid greenwashing and publish regulatory sustainability disclosure reports like CSRD, SEC, TCFD, etc.
Why is automotive sustainability an important issue to address? 
Automotive sustainability is a key element in the environmental footprint. The latest intel points to the transportation sector accounting for 20 percent of global CO₂ emissions* and is the second-largest carbon-polluting sector worldwide behind the energy industry. Today, all companies use some form of transportation - moving raw materials, shipping & delivering products, staff commute, business trips, etc. So as transportation is essential, we need to find solutions to reduce the environmental impact companies have on daily basis. And with so many new technologies coming around, there are tremendous opportunities to rethink what transportation & mobility could be everywhere around the world. Graduates holding a Master in Sustainable Business will possess the skills to make a positive impact within the industry! 
Are there prerequisites to attending your course?
No hard-skills in particular. However, I want students to be curious and eager to solve problems with a strong desire to learn. We live in a world where knowledge and "the art of the possible" is reconfigured every 6 months. As technologies are making breakthroughs at an exponential pace, students have to keep their pulse on latest progress. But technology is not a silver bullet per se. People make change happens. So sustainably leaders also need to learn how to create positive movements throughout their companies to get every staff member wanting to help curb our climate trajectory. Being empathetic with strong soft skills is also essential - we won't reach automotive / transportation sustainability individually; we need to know pull everyone in that direction!
How is the automotive sustainability module design?
In agreement with the program Director, Bastiaan Van Der Linden, we will raise issues concerning automotive sustainability and how students will be able to address these challenges as the step into the business world. During the module, we will have to please welcome two EDHEC Alumni - Gille Normand, President at ProLogium Europe, and Anne-Claire Marin, Strategic Advisor at Northvolt. These EDHEC Alumni, who are two major players in the electric vehicle battery sector, will explain to students the industrial views of vehicles and batteries, fundamental in attaining automotive sustainability. 
Can you tell me about the case study students will have to work on?
During the course, students will have the opportunity to work on an automotive/transportation case study using The Green Link platform. The use case context will include mix mode of transportation, technologies, and social/economic challenges. In groups, they will have to define sustainability initiatives capable of reaching specific strategic goals. They also will hone their pitching skills and will use The Green Link Strategic Toolkit frameworks to learn how to turn intention into operational initiatives ready to be implemented. The goal of the case study is to make them go through the different stages & steps of a sustainability strategy execution. My intent is for them, once they're in their sustainability jobs, to feel a strong sense of "déjà-vu" when confronted to internal roadblocks and that what we have shared in class will help them navigate the complex world of sustainability.
After attending your class, what do you hope students will take away from your course?
My aim is to help students be seen by their future managers as high-contribution sustainability professionals from their very first days in their new positions. This will contribute to the overall positive market recognition that students with a Master in Sustainable Business from EDHEC are high-potential candidates who are ready to be operational right upon graduation.
How do you bring your experience to the classroom?
As the CEO of The Green Link, I always say to our clients, 'sustainability is easy but not simple'. Basically today, companies, in all industries, want to be more sustainable – and if they have not yet adopted this mindset, trust me, they won't be in business by the end of the decade. Publicly embracing sustainability pledges is easy - it is too often just a public relation exercise. What is not simple is designing how to accomplish these goals and delivering on your promises within your specific company context. Going from intention to results is precisely the DNA of The Green Link's Sustainability Transformation methodology which I will share with students through keynotes, Q&A and hands-on solo or group work. I will also draw upon my 25+ years of international strategy & management consulting to flesh these out through stories & anecdotes… because that's how humans learn & remember.
*Sources: https://www.statista.com/topics/7476/transportation-emissions-worldwide/#topicOverview