TEDxEDHEC 4th edition: Tomorrow's loading
This year's TEDxEDHEC talks will explore the concept of change, or how leaders, students and entrepreneurs of diverse origins and backgrounds are working to build a better world. The 10 guest…
Reading time :
26 Mar 2021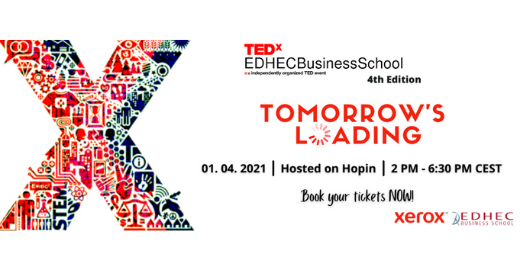 This year's TEDxEDHEC talks will explore the concept of change, or how leaders, students and entrepreneurs of diverse origins and backgrounds are working to build a better world.
The 10 guest speakers at this year's event will take to the stage in the EDHEC auditorium from 2pm on Thursday, 1 April to present  their very own vision of change, be it through robotics, social, managerial or creative advancement.
The conference will be broadcast live on hopin.
From high-ranking industry executives to students, professors, start-up founders and influencers, the TED speakers, both women and men, will talk about their search for meaning, creativity, cultural difference, endurance and courage in the world of work and everyday life.
TEDxEDHEC student organizers are convinced that knowledge sharing is essential to developing our relationship with the world of work and society as a whole, with a view to building a fairer, more audacious and more inclusive world.
EDHEC congratulates all members of the TEDxEDHEC society on their willingness to organise a TEDx event again this year, and open it up to an even greater number of people, to highlight the courage, transformation and novel visions of these passionate speakers.
We invite you to join us at this English-language event, dedicated to the world of tomorrow, already being forged by our speakers today.
TEDxEDHEC looks forward to seeing you on Thursday, 1 April, from 2pm to 6.30pm, for an exceptional online event, hosted on the Hopin platform, which will combine inspiring talks and networking sessions to allow you to learn and exchange views on various topics. 
Whether you're looking for new perspectives, new network contacts or merely inspiration, this event is the one for you.
Price: €4.99.
Sign up here.
Follow TEDxEDHEC.