Transform Your Life with an MBA on the Idyllic French Riviera
The French Riviera is an international icon, known around the world for its beauty and its appeal as a top tourist destination. Sparkling coastlines meet picturesque cliff sides, and idyllic…
Reading time :
20 Feb 2020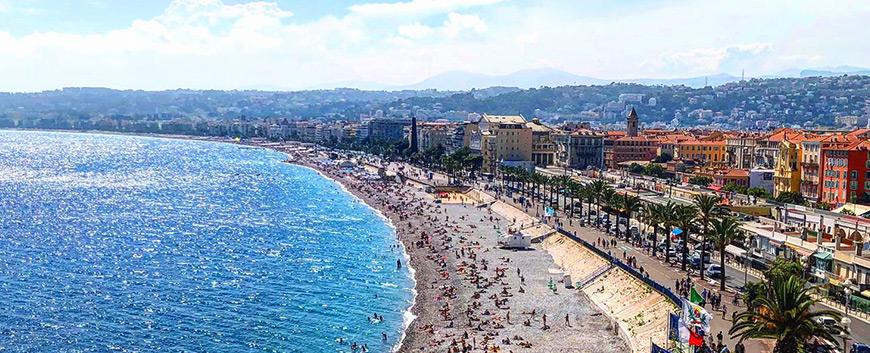 The French Riviera is an international icon, known around the world for its beauty and its appeal as a top tourist destination. Sparkling coastlines meet picturesque cliff sides, and idyllic townships back up onto striking mountains to create a landscape that feels as if it came out of a storybook. 
What many admiring visitors don't realize, however, is that the Côte d'Azur, or blue coast, is actually one of the world's leading epicenters for technology, innovation, and business ventures in both Europe and worldwide. Multiple industries have expanded rapidly in the last fifty years, and continue to grow and develop today. There are many reasons why getting your MBA degree in the French Riviera could be the best decision for your long-term career and business goals.
It's a great environment to develop innovation and start-up strategies. 
The opportunities available in France and specifically around the French Riviera are plentiful — making it an ideal place for students looking to make new international connections and be exposed to multinational companies with reach and influence around the globe. France boasts Europe's third largest economy, and is the home of many industry giants such as Carrefour, L'Oreal, AXA, BNP Paribas, and Christian Dior, just to name a few.
Europe's equivalent to Silicon Valley, Sophia Antipolis — a technology park including over 2,200 companies and employing more than 36,000 people — is located just outside the central Riviera city of Nice. 
Nice itself, home to the beautiful EDHEC Global MBA campus, was named as one of the world's top smart cities in 2016 by the Ministry of the Environment. 
The entire Côte d'Azur has over 600 companies and dedicated research organizations working to deliver smarter, cleaner solutions for lasting development. 
It's expat friendly.
A huge international influx and a large tourist population make the French Riviera a very accessible place for expats with little knowledge of French language or culture. 
Cities like Nice and Cannes offer many services for English speakers, while the myriad smaller villages dotted along the coastlines provide great opportunities for those looking for a slice of true French culture. 
Developed infrastructure, a regional airport, and high speed TGV trains will give you access not only to the thousands of historical monuments and sites throughout France, but also to the countries and cultures surrounding it. 300 days of sunshine a year, the Alps, and the international Cannes film festival are just some of the benefits an expat can enjoy while living on the French Riviera. 
Studying in France is also easy compared to other countries abroad. For European citizens, all that is needed to study in France is a travel document and valid ID. If you're a non-EU citizen and you've been accepted into an MBA programme, the process for an extension after your studies is much easier, allowing you to work on a longer MBA internship or look for your next career move.
At EDHEC, our International Students Office helps with many of the logistics when moving to our campus in Nice. This includes things such as help with visa arrangements, and free French lessons for both students and partners who are moving with them.
It's a relatively affordable place to live and study. 
French MBA degrees overall cost significantly less than their UK and US counterparts. Most MBA programmes in the United States are stretched over two years, which means a longer amount of time to account for living expenses and lack of income. The cost for a one-year MBA programme from top US schools that do offer it can go from around $60,000 to well over $100,000.
 A standard MBA in the United States for residents can easily cost a minimum of $60,000 in tuition fees for a two-year program, and for top schools this number often exceeds $100,000. That's without forgetting living expenses and accounting for a lack of income for 2 years.
An MBA at a top-ranked business school in France, such as EDHEC, however, runs from €30,000 to €45,000 a year on average, and there are many institutional and national scholarships geared towards encouraging international students to attend.
EDHEC offers many different options for national and international students wishing to enroll in our Global MBA programme. We automatically award scholarships to eligible applicants. For instance, our First Nationality scholarship awards 20% off tuition fees to the first 3 admissions of each nationality to enroll in our programme, as a way to encourage student diversity.
Moreover, despite its stunning scenery, the average cost of living on the French Riviera is surprisingly affordable. Central tourist areas can get quite expensive, particularly during peak season, but overall the cost of living is about half that of Paris. 
Whether you're an international expert who has been around the world and is looking for new networking opportunities, or a business professional looking to delve into the international market for the first time, the French Riviera is the optimal place to develop your career goals. 
Obtaining an MBA in this beautiful section of the Mediterranean will not only provide an immersive cultural experience nestled between the seaside and mountaintops of southern France, but will expose you to industry innovators key to your success in the field, and provide you with the education and connections needed to build flourishing, long-term development. 
Prepare to propel your career forward in innovation and business on an international platform with EDHEC's Global MBA! For more information about the program and what EDHEC has to offer, check out the brochure, speak to an advisor or apply directly.