Vietnam Business Trip: Executive MBA participants explore the rising Asian "dragon"
With 90 million inhabitants and an annual growth rate of 7%, Vietnam is one of the leaders of the Association of South East Asian Nations (ASEAN) and an economy in full transformation. In January,…
Reading time :
12 Feb 2018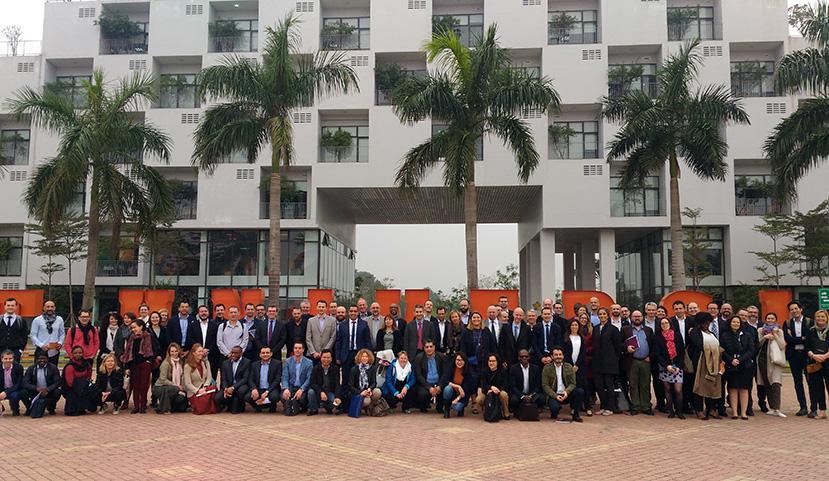 With 90 million inhabitants and an annual growth rate of 7%, Vietnam is one of the leaders of the Association of South East Asian Nations (ASEAN) and an economy in full transformation. In January, EDHEC Executive MBA participants spent a week of meetings and tours in the country, exploring new business models.
Vietnam is a must-go destination for today's executives and entrepreneurs. "Although often overlooked, Vietnam is a very dynamic country and many French companies have their eyes set on it today," explains Denis Dauchy, PhD, Professor of Strategy and Director of the Executive MBA.
From Hanoi, the historical and political capital of the North, steeped in communist culture, to Ho-Chi-Minh City, economic heart of the South, bubbling with entrepreneurial activity, EMBA participants discovered a contrasted economy, increasingly open to the rest of the world. They met major national companies such as Electricity of Vietnam (the leading power company in the country), major private companies such as technology group FPT, foreign companies working in Vietnam such as French group Olmix, but also innovative startups at the Toong coworking space, in Ho-Chi-Minh City. This complete change of scene encouraged them to open to different management practices and strategy approaches.
"It would have been impossible to get such a comprehensive vision of Vietnam and its economy if I had traveled there alone: the EMBA Business Trips are a wonderful opportunity to discover a country by meeting the people whose work is fueling its development," Alexandre Jeissou, VP, JP Morgan, EMBA participant.                                           
The Business Report, an action learning tool
Beyond the different meetings and tours, participants are given a chance to broaden their global reflection about business strategy through the completion of a Business Report. During their trip, in groups of 4 or 5, they identified a company operating in Vietnam, to analyze its activity and organization, and better understand the specificities of this country as an economic ecosystem.
"The point of this Business Report is to leverage the different frameworks acquired during the EMBA programme, to demonstrate how a company's business model interacts with the Vietnamese economic, cultural, political and entrepreneurial context," Denis Dauchy.
An opportunity for these professionals to work as closely as possible to the field, and to learn through practice and exchange of experience, in line with the "learning by doing" philosophy that is at the heart of EDHEC's academic approach.
After this Vietnamese experience, EMBA participants will go on another Business trip in the Spring, to explore the economy of yet another region and discover other business models.
For more information about EDHEC Executive MBA in Lille and Paris, feel free to contact us: [email protected].