Rankings - Why is the EDHEC Executive MBA #1 for alumni satisfaction?
Financial Times ranks EDHEC EMBA among the world's Top 30 and best in the world for alumni satisfaction
Reading time :
10 Nov 2023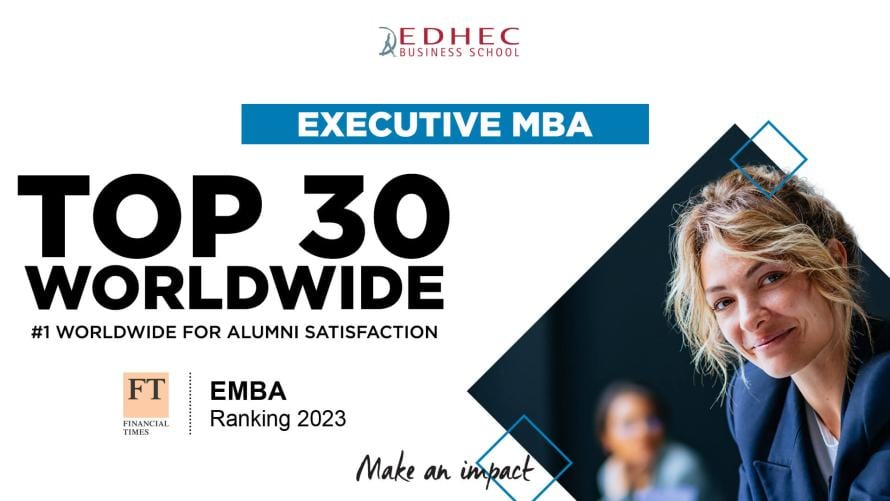 The recently released Financial Times EMBA ranking reflects the excellence and selectivity of EDHEC's transformational Executive MBA programme. Demonstrating remarkable progress, the EDHEC Executive MBA has gained an impressive 19 places, securing its position at #30.
The FT ranking takes into account different criteria, some of which are provided by the schools themselves, others by recent alumni. It comes as no surprise that career progression is the most important point of comparison as career acceleration or transformation is among the most cited reasons for investing in an EMBA.
FT EMBA Ranking – EDHEC #1 in the world for participant satisfaction
The triple accredited EDHEC EMBA has the highest overall graduate satisfaction rating in the world, with a score of 9.86 out of 10. This remarkable result reflects the value and impact of the EDHEC EMBA experience on personal and professional level, as well as the excellence of the programme and its ability to meet participants' expectations in alignment with their career goals. It also highlights the relevance of the subjects covered by the programme in terms of corporate expectations and employability. Furthermore, this exceptional level of satisfaction is further testament to the tireless efforts of all EDHEC teams to provide an unforgettable and impactful experience.
 
The EDHEC Executive MBA goes way beyond academic learning. By taking participants out of their comfort zone, challenging them and encouraging them to bring out the best in them while giving them the strategic tools to make informed decisions, the programme aims to develop future leaders equipped to address social and societal challenges in an ever-changing environment.
 
Action-learning through use-cases, in-depth consultancy projects and business trips combine theory with real-life experience, making graduates proficient in managing business and technology changes, understanding complexity, and driving positive transformation for their organisations.
 
"Starting the MBA has been the best decision I made in the past 5 years. I learned a lot from the "general" courses, but even more from the personal development programme which runs in parallel with the academic curriculum. Also, the interactions with the cohort have a tremendous impact value, giving me insights I would otherwise never have. I felt supported by my peers to be the best version of myself. It is so inspiring." shared Sara Van Leuven, Executive MBA 2022/2023.
EDHEC's Executive MBA – recognised as a springboard for career acceleration
For countless graduates, the EDHEC Executive MBA has been a real career accelerator. Therefore, it comes as no surprise that the programme stands out for alumni career development in this year's ranking. EDHEC EMBA Alumni reported an average salary increase of 77% three years after completing their Executive MBA. Some of our alumni like Stephanie have been promoted already during their time at EDHEC. " Earning an MBA degree has opened many new professional opportunities. As soon as I added "Executive MBA Candidate EDHEC" to my LinkedIn profile, recruiters started reaching out to me. It is an investment in yourself and in your career. In fact, I got promoted to a more senior role halfway through my Executive MBA programme" she said in a recent interview. "I feel well-prepared for leadership roles through the EDHEC Executive MBA programme, and I look forward to upcoming professional opportunities." she added. Shortly after graduation, Stephanie has been offered a general management role at a leading online examination provider. For Nils and Sonia, the programme has been a catalyst for progression or career change as well.
Whether it is through learning vital new skills, gaining a strategic 360° vision of global business, becoming an accomplished leader or acquiring the tools and the confidence to take the plunge into entrepreneurship….. whatever their professional objective, EMBA participants find their own way with the help of EDHEC's excellent faculty, career coaches, seasoned business professionals and a 55 000 strong alumni network.
EMBA ranked 5th worldwide for ESG
In times when sustainability is not an option but a necessity, more and more professionals are looking for executive programmes that take ESG issues into account, which is one of the reasons that this criterion has made it into the most important executive education rankings. In the Financial Times' 2023 EMBA ranking, EDHEC's programme is positioned 5th worldwide for ESG and net zero teaching. The criteria is based on the proportion of teaching hours dedicated to ethics, social and environmental issues, and climate solutions to achieve carbon neutrality.
Sustainability & net zero teaching ranking
A significant number of courses in the EDHEC EMBA are dedicated to ESG subjects, including Business Model Innovation for Sustainability, a course that spotlights new ways to do business and commerce that respect the planet and its resources.
EDHEC Executive Education includes sustainability principles into campus life as well. From strategically selecting locations for business trips, to providing re-useable water bottles and water fountains on all campuses or preferring trains over airplanes for necessary staff travel, EDHEC Executive Education walks the talk. Furthermore, the school has just released its first ESG report, analysing what's been achieved and what still needs to be done in terms of sustainability. EDHEC's Executive MBA's Carbon footprint rank is #14 worldwide.
Diversity & Gender parity
Diversity & Inclusion is an important factor when it comes to ESG. The FT Ranking's weighting for gender diversity includes faculty and students. The international diversity calculation is based on the overall percentage of students and faculty from abroad.
The EDHEC Executive MBA boasts a talented and diverse cohort. The current class includes 14 nationalities and 45% women. Through the "Women in leadership scholarship", EDHEC encourages talented women to apply for its selective MBA programme. To support and promote cultural diversity within the EMBA cohorts, the top-ranked business school offers the "Cultural diversity scholarship" and an "International scholarship". Such cultural diversity but also diversity in terms of professional experience is incredibly impactful for participants. Learning, sharing and collaborating with participants from all over the world, learning about different perspectives, styles of leadership and work cultures prepares participants for global leadership roles.
"What I found most exciting with the EDHEC Executive MBA was working with and learning from the other participants. With the EDHEC Executive MBA, I feel like I broke free from my mould and decompartmentalised my vision. This was very liberating and exactly what I was looking for." confirmed EMBA alumnus François Dolveck.
The EDHEC Executive MBA is also ranked #23 for international opportunities.
What is the Financial Times EMBA ranking?
For more than 20 years, the Financial Times has published annual rankings of the world's top 100 accredited Executive MBA programmes for senior managers. In 2023, a total of 125 programmes took part in the ranking process. Rankings are an important decision-making factor for professionals considering an Executive MBA.
The ranking is based on data submitted by the schools themselves and online alumni surveys. Information collected from schools includes diversity, ESG-focus of the programme, number of publications by faculty members etc. Alumni responses inform ranking criteria such as salary today, salary increase, career progress, work experience and aims achieved. Together, they account for 50 per cent of the ranking's weight.
What is your career objective? Start your professional future now with an EMBA
Take a look at our brochure to find out how EDHEC's Executive MBA can transform your career.