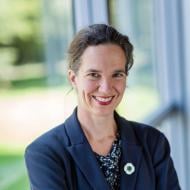 Anne Witt
Professor
EDHEC Augmented Law Institute Researcher
Main contributions
Common Market Law Review (2012, 2018, 2023); Antitrust Bulletin (2019, 2021, 2022); Journal of Competition Law & Economics (2022); Concurrences (2020); European Competition Journal (2016; 2012); Hart Publishing, Oxford (2016); European Law Review (2012)
Faculty:
Accounting, Control & Legal Affairs
Expertise:
EU and US antitrust law, internal market law, digital platform regulation
Bio
Anne Witt is a Professor of Law and a member of the EDHEC Augmented Law Institute.  She gained her first law degree from the University of Freiburg im Breisgau, an LLM from the University of Virginia (Fulbright scholar), and a PhD from the University of Kent.  She is admitted to the bar in Germany. She previously worked for the University of Leicester, and was a visiting research fellow at the European University Institute (2015) and an Emile Noël Research Fellow at NYU Law School (2019). Her key research and teaching interests lie in the area of competition law and the digital economy.  Select papers are available on SSRN.
---
Publications of Anne Witt
---
Derniers articles EDHEC Vox