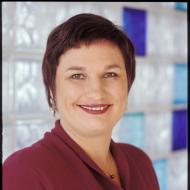 Elizabeth Dickson
Adjunct Professor
Business Communication Coordinator
Main contributions
Faculty:
Management & Humanities
Expertise:
Business English, English Managerial Communication Skills
Bio
Elizabeth A. Dickson, is a Professor of Languages at EDHEC Business School. As Head of Modern Languages for EDHEC Business School Nice Campus including Msc, graduate and undergraduate programmes, she manages a team of 45 language teachers, over 7000 teaching hours for languages, and is responsible for first, second and third languages as well as preparations for professional language examinations. Her primary teaching revolves around Business English, managerial communication skills, English speaking countries around the world and has designed and developed teaching materials in all the above areas. Professor Dickson also pioneered a self learning teaching module for the Edhec graduate students. Elizabeth Dickson has considerably built up the language department, increasing the number of teaching hours, third languages, and compulsory Toeic testing for all students. For several years, she was also responsible for coordinationg the Language Entrance Examinations for the Masters programmes.<br />
Elizabeth Dickson has also taught Intercultural Communication, a management module in English within the Culture and Society department. She has been invited on several occasions to teach in this area at the Krakow Academy of Economics in Poland and the University of Hertfordshire in the UK. <br />
Elizabeth Dickson has also held several managment roles at EDHEC including management as Head of the International Business and Management Track for the BBA EDHEC Undergraduate programme for both the Lille and Nice.Professor Dickson managed 15 visiting international lecturers. She was also responsible for pedagogical development in this area.<br />
 Elizabeth Dickson also has extensive experience in International Relations. Over a period of eleven years, she was responsible for developing double degree programmes with partner universities, extending and developing Erasmus and bi-lateral exchange agreements for the BBA EDHEC undergraduate programme.