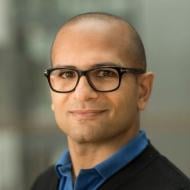 Hamid Boustanifar
Associate Professor
Main contributions
Financial Analysts Journal (2022), Journal of International Business Studies (2022), European Financial Management (2022), Finance (2022), Journal of Money, Credit, and Banking (2018), Review of Finance (2018), Journal of Banking & Finance (2014), Quarterly Review of Economics and Finance (2014), Applied Economics Letters (2014)
Faculty:
Data Science, Economics & Finance
Expertise:
Corporate Finance, Valuation, Business Social Responsibility
Bio
Hamid Boustanifar is a finance professor at EDHEC Business School. Before joining EDHEC in 2018, he held teaching and research positions at BI Norwegian Business School, Stockholm School of Economics, and Olin Business School at University of Washington in St Louis.
Hamid's main research interests are in corporate finance and business social responsibility. His recent works focus on measuring intangibles and the stock market valuation of these assets. He is also currently working on applying textual analysis to shed light on important issues within finance, accounting and business fields. Articles based on Hamid's research have been published in leading finance, economics and management/strategy journals such as the Review of Finance, Journal of International Business Studies, Journal of Money, Credit and Banking, Journal of Banking and Finance, Financial Analysts Journal, European Financial Management, and Academy of Management Proceedings, among others. His paper on wages and human capital in the finance industry was the finalist for 2018 Pagano-Zechner Best Paper Award, which is given to the best non-investment paper published in the Review of Finance.
Hamid's research has been widely covered in the media and financial press, including The Financial Times, and has been awarded grants from numerous sources including Norwegian Research Council, Center for Corporate Governance Research, and Bankforskningsinstitutet. His papers have been frequently presented at prestigious conferences in the fields of economics, finance, and management.
Hamid is a passionate teacher. He currently teaches courses on Advanced Corporate Finance and Valuation. He has received numerous teaching awards including the M.Sc. Outstanding Teacher Award in Finance at BI and the Excellent in Teaching Award at EDHEC.
To access more detailed information, visit Hamid's personal website: www.hamidboustanifar.com
---
Publications of Hamid Boustanifar
---
Derniers articles EDHEC Vox