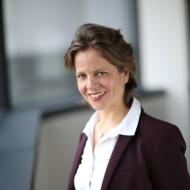 Karin Kollenz-Quétard
Professor
Foresight, Innovation and Transformation Chair Member
Main contributions
Faculty:
Strategy, Entrepreneurship & Operations
Expertise:
Innovation, Disruption and Digital Transformation
Bio
Karin Kollenz-Quetard is a (part-time) Professor of Strategy at EDHEC Business School, but also intervenes in customized programs at London Business School (UK), HEC (F) and Duke CE (EU). She develops and delivers executive management development programs and keynotes (http://youtu.be/o9UZa_CUXzQ) with a focus on strategy and innovation. In December 2016, Karin was named as one of the world?s leading business school professors by the Financial Times. Before becoming an academic and entrepreneur, she acquired significant international experience in strategy consulting (Boston Consulting Group, Arthur D. Little) and the telecommunication industry (T-Mobile, DT). Karin?s top management experience combined with her educational background in economics and management (PhD, Vienna School of Economics, Bilingual International MBA, Université d?Ottawa, Canada) are the basis for her interest in disruptive innovation and emerging technologies, such as Big Data, IoT, and  A.I., and their impact on business and society.