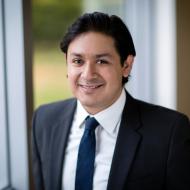 Mario Hernandez Tinoco
Associate Professor
Main contributions
International Review of Financial Analysis (2013 ; 2018)
Faculty:
Data Science, Economics & Finance
Expertise:
Corporate Finance, Banking, Financial Risk Measurement & Management
Bio
Mario Hernandez Tinoco, Ph.D, is Associate Professor of Finance at EDHEC Business School. He holds a PhD in Finance from Leeds University Business School and a Master of Research in Economics from Sciences Po Paris. He specializes in risk measurement and management in corporations and banking institutions. Mario's academic work at the finance department at the Leeds University Business School in the UK and the University of Groningen in the Netherlands included the creation and delivery of undergraduate and postgraduate courses in corporate finance, financial risk, mergers and acquisitions, and banking. In these courses, he employed a variety of approaches such as economic modelling, quantitative analysis, research methods and empirical econometrics. Mario has performed research on risk management and he is currently working on research projects on corporate finance and banking. 
---
Publications of Mario Hernandez Tinoco