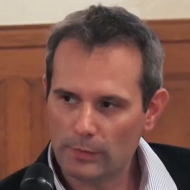 Pierre-Jean Barlatier
Associate Professor
Foresight, Innovation and Transformation Chair Member
Main contributions
Management (2021), Journal of Business Strategy (2020; 2018), Strategic Organization (2019), Revue Internationale de Psychosociologie et Gestion des Comportements Organisationnels (2019), Technological Forecasting and Social Change (2019), Research Policy (2019), Revue Française de Gestion (2017; 2016; 2013; 2011), Innovations : Revue d?Economie et de Management de l'Innovation (2016), Global Business and Organizational Excellence (2015), Journal of Service Theory and Practice (2014), International Journal of Services, Economics and Management (2013), International Journal of Knowledge Management Studies (2011), Management International (2011), Annals of Information Systems (2009)
Faculty:
Strategy, Entrepreneurship & Operations
Expertise:
Organization and Strategic Management, Knowledge and Innovation Management, Networks and Communities of Practice, ICT Management and Digital Transformation
Bio
Pierre-Jean Barlatier, PhD, Habil. is Associate Professor of Strategy at EDHEC Business School. His research focuses on Strategic Management and Organization Theory, with particular interest in Strategic Innovation Management. His works has recently been published in Research Policy, Technological Forecasting and Social Change, Strategic Organization and the Journal of Business Strategy among others. He is currently member of the board of the Association International de Management Stratégique (AIMS), the main French-speaking scientific association in Strategy and Organization Management. Pierre-Jean is also an associate researcher at BETA CNRS-University of Strasbourg (France) and has been appointed to several visiting researcher positions at the Royal Melbourne Institute of Technology (RMIT) University (Australia), the University of Technology Sydney (UTS) Business School (Australia) as well as Marie Curie Fellow at Copenhagen Business School (CBS, Denmark). He holds an HDR from the University of Strasbourg (France, 2015) and a PhD in Management Sciences from the University of Nice-Sophia Antipolis (France, 2006). Prior to joining EDHEC, he was researcher at the Luxembourg Institute of Science and Technology (LIST, Grand-Duchy of Luxembourg).  
---
Publications of Pierre-Jean Barlatier