Sensibilisation
The programmes that encourage getting started.
Does entrepreneurship arouse your curiosity? Does this world intrigue you? Do you have ideas but you don't really know where to start?
You've come to the right place. Raising awareness and encouraging people to get started: such is our goal with our Sensibilisation programmes. 
The "Open Offices"
Our innovation to interact with you and offer guidance
The idea? Open slots for face-to-face discussions with members of the EDHEC Entrepreneurs' team. From asking advice on which program is right for you, to discussing an idea, to talking about an entrepreneurial issue... Whatever the topic, we'll be happy to meet with you (in video or in person).
Who is it for? The Open Offices welcome all EDHEC students who have questions.
How to register? 
You can very easily book a session with a member of our team, directly in their calendar. 

Our "From Scratch" programme
To get started in the best way.
The idea? For 8 days, we will send you a daily newsletter to demystify the world of entrepreneurship. What are the right reasons to start a business, what makes a successful and responsible entrepreneur, what are the mistakes to avoid... We share a wealth of information to help you understand what goes on behind the scenes of an entrepreneur's life. 
For whom? Open to anyone who is curious about and attracted to entrepreneurship. There are no prerequisites.
How to register? Here again, it's very straightforward, register by filling out this form. Then you're done! We will send you the first email very soon.

Our "Start Now" event series
They will inspire you and give you plenty of ideas.
The idea? A series of awareness-raising events to discover, get inspired and exchange ideas. On the agenda: workshops, exclusive content, conferences and valuable encounters to explore what constitutes today's and tomorrow's entrepreneurship. 
Our latest workshop? An evening around pitching with the participation of Maxime Durand, the BioDemain co-founder who won the "Qui veut être mon associé" TV show on M6.
Who is it for? This program is open to all curious people from EDHEC and elsewhere.
How to register? 
To make sure you don't miss anything, fill out this form. We will keep you informed by e-mail of upcoming events.
DISCOVERY
You are curious, you want to meet the team, discover the co-working spaces and connect with our startups?
News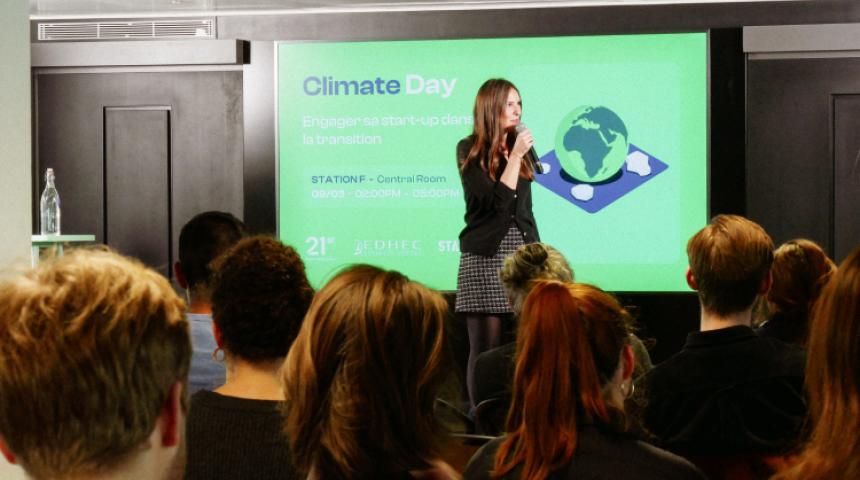 20.03.2023 - EDHEC
Climate and transition awareness for all STATION F entrepreneurs
« As a future business leader, you have far more power than anyone else to make a difference in the fight against climate change. You could even influence what happens within your sector and work with public authorities on these issues ». That was…