EDHEC Entrepreneurs
At EDHEC Entrepreneurs, we are devoted to forward-thinking by supporting bold entrepreneurial projects.
Our actions
Each project is unique: we welcome ideas from all horizons, and we guide each individual in their desire to blaze new trails.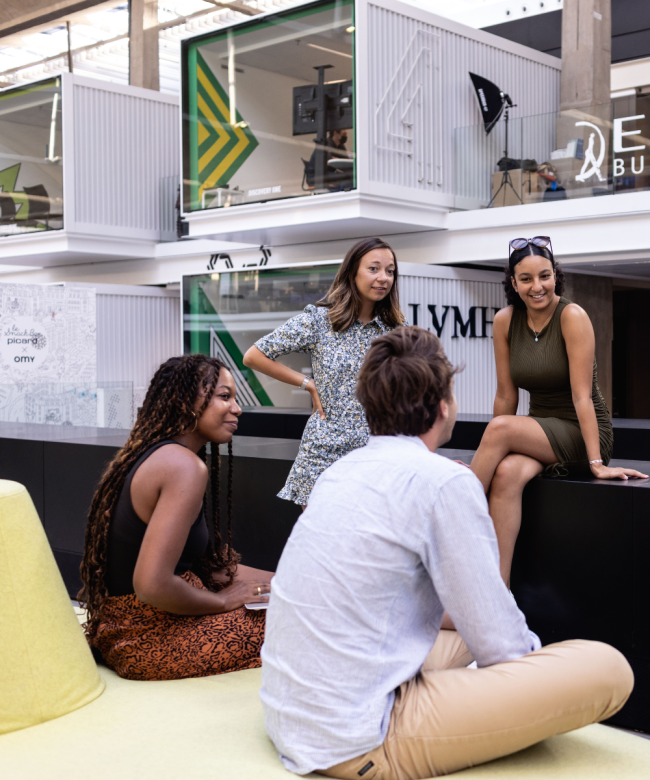 SUPPORTING YOU. Coaching and mentoring sessions with experts: since our inception, we have continuously reinvented ourselves to offer a range of services that adapt to the new challenges facing entrepreneurs. Discover our courses
BRINGING PEOPLE TOGETHER. Community and mutual aid are at the heart of our program. Together, we discuss, debate, and develop ideas to build the world of tomorrow, today. We value collective intelligence as a means of action at the service of responsibility. Our ecosystem is diverse. Being attached to EDHEC, we benefit from its strength, its network of 46 000 alumni, and its key partners.  Discover this EDHEC ecosystem
ENGAGING. We have the dual ambition of instilling awareness and boldness in our programs. We are constantly innovating in order to bring out new models. More than a label, we deploy our energy every day to support and commit to a future where purpose and performance are combined. Discover what challenges us
Entrepreneurship at EDHEC
Since its inception, the school's goal is to provide tomorrow's entrepreneurs with the tools they need to engage with the future and shape it. 
This is why EDHEC has created a dedicated center: the Center for Responsible Entrepreneurship (C.R.E.). Its purpose? To coordinate research, academic programs, and EDHEC Entrepreneurs around key issues of entrepreneurship, innovation, and responsibility. 
The figures that make us stand out
Our team is dedicated to accelerating your project.
supported startups
every year
pre-incubated student projects
every year
experts and partners
dedicated to supporting our entrepreneurs
Does entrepreneurship spark your curiosity?
Do you have ideas and want to give it a try? Do you have an entrepreneurial streak? Have you already launched your project? Would you like to accelerate it?
No matter how far along you are and wherever you want to go, we have an answer adapted to each step of the way.
 
They have trusted us










NEWSROOM
Our news  
We operate in a very rich ecosystem. Here is a wealth of information to always be one step ahead.
29.11.2023 - EDHEC
A campaign to promote the French preparatory classes
A communication campaign was launched at the end of November by the CDEFM to highlight the…
21.11.2023 - EDHEC
Attend the webinar "Climate Risks: Are the Markets Asleep at the Wheel?" - Riccardo Rebonato
On Tuesday, November 28, 2023, Riccardo Rebonato, EDHEC Professor and EDHEC-Risk Climate Impact…
20.11.2023 - EDHEC
Julie Chapon (EDHEC 2011) wins the Entrepreneur Trophy in the French in the US Awards event
On Thursday 9 November 2023 in the French Consulate in New York, EDHEC Business School awarded the…