Grande Ecole
Master
BBA
Executive Education
MBA
Entrepreneuriat
EDHEC Giving
Foresight, Innovation and Transformation » Chair
Carrières
|
[WEBINAR] Preparing Your Business for Recovery
The EDHEC Chair for Foresight, Innovation and Transformation (FIT Chair) is pleased to invite you to a webinar about Preparing Your Business for Recovery on May 6, 2020 at 3.00 pm CET. This event is…
Image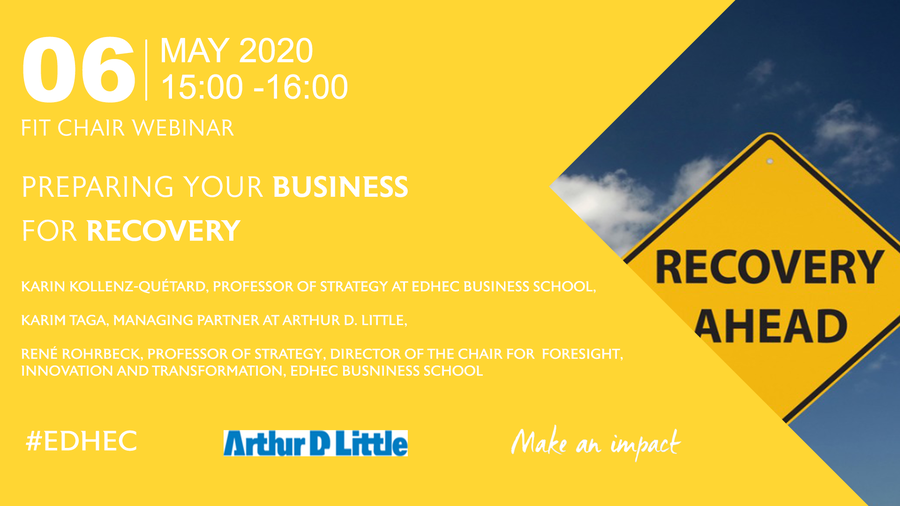 The EDHEC Chair for Foresight, Innovation and Transformation (FIT Chair) is pleased to invite you to a webinar about Preparing Your Business for Recovery on May 6, 2020 at 3.00 pm CET. This event is organized in cooperation with the international strategy consulting firm Arthur D. Little, which has organized virtual meetings with 25 CXO from leading infrastructure companies in Asia and Italy with the aim of sharing the first learnings about leading businesses through the Covid-19 crisis.
The objective of this webinar is to:
Learn from the experiences and best-practices of leading Asian and Italian companies.
Provide managers with concrete recommendations and tools to prepare the post-covid era.
In this webinar Karin Kollenz-Quétard, Professor of Strategy at EDHEC Business School will be joined by Karim Taga, Managing Partner at Arthur D. Little and René Rohrbeck, Director of the EDHEC FIT Chair.
Please register free, by clicking here.
Also, if you missed the previous FIT Chair webinar "Finding opportunity in crisis", the video replay and the toolkit are available on the event page.