|
WTO Public Forum
WORLD TRADE ORGANIZATION PUBLIC FORUM 2018 "Trade 2030" Technology is transforming our lives and our economies — including the way we trade. As the pace of change continues to increase, this year's…
World Trade Organization, Geneva
 WORLD TRADE ORGANIZATION PUBLIC FORUM 2018 "Trade 2030"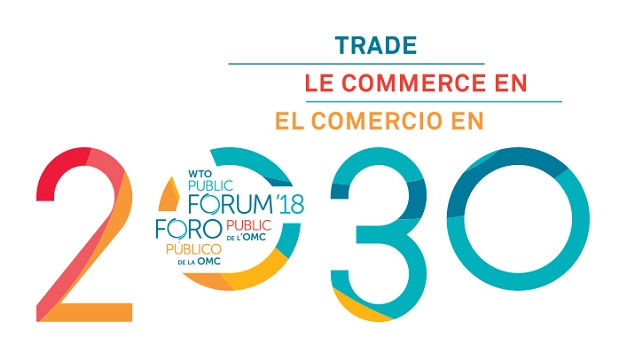 Technology is transforming our lives and our economies — including the way we trade. As the pace of change continues to increase, this year's World Trade Organization Public Forum will consider what sustainable trade will look like in 2030 and beyond. Under the main theme of "Trade 2030", the Public Forum's sub-themes will be sustainable trade, technology-enabled trade, and a more inclusive trading system.
EDHEC Business School is proud to participate this year to the WTO Public Forum through the working session "Shaping the Future of Trade through Social Innovation: Accelerating Ideas to Action". 
New technologies such as artificial intelligence, big data, robotics, blockchain and cryptocurrencies promise to alter radically future economic growth and development. Though these technological innovations mean that there is a lot to talk about, mirrored in the buzz of headlines surrounding these topics, there is a deep tension and widespread uncertainty about the societal impact and consequences they entail. In the swirling currents of news that make up our public discourse, we need to face that technology has, next to its benefits, fuelled exclusion, misinformation, and discrimination. The dramatic technological changes that have occurred in the last few decades, have called into question many of the benefits of technology and we should not fall short into essentializing how to instil the 'social' into the future of trade. This session offers a compendium of arguments, expressed in form of use and case studies surrounding the debate of social innovation. The discussion attempts to articulate a set of assumptions about technology, trade and social impact. It is aimed at to provide a response to core questions: 
How can technology be a mechanism for social innovation contributing to the social good, including the promotion of equality, social mobility and social justice?
What are the barriers of social innovation and how do these affect the future of trade?
How can we reduce the risk of social innovation and build an ecosystem that remedies failure and affects sustainable trade?
Specific emphasize will be placed on the disability and health sector and how crowdsourcing initiatives such as hackathons contribute to accelerate ideas into action. We build on concrete examples such as the Enable Makeathon in India and England and discuss the necessity of an interdisciplinary, open approach to sustainable trade that fosters bottom-up ideas and clears the routes to markets.
The session will be led by EDHEC Professors Johanna BRUNNEDER (expertises: consumption, technology and sustainability) and Loick MENVIELLE (expertises: innovation management, connected health and e-health).
Panel participants: 
Dr. Johanna Brunneder, Professor at EDHEC Business School
Dr. Catherine Holloway, Academic Director and Co-Founder of the Global Disability Innovation Hub, senior lecturer at University College London Interaction Centre (UCLIC)
Dr. Loick Menvielle, Professor at EDHEC Business School
Philipp Spaeti, CTO at at IBM Switzerland
Tarun Sarwal, CEO and Founder of Inkludo