EMBA participants on a business trip to the Silicon Valley, land of innovation
After having first explored the multicultural economy of Kuala Lumpur in January, participants to EDHEC's Executive MBA in Lille and Paris went on a business trip to San Francisco, from June 19th to…
Reading time :
18 Jul 2017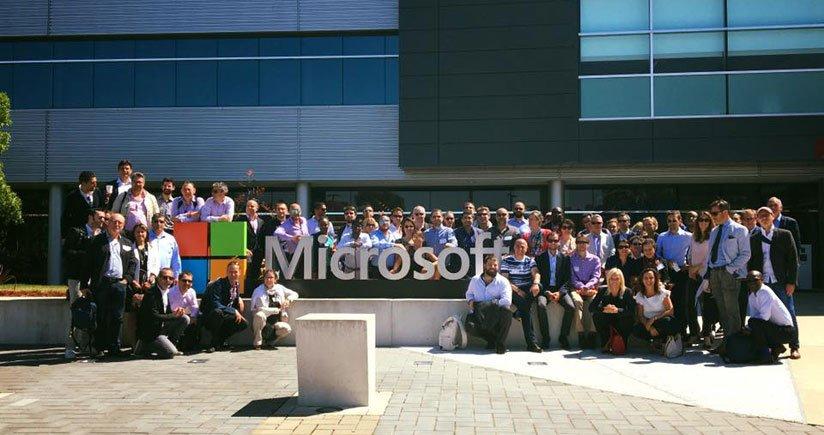 After having first explored the multicultural economy of Kuala Lumpur in January, participants to EDHEC's Executive MBA in Lille and Paris went on a business trip to San Francisco, from June 19th to 23rd. An immersion into the epicenter of global innovation: the Silicon Valley.
With Philippe Foulquier, PhD, EMBA Paris Director, and Denis Dauchy, PhD, EMBA Lille Director, these executives, leaders and entrepreneurs met with French and American companies established in the famous Californian valley, like Orange, Microsoft or Paypal.
They also visited The Refiners, an accelerator dedicated to foreign start-ups, founded by French Tech entrepreneurs:
"These meetings enabled participants to see the connection between a highly stimulating ecosystem and the ways value can be created, but also to discover what drives this powerful entrepreneurial culture", explains Denis Dauchy. "It is about taking a step back to develop their sense of strategy and acquire new managerial reflexes".
A business trip to "think big and global"
For participants, this trip was an opportunity to develop their transatlantic network and meet investors, but also to attend stimulating start-up pitch sessions in the presence of American business angels and venture capitalists.
"Meeting French people working in the Valley and entrepreneurs pitching daily to investors makes the dream of global development more accessible. It shows that fortune favors the brave!" Fabrice Galloo, EMBA participant, General Manager of the Hauts de France Regional Digital Hub and President of France IT.
Back to France, they must now write, in teams, a Business Report on one of the companies they met. An opportunity for them to apply what they have learnt during their training and to look at their own practices in a new light.
Giving them a chance to develop a more innovative and global leadership, this business trip enabled these professionals, in the words of Fabrice Galloo, to dare to "think big and global".