2022 Financial Times Global MBA Ranking: EDHEC confirms its position in the Top 75 worldwide and proves its commitment to educating future leaders in responsible business management
The EDHEC Global MBA ranks among the Top 75 MBAs and, for a second year running, captures the #3 spot for responsible management education in the 2022 Financial Times Global MBA Ranking released…
Reading time :
14 Feb 2022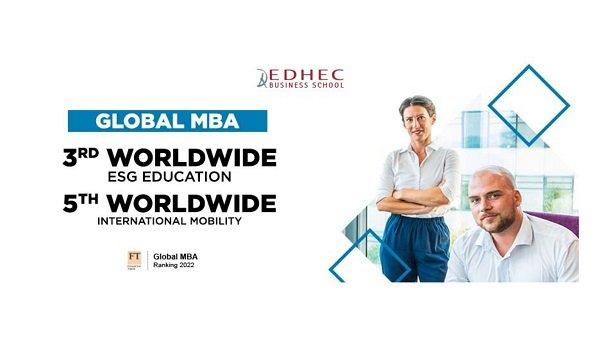 The EDHEC Global MBA ranks among the Top 75 MBAs and, for a second year running, captures the #3 spot for responsible management education in the 2022 Financial Times Global MBA Ranking released today. This ranking validates the EDHEC Global MBA's strong reputation among students, alumni, and business leaders, and reinforces its place among the best management programmes in the world. In two years, the EDHEC Global MBA has risen an impressive 15 spots to rank #73 in the world.
A global leader in responsible management education
Once again, the Financial Times ranked the EDHEC Global MBA #3 worldwide for its innovative approach to teaching Environmental, Societal, and Governmental (ESG) management and strategy. The programme provides future business leaders with a deep dive in sustainable finance, social inclusion and business ethics, including hands on problem-solving with corporate partners and non-profit organisations.
Students participate in a unique, 5-month sustainable impact challenge, including a 7-day learning expedition, that introduces them to real-world environmental and social problems. Students team up with entrepreneurs, business leaders and ESG experts to come up with innovative solutions. The EDHEC Global MBA also includes a personal and professional development exercise, Lead360, that helps students acquire the skills needed to confidently steer sustainability initiatives in complex environments.
A programme that delivers international career opportunities and ROI
The EDHEC Global MBA made impressive progress in international mobility, moving up 10 places to #5 in 2022. The programme is especially helpful to students who want to take on leadership roles in large multinationals, non-profits, SMEs and start-ups. For example, 97 percent of students come from outside France; 46 percent are women; and there are typically 30 nationalities represented in each cohort of 70 students. This diverse and inclusive environment prepares students for global careers and makes them especially attractive to recruiters.
The programme also delivers in terms of return on investment—90 percent of students are employed within 3 months of graduation—and is ranked in the Top 20 worldwide for value. Recruiters seek out EDHEC Global MBA alumni because they recognise the quality of the EDHEC educational experience and appreciate the intense professional development students receive during their 10 months in the programme.
"At EDHEC, our goal is to provide our students with a high-impact and highly-personalised MBA experience, one that gives them all the knowledge and skills they need to tackle the major issues facing companies and society in general," says Sandra Richez, Director of the EDHEC Global MBA. "We know how important ESG and sustainability issues are to corporations today and so do our students. We're dedicated to providing them with the best path forward, for their career but also for future generations."
Discover the full ranking 
Know more about the EDHEC Global MBA programme