The 5 Cs of Remote Collaboration: Tips and Tricks for Online Communication
Reading time :
26 Jan 2021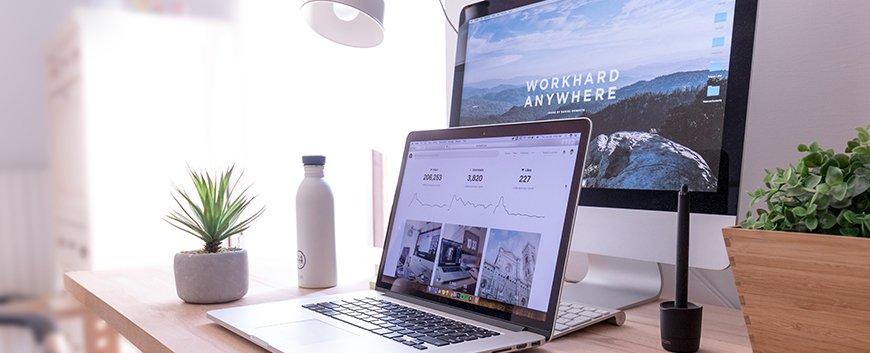 As working from home becomes the 'new normal' for many teams over the new weeks or months, some of us are scrambling to adjust to challenging working conditions. Here are 5 tricks I've learned from a lifetime of flexible working.
By Spencer Hamilton, Head of Global MBA Career & Corporate Services
Last Friday we had to send our EDHEC MBA participants home. On Monday, staff were on campus, busy finalising arrangements for distance teaching, collaboration and remote working before the campus closed on Tuesday at 11 am.
Already reeling from the enforced cancellation of our treks to Singapore, London, New York and San Francisco, we are now faced with a new reality that prevents us moving far from our homes without good reason. As staff and students transition to working and collaborating online, here are some tips and tricks I picked up during a flexible working career that stretches some way back. (I started working remotely at the time of the dotcom crash!).
These 5 Cs may help:
CONNECTIVITY
You may have seen the spoof version of Maslow's hierarchy of needs that includes WiFi. But how do you manage when your partner is also working online - and maybe even kids who are following school lessons on videoconference? Try 'tethering' to your mobile and take the pressure off your home network. Check your data plan first; most operators in France offer generous data packages and the low-cost operators often have very good offers. If you have a work phone, ask what data limits may be in place and request more if necessary.
Guidelines for tethering to an iPhone are here, and for Android phones are here.
CAMERA
Having held hundreds of video interviews over the years, I can say the main secret is this: position your camera at eye-level. Try stacking some books under your laptop; open it fully and prop it up vertically - or invest in a laptop stand.
Better still, use a phone or tablet for the call, then you can use your laptop for notetaking and consulting documents. Being seen at eye-level will affect not only how you are perceived, but also on how you make the other person feel. The default position for a camera can make others feel we're looking down on them. The problem can be even worse if you're holding a phone - it's surprising how many people have provided me with a view of their nostrils during interviews!
Another tip when you are using a mobile - position it in landscape mode. This means that others on the call using a laptop will have you in full view.
CONFERENCING
You're likely to be doing a lot of this with your teams, so it's worth making preparations. Position your camera correctly and make sure the light source is in front of you and shining on your face rather than behind.
Wear a headset. As well as keeping the meeting private, it also improves sound quality for those in your meeting. Better still, it helps eliminate the sound of typing.
Find the mute button in your conferencing software and use it always - only un-mute yourself when it's time for you to speak.
CUTT OFF ?
Although some companies are claiming that the capacity needed for work-related apps is lower than that used for our evenings in front of Netflix, providers of conferencing and cloud services are coming under pressure and have already experienced outages. This often happens in the afternoons in Europe, as our colleagues in the Americas start their day and add to the load we are already putting on the infrastructure.
The solution is almost certainly out of your hands, and out of the hands of the IT support, but you can check the situation using services such as Downdetector.
COURAGE
People in France are fond of saying bon courage in times of adversity. You can translate this to "be strong" - and its good advice. Not just for yourself, but also those around you.
Check-in with each other regularly and... bon courage à tous!
Are you ready to transform your career?
Download the brochure to find out how the EDHEC Global MBA will give you the tools, knowledge and confidence you need to accelerate your international career