Alumna Spotlight: 'Enrolling in the Global Master in Management – GETT will set you apart from other candidates in the job market'
Aline Phe, Valedictorian of the Global Master in Management – GETT programme, Class of 2023, shares insights on the global exposure across three prestigious institutions and the richness of the programme, describing it as a 'Transformative, Diverse and Dynamic experience'.
 
Reading time :
16 Nov 2023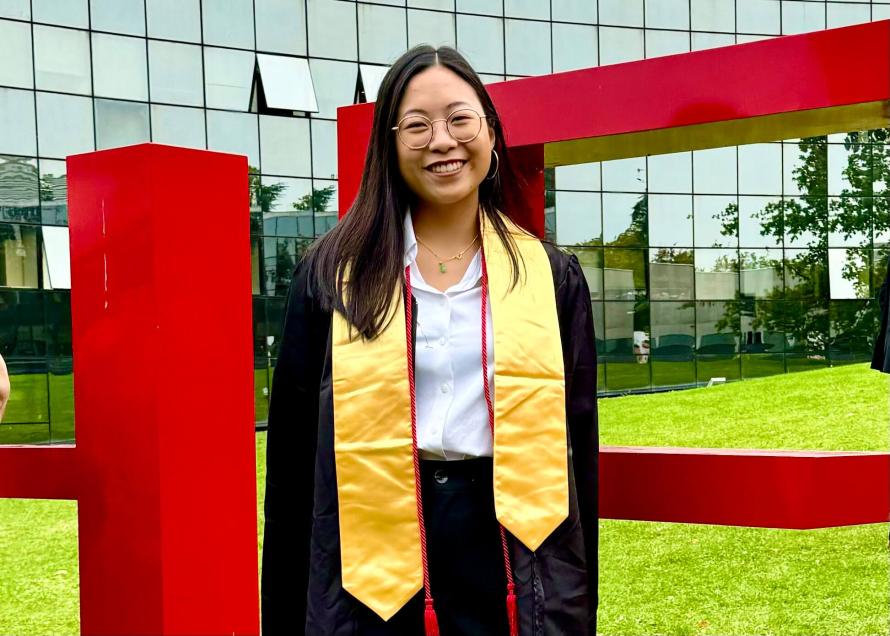 Why did you choose EDHEC Business School?
I had the choice between several schools, but I genuinely had a better feeling with EDHEC after the oral exams. I was also aware of EDHEC's excellent reputation in finance, which aligned perfectly with my career aspirations. I also sought advice from alumni and received positive feedback and experiences, reinforcing my decision to choose EDHEC.
 
What inspired your choice to enrol in the Global Master in Management – GETT, which turned out to be a perfect match for you?  
I chose the Global Master in Management for its international dimension, allowing me to immerse myself in different cultures and perspectives. Other aspects also greatly appealed to me: the prospect of cultivating an open-minded mindset within a unique cohort, its innovative curriculum that blended business and technology seamlessly.
I am glad I enrolled in the Global Master in Management - GETT programme because it was the best fit for me due to its diverse and international learning environment. Despite the initial challenges, I quickly adapted and truly enjoyed this stimulating and dynamic atmosphere. The programme's blend of academic rigor, cultural diversity, and real-world exposure provided me with a valuable comprehensive education.
 
How did you adjust living in three countries in three years?
It was a transformative experience. I approached every new experience with an open mind and embraced different cultures, traditions, and ways of thinking. This open-mindedness not only enriched my personal growth but also facilitated positive interactions with people from diverse backgrounds. I embraced changes as a constant part of my experience. I learned to find ways to turn challenges into learning experiences. This mindset shift helped me approach each new country with curiosity and enthusiasm and make the most out of my time. 
A quick word regarding your experiences in Paris, Seoul and Berkeley.
Not much to say for Paris as I grew up in this city! It has such a rich cultural and historical heritage. 
Seoul brought an exciting blend of tradition and modernity, challenging me to adapt to a different educational approach and immerse myself in the vibrant Korean culture. 
Berkeley, with its cutting-edge research and innovation, offered a stimulating academic atmosphere, and pushed further my motivation for learning. 
How would you describe your experience in the Global Master in Management – GETT programme?
 
Adapting, learning, and growing in diverse environments was a challenging yet incredibly rewarding and enriching experience. It broadened my perspective, enhanced my cultural intelligence, and equipped me with invaluable life skills that I continue to apply in various aspects of my life including my professional life.
One significant lesson I've learned is the importance of adaptability and resilience. Embracing change, staying open-minded, and having the resilience to overcome obstacles have been invaluable qualities that I have developed.
What did you gain from the Global Master in Management - GETT programme? 
It offered unique global exposure and interdisciplinary learning. By studying in Seoul, Paris, and Berkeley, I gained an understanding of diverse cultures and economies - essential in today's interconnected world, and a multifaceted skill set. The programme's emphasis on technology and economics intersection equipped me with a comprehensive perspective, fostering innovation and adaptability. 
During the gap year, you completed two internships that turned out to be greatly significant for your future career.
The gap year was essential in helping me discern my true passions and aspirations. It provided me with the clarity I needed to understand what I genuinely enjoy and what I want to pursue in my future career. 
I was grateful for the opportunity to do these internships, which really helped me clarify my future career path. Practical experience proved invaluable in understanding my preferences, far surpassing what can be learnt from theoretical knowledge.
Which courses, teachers and services had a significant impact on your academic journey?
All teachers have been very supportive throughout this journey. I am especially deeply thankful to Florence Da Costa – from the Career Centre, for her invaluable guidance and support in shaping my career decisions.
The finance courses provided me with a solid foundation. I greatly valued the data science courses in Seoul and Berkeley, providing a great introduction to understanding data—an essential skill in today's business landscape where data is fundamental to decision-making.
Lastly, Isaacs' course on climate change and business strategy at Berkeley was both unique and incredibly enriching. 
What are your plans for the future? Do you already have some job opportunities?
I have decided to continue studying to gain more technical skills which will be useful for what I aspire to be. It came as a surprise to me, but during my final year at Berkeley, I discovered a newfound appreciation for the American way of life. This revelation has opened up possibilities for me to consider working in the USA. I am also considering Hong Kong, or London.
As of now, I'm in the midst of a recruitment process for a graduate programme as an equity quantitative trader with Morgan Stanley, amongst others. For the long-term, I aspire to be a sell-side quantitative trader.
What advice would you give someone who is thinking about applying for the Global Master in Management - GETT?
Stay proactive and engage actively with the international community. Be prepared for a fast-paced, challenging, but rewarding experience. Networking and building relationships with students, professors, and alumni provide valuable insights and support throughout the programme. Be willing to step out of your comfort zone - that's where you often learn the most.