"Applying to EDHEC was a no-brainer because it is one of the top Business Schools in France and has an impeccable reputation across Europe."
Aritra Roy, from India joined EDHEC after a 4-year Bachelor's degree in engineering. Upon the completion of his MSc in Strategy, Consulting & Digital Transformation (now MSc in Strategy, Organisation…
Reading time :
15 Feb 2021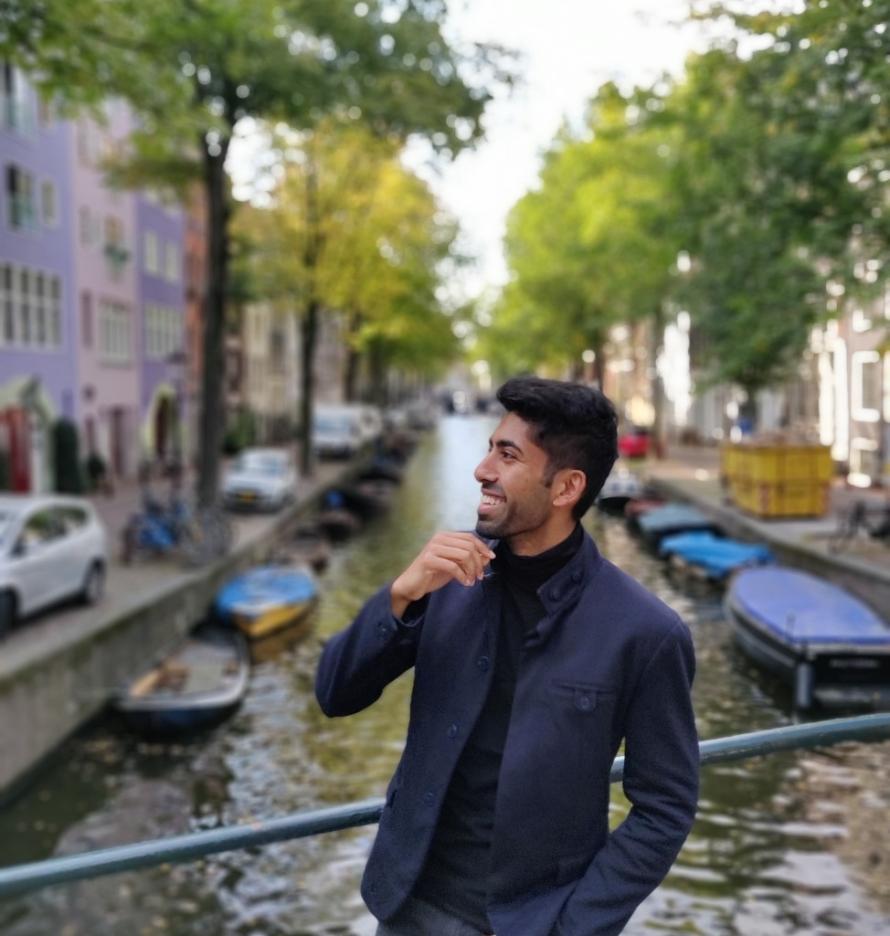 Aritra Roy, from India joined EDHEC after a 4-year Bachelor's degree in engineering. Upon the completion of his MSc in Strategy, Consulting & Digital Transformation (now MSc in Strategy, Organisation & Consulting), Aritra secured a job at Lego.
WHAT WAS YOUR EDUCATIONAL BACKGROUND PRIOR TO ATTENDING EDHEC? 
This should come as no surprise, but like countless other Indians, I pursued a 4-year Bachelor's degree in engineering. My specialisation was in Mechatronics, a broad field of engineering which is mainly associated with automation. However, midway through my studies I realised that this was not really my thing and I found myself drawn towards non-technical aspects of Business, as evidenced by my participation in college associations which had nothing to do with technology. I wasn't really sure of what path I wanted to take, until one fine day, I stumbled onto a programme growing in popularity across Europe: the Master in Management programme. And the best part was that it didn't require any prior work experience. Even better was the fact that there was a gap year where I could get some professional exposure before graduating. So I didn't wait any further and dived straight into it.
WHY DID YOU CHOOSE EDHEC AND THE MSC IN STRATEGY, CONSULTING & DIGITAL TRANSFORMATION (now MSc in Strategy, Organisation & Consulting)?
I chose to apply specifically to France because of this 'gap-year' concept. But even otherwise, France had always been appealing to me because of its culture, food, diversity, and way of life. Adding to that was the fact that I had studied French as a second language up until high school.
Applying to EDHEC was a no-brainer because it is one of the top Business Schools in France and has an impeccable reputation across Europe. The more I explored the programmes, the more I was drawn towards this institution. Once I got the offer from EDHEC, there was no looking back.
After an incredibly eye-opening first year (M1) and a professionally enriching gap-year, during which I worked first in a start-up and then in an MNC (Danone), it was time to choose my specialisation for the final year.
I chose to take up the MSc in Strategy, Consulting, and Digital Transformation (now MSc in Strategy, Organisation & Consulting). Although most people usually opt for this course in order to get into consulting or financial services, I chose this programme because of its vast scope and broad range of subjects. 
WHAT WAS THE MOST IMPORTANT TAKEAWAY FROM THE PROGRAMME?
As I mentioned before, this programme doesn't just conform to certain topics, but gives you a wide range of subjects to explore. From learning about money laundering to ethics in business, this programme has it all! It gives you a platform for multiple career paths. Moreover, all the group assignments and presentation sessions are good simulations for the real world. When working for any enterprise, I want to be able to look at the big picture. And this course helps you do exactly that.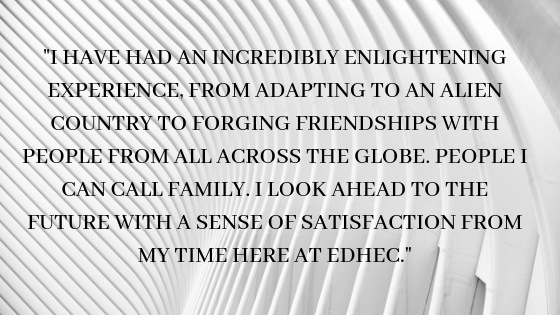 HOW HAS YOUR EDHEC EDUCATION HELPED YOU IN YOUR CAREER? WHERE DO YOU WORK?
I will be working as Assistant Category Manager at Lego for France/Iberia, starting from July 2019. My role will be to work closely with retailers, supermarkets, hypermarkets, etc. and help with merchandising and the promotional strategies, amongst others. This role is quite marketing oriented which goes to prove that you are not limited by your choice of studies at EDHEC.
EDHEC helped in a big way to get me where I am, not just by what was taught in the classrooms, but by all the resources it provides such as business games, networking sessions and career forums, just to name a few.
The atmosphere it fosters allows you to develop yourself both personally and professionally. The diversity of students found at EDHEC is one of the best in the country from what I have seen and heard. And only after arriving in France did I realise that EDHEC is quite a big deal here.                                                             
DO YOU HAVE ANY ADVICE FOR FUTURE EDHEC STUDENTS?
I often receive a lot of messages from people applying to EDHEC, asking me whether I would recommend it or not. The thing is, it is not for me to say, because everyone will have different experiences. It is not whether it is worth it or not, but it is what YOU make of it. EDHEC boasts all the resources, world-class faculty, and infrastructure one could ask for.
All you need is an open mind and a willingness to learn and apply yourself.
I arrived here 3 years ago and now I leave a much-changed person. During my time here, I have had an incredibly enlightening experience, from adapting to an alien country to forging friendships with people from all across the globe. People I can call family. I look ahead to the future with a sense of satisfaction from my time here at EDHEC.
Related resources:
Meet Michel Philippart, MSc in Strategy, Organisation & Consulting Programme Director
Meet François-Nicolas Gombert, MSc in Strategy, Organisation & Consulting Alumnus
Blockchain: Tomorrow's world today?
Laura de Oliveira, MSC in Strategy, Organisation & Consulting Alumna
Meet Xiangming Bei,  MSc in Strategy, Organisation & Consulting Alumnus