Award for EDHEC PhD alumnus Messaoud Chibane
Photo: Award-winning Messaoud Chibane, PhD (2016) and Alain Papiasse, BNP Paribas Congratulations to EDHEC alumnus Messaoud Chibane, PhD (2016)! His doctoral thesis "Topics in Asset Prices and…
Reading time :
17 May 2018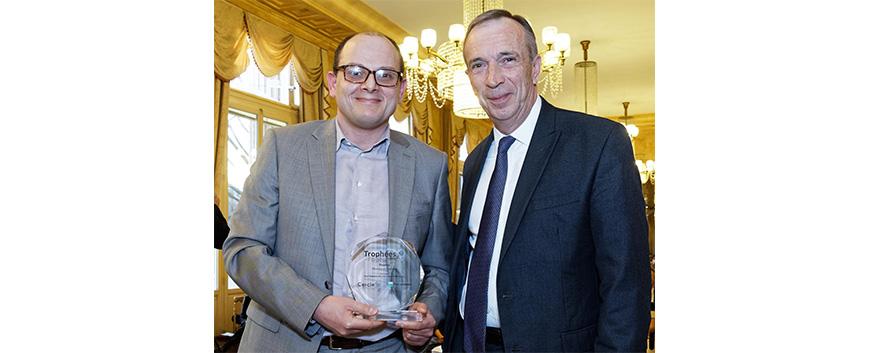 Photo: Award-winning Messaoud Chibane, PhD (2016) and Alain Papiasse, BNP Paribas
Congratulations to EDHEC alumnus Messaoud Chibane, PhD (2016)! His doctoral thesis "Topics in Asset Prices and Crashes" has just been selected for the award Trophy K2 in Finance 2018 by the French Cercle K2 .  
The Finance Jury was chaired by Professor Denis Gromb, HEC, Professor Gilles Hilary, University of Georgetown, and Alain Papiasse, Deputy COO and Group General Management Representative for North America, Head of Corporate and Institutional Banking, BNP Paribas
Since its creation the Cercle K2 has developed different platforms to network and open the discussions between the academic and the operational spheres. Trophies K2 contribute to such objective. The Trophy K2 in Finance is intended to reward an academic research work in finance prepared in the form of article. The author has to be a recent PhD graduate. All the methodologies are accepted but the article has to demonstrate a potential of publication in high-level academic reviews. The criteria of evaluation are the ones of academic reviews with a premium for the originality of the work.
After more than 15 years in the finance industry, Messaoud has joined academia after his PhD graduation as Assistant Professor at NEOMA Business School (France). He previously held the position of Global Head of Quantitative Research at Shinsei Bank in Japan.  
Access the thesis's abstract  (Dissertation Advisor: Professor Abraham Lioui, EDHEC Business School):  https://www.edhec.edu/en/phd-finance/theses/topics-asset-prices-and-crashes