Discover the programme of the event "How to leverage family dynamics to create and grow responsible businesses?"
On August 31, 2023, in Paris, from 2pm to 7pm, join us to this event organized by the EDHEC Family Business Chair, with the support of SIFB EU Erasmus+ cofounded project.
Reading time :
22 Aug 2023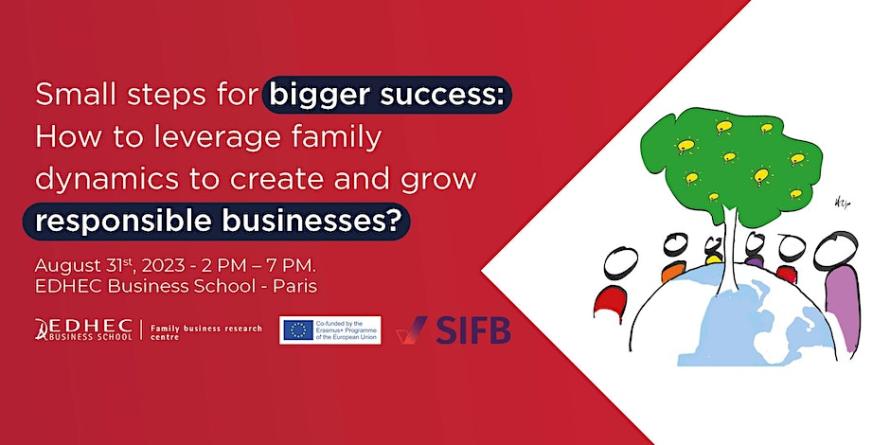 Entrepreneurial and business families are the backbones of our economies. In the face of difficulties and crises, they tend to show resilience and engage in responsible behaviors conducive to the continuity of the businesses they create and own.
While the family interaction with the business can be the source of their strengths, it can turn into a source of weaknesses especially during the succession process.
What are the challenges of these families over their life cycle? How to deal with these challenges to grow and sustain their businesses responsibly ?
The conference "Small steps for bigger success: How to leverage family dynamics to create and grow responsible businesses?" explores this question through live testimonies of both century-old family businesses and younger family businesses as well as through workshops built on applied research and outputs from SIFB project to guide you in your family business journey.
The EDHEC Family Business Chair organizes this conference with the support of SIFB EU Erasmus+ cofounded project.
This event also features the launch of the EDHEC Family Business Club. Intended to build a dynamic international community of EDHEC students and alumni, members of family businesses, the Club offers a space to share experiences and boost knowledge and skills to make an impact!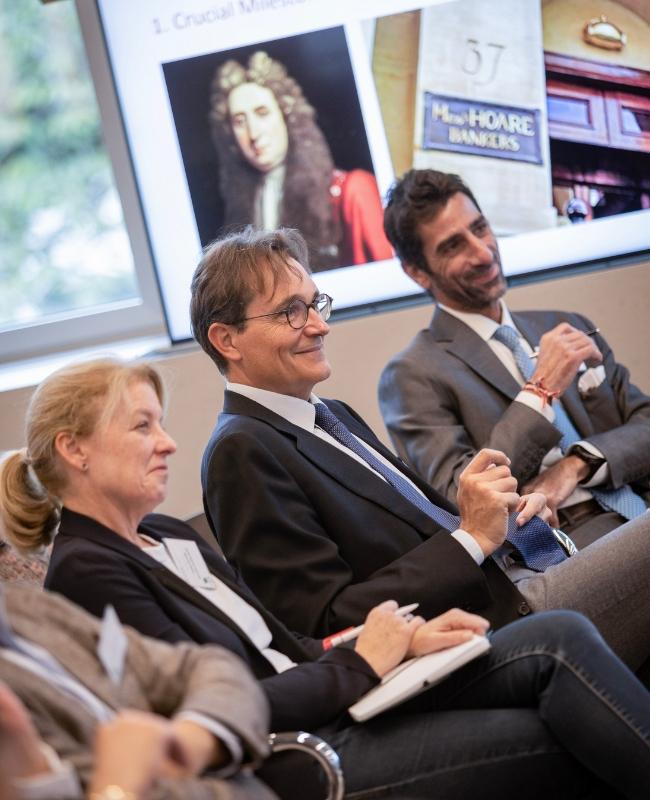 Preliminary program
 
14h00 

: Welcome and Introduction

14h15 

: Roundtable "What's the key for surviving? Lessons from long-lasting family businesses"
Speakers: François-Nicolas Gombert-Delmas (7th generation, Delmas Musique) and Andrea Grondona (6th generation, Biscottificio Grondona)

15h15 

: Coffee Break

15h45 

: Roundtable "How to keep the family and the business healthy? Insights from family duos in business".
Speakers: A urélien Birebent and Pascale Lesage (First generation, Arthylae), Valérie Jossermoz (4th Generation, SA Jossermoz Annecy), Nassim Benkhaled and Basma Sadani (First generation, @DePlano)

16h45 

: Insights & interactive discussion:
"How to educate the next generation?" (Prof. Fabian Bernhard)
"How to create purpose in family business?" (Prof. Rania Labaki and Bertrand Leclercq)

17h45

 : Launch of the Family Business Club : Mission and objectives

18h00

 : Afterwork reception

19h00

 : Exclusive Workshop for EDHEC students and alumni (members of family businesses): "What needs to change for future survival of your family business?"
Moderated by Prof Fabian Bernhard and Rania Labaki, with the participation of the EDHEC Family Business Club founders
20h30 : Dinner
How to leverage family dynamics to create and grow responsible businesses ?
S P E A K E R   B I O G R A P H I E S
 
François-Nicolas GOMBERT-DELMAS, 7th Generation, Delmas Musique
François-Nicolas grew-up in Perpignan (France) in a musical family specialized in instruments & piano retail since 1840. Now he represents the 7th Generation of the Delmas family. Delmas Musique was founded in the Catalan city by Pierre Brisillac, his 5 times grand-grand-father.
He is currently experiencing on-going transmission with his parents (6th Generation) in a highly competitive niche market. François-Nicolas is using family history with the long-lasting business of 183 years as a key differentiator on the market: Clients are buying an experience, not only a product where family history is central.
This advantage is also used upstream with supplier relationships. Famous brands tend to prefer distributors with a "plus" such as historical anchorage. This allows the family business to represent top tier brands such as Steinway & Sons in pianos (only 8 representatives in France). Ongoing projects such as the main store in the 1909 family building is another example of balancing tradition and rejuvenation.
Prior to joining the family business in 2021, François-Nicolas worked as management consultant in Paris for 5 years, focusing mainly on operating model shifts for large organizations. He graduated from EDHEC Business School (France) in 2016 with a MiM & MSc in Strategy.
Andrea GRONDONA, 6th Generation, Biscottificio Grondona
Andrea Grondona is 6th generation member of Biscottificio Grondona S.p.a., an Italian family business founded in 1820 and member of The Henokiens, specialized in the production of shortbread and naturally leavened dough.
Andrea views his family business as a source of pride not only for the Liguria region where it was founded but also for Italy which it represents with its products throughout the world, as it is now present in 32 foreign markets. The company proposes traditional products, mainly from Genoa, including biscuits, cakes, "pandolci", donuts and panettoni, with dedication to the excellence of raw materials and the respect of knowledge over generations. The products have been described by experts as "a living demonstration" of the long-term continuity of "reference products" that are "undoubtedly the most qualified and traditional Italian pastry products".
Over the years, Grondona has received a number of national and international awards and recognitions. Its 200-year anniversary was marked by a stamp issued by the Italian Post, depicting Grondona's historical "Circle of Life", a symbol of the philosophy that has been directing the family business over the years. Today, the next generation continues the legacy, balancing tradition and innovation, internationalization and attachment to the roots, emotional and rational logics.
Andrea graduated from Università degli Studi di Genova with a degree in law. He then completed a business, marketing and advertising program in Waterloo, London. Following work experience abroad, he joined the company in 2013 in charge of the development of the domestic market and the strategic management and development of some foreign markets. He is currently board member and managing director of the company.
Fabian BERNHARD, Professor, EDHEC Family Business Chair, EDHEC Business School
Prof. Dr. Fabian Bernhard is a Professor of Management and Psychology and is part of the Family Business Center at EDHEC Business School in Paris, Lille, Nice and London.
He is a research fellow for family business at the University of Mannheim and for psychology at the University of Frankfurt in Germany. Equipped with the insights from his own family's business, Fabian Bernhard worked several years for a renowned financial consulting company in New York. In his academic work he specializes in the emotional dynamics in businesses, the preparation of next generational leaders, and the psychological attachment to the family business.
His articles have been published in various academic and practitioner outlets as well as in the public media. Fabian Bernhard is a recipient of several honors and awards for his work on family businesses, such as the best dissertation honorable mention by FFI at Harvard University. Since 2014 he has been serving on the editorial boards of the Family Business Review (FBR) and the Journal of Family Business Strategy (JFBS). He has been a member of the Board of Directors of the Family Firm Institute (FFI) in Boston.
Rania LABAKI, Professor and Director, EDHEC Family Business Chair, EDHEC Business School
Rania LABAKI, Ph.D. is Professor of Finance and Family Business at EDHEC Business School, Director of EDHEC Family Business Research Chair, and Family Business Fellow at Cornell University and the Family Firm Institute.
She serves as board member of IFERA, co-editor of Entrepreneurship Research Journal, and editorial board member of FamilyBusiness.org and Revue Droit & Patrimoine. She is also advisory committee member of Women in Family Business and One Governance, and family business affiliate advisor at Lansberg Gersick Advisors.
A global speaker with presentations and lectures in over 50 countries, her insights have been featured in nearly 200 academic and professional publications as well as media outlets, such as Financial Times, Forbes, Le Monde, Les Echos, El Pais, Campden FB, Tharawat, and The Conversation.
Among her past appointments, she was academic expert of The Family Business Network International, director of the Financial and Wealth Management Master Program at the University of Bordeaux and of the Family Business Global Executive MBA at EDHEC Business School.
Along with a Master degree in Business Administration from the Holy Spirit University, a Master of Science and a Ph.D. in Management Sciences from the University of Bordeaux, Rania holds the Advanced Certificates in Family Business Advising and Family Wealth Advising from FFI and the Certificate of Women Leadership Development from the University of Oxford.
Rania is recipient of numerous awards recognizing her contributions to the family business field. Her current research, advising and teaching interests revolve around the interplay between family dynamics and decision-making, governance design and development of responsible owners.
Valérie Jossermoz, 4th generation, SA Jossermoz Annecy
Valérie grew-up in Annecy (France) in a family of entrepreneurs, carpenters and builders since 1945. The JOSSERMOZ & FILS Company was founded in Annecy in 1945, by Joseph Jossermoz, her great-grand-father, Francis Jossermoz her grandfather and Louis Jossermoz, her grand-uncle, just after the WWII when France had to face the challenge of rebuilding homes and repair infrastructures. 
In 1974, her father experienced a hard transmission when her grandfather had a heart attack and decided to sell part of the company to Saint Gobain, the major global player in the strategic building market.
In 2012, Valérie and her two brothers faced a very complex transmission when their parents passed away in a car crash. The family business included several companies worldwide, and various business partners, which compounded the difficulties. The succession process lasted 10 years, until an agreement was reached in 2022. Until then, Valérie represented the 4th Generation of the Jossermoz family.
This experience has given her extensive expertise in the field of family business, their dynamics and the unique challenges and opportunities that come with managing and growing a family enterprise.
Prior to joining the family business in 2012, she worked as a marketing and project manager in telecoms and tech industry. Through executive and non-executive functions in France and abroad, she had the opportunity to evolve in complex international contexts where she acquired a 360° view of the company.
With a rich and inspiring career in a consulting firm (Booz Allen & Hamilton), large groups (Vivendi/SFR) and family businesses, midcaps, SMEs, TPE & Startups, she accompanies companies, founders & executives in the critical stages of their development (initiation, acceleration, crisis, internationalization, transformation, etc.). 
She graduated from EDHEC Business School (France) in 1994 with a MSc in Marketing Strategy.
Pascale Lesage, 1st generation, SAS ARTHYLAE-Paris
With 25 years of experience in management and international development strategy within the IT and telecommunications sector, Pascale made the decision to embark on an entrepreneurial journey.
Growing up in a family of accomplished craftsmen and artists who instilled in her a passion for material refinement, skilled craftsmanship, and the world of art in general, she was determined to establish a business centered around the creative industry.
In 2020, Pascale co-founded ARTHYLAE alongside her son, Aurélien, who had recently completed his university studies. Despite the daunting challenge of launching their venture amidst a global pandemic, their unwavering belief in the viability and potential of their project propelled them forward against all odds.
Today, Pascale finds herself in a unique position to harmonize her professional expertise with her boundless passion and creativity: the development and production of exceptional creations in France, utilizing noble materials such as glass, feathers, metal, and wood.
ARTHYLAE's diverse range of creations encompasses decorative panels, room dividers, wall claddings, table tops, furniture ornaments, decorative friezes, mirrors, and various other decorative objects.
Collaborating closely with interior architects and luxury companies, ARTHYLAE designs bespoke decors for upscale interiors within private residences, boutiques, showrooms, hotels, restaurants, spas, and even luxurious boats and planes.
While the collaboration between a mother and son may appear to present its challenges, for ARTHYLAE, it represents an extraordinary opportunity for growth. Thanks to their mutually complementing visions, intergenerational and multidisciplinary approach, as well as their distinct skills and expertise, this dynamic duo is poised to propel ARTHYLAE towards success.
Aurélien Birebent, 1st generation, SAS ARTHYLAE-Paris
Aurélien's childhood was filled with the enchanting aromas and sounds of workshops, thanks to his great-grandfather who was a painter in Switzerland, and another who excelled as an upholsterer and decorator in Paris. This early exposure to craftsmanship and the finest materials left an indelible impression on him. Meanwhile, his father's side of the family introduced him to a world of vineyards, sunshine and grapes.
Inspired by this family legacy, Aurélien joined forces with his mother three years ago to establish ARTHYLAE, a company serving as an ambassador for French excellence. The name itself embodies the harmony between "Art" and "Hylé," the Greek word for material.
ARTHYLAE collaborates with luxury brands and interior designers, offering comprehensive services from consulting to implementation. They reinvent French savoir-faire of excellence, incorporating sustainability and innovation at every step.
Positioned within the luxury industry, ARTHYLAE considers excellence as a fundamental element of its success. Recently, the company delivered an exceptional project for a prestigious French company with the challenge of meeting high jewelry standards, where every detail matters.
Prior to establishing ARTHYLAE, Aurélien completed his MSc in Strategy, Consulting & Digital Transformation at EDHEC. Over the past five years, he has gained experience studying in Singapore (NTU) and the US (UCLA), making him comfortable with multicultural environments. Currently, his focus lies on the international expansion of ARTHYLAE.
Furthermore, Aurélien successfully incubated ARTHYLAE at STATION F in Paris, as part of the highly selective EDHEC program. This invaluable experience allowed him to lay solid foundations for the company and gain insight into the startup and venture capital ecosystem.
Bertrand Leclercq, 3rd generation, Association Familiale Mulliez, 1rst generation, Arbor et Sens
Bertrand is a family business entrepreneur and a member of the Mulliez entrepreneurial family.
Among various positions he held at AFM, he served from 2010 to 2019 as general manager of the Mulliez Family Association, (AFM), the head body of the governance of the family groups. For the past 25 years, he has successively held directorships with the Auchan group, Auchan France, Agapes restauration, Tapis Saint Maclou, Phildar. In 2015, he was leader of the Vision project, AFM 2035, "Creating for people", involving over 18 months the 350 active shareholders in the implementation of their family and entrepreneurial project at the service of the business platform. Since 2010, he has supported all of the AFM's FCPs (5 billion in assets) on the management and risk monitoring aspects (dilution).
He currently serves as member of the Cohesion Committee and the Succession Committee of AFM, which anticipates the development of the groups partners' skills and the appointment of presidents. He is also member of the compensation committees of AFM (top 300) and Fashion Cube (Pimckie, Jules, Rouge Georges, Bisbee, Grain de malice, Orsay) as well as member of the Human Committees of Decathlon and Mobivia (Norauto, Midas, Carter Cash...). He is also the Founding President of TIPIK, a platform whose objective is to develop Human Capital between all the AFM companies (650,000 employees).
Bertrand is also President of "Arbor et Sens", a consulting company on the challenges of the generational transition of family businesses. From his experience in the governance of family groups, he places people and the long term at the heart of the company's thinking. To "design the future", he proposes to go through the elements of trust that make it possible to align the interests of the stakeholders.
He is also President of the Abilways training group since 2016, (CFJ, CFPJ, EFE, ISM, ACP, W school,) and member of the Board of Directors of Paluel Marmont group where he served as Chairman from 2017 to 2020 (SBF 250).
He is investor on various start-up projects, private equity, active asset management of the holding paths in connection with Mobilis, the Family Office of AFM.
He graduated from IUT TC Valenciennes and enrolled in several training programs in management (CEPI-CPA), recruitment (D5D certified), strategy (Strategyzer), and participated in several learning expeditions relating to the acceleration of the digital transformation of ecosystems.
Nassym Ben Khaled, First generation, DePlano
Nassym is the co-founder and CEO of DePlano.
Engineer from the Institut Mines Télécom Atlantique, he supplemented his curriculum with a dual degree in Finance and Management from the Edhec Business School (Programme Grande École).
This Tech/Business hybrid background allows him to navigate with agility in both the technical and business aspects of the startup.
Having played a key role in coding the platform, he has an in-depth knowledge of the product and enables the project to have a strong execution capability for bug fixes or the addition of new functionalities.
Basma Sadani, First generation, DePlano
Basma is the co-founder and Chief Legal Officer of DePlano.
Former attorney, Basma has spent over twenty years working in the Legal Departments of major international corporations (Orange, Engie, Citibank, …).
Passionate about law and regulatory developments, in 2018 she embraced the path of GDPR (General Data Protection Regulation) and underwent training to become a Data Protection Officer (DPO). Later, she ventured into entrepreneurship and co-founded DePlano in late 2022.
Basma serves as the Legal and Compliance Director of DePlano She is a true legal pillar of our project, having initiated and overseen the research and development conducted with our partner attorneys regarding the attorney search experience, shaping it into what it is today: simple, fast, and targeted.