BlaBlaCar: Driving a digital business
All businesses start with a personal story, an unfulfilled need, and BlaBlaCar is no exception. Back in 2003, company founder Fréderic Mazzella needed to travel from Paris to Vendée on France's West…
Reading time :
9 Jan 2020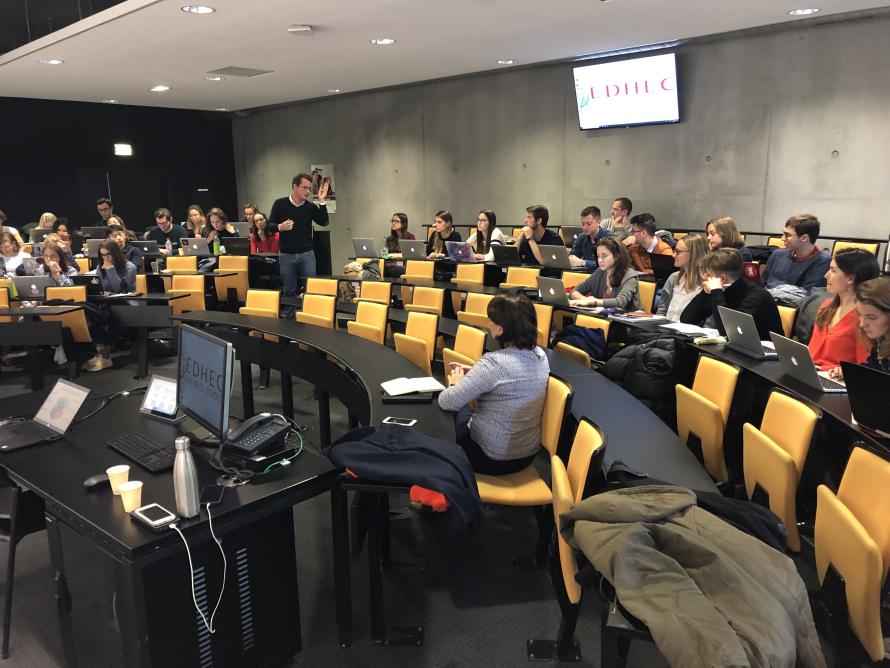 All businesses start with a personal story, an unfulfilled need, and BlaBlaCar is no exception. Back in 2003, company founder Fréderic Mazzella needed to travel from Paris to Vendée on France's West Coast to spend Christmas with his family, but all the trains were full. His sister, who lived in Rouen in Normandy, offered to pick him up and drive him. En route, Mr Mazzella noticed that most of the other cars on the road were driver-only. He then realised that there were seats available for travel, just not on the train! Thus, Co-Voiturage.fr, the marketplace for shared road travel was born. The company was renamed BlaBlaCar in 2013.  
A digital business model
"As often in the digital business world, you acquire key markets, diversify your services and then, become profitable", Mr Montoro said. Highlighting the major milestones in the company's story, he gave students key insights into the specifics of a prosperous digital-platform business strategy.
In 2016, thanks to its successful fundraising efforts, BlaBlaCar joined the elite group of French "unicorns", companies with a valuation of more than $1 billion. However, BlaBlaCar expanded internationally before becoming profitable in the first half of 2018. Today, it operates from eight international offices and serves 85 million users in 22 countries, tailoring its strategy to each target market. Platform services are generally free at launch, but once the market is mature, BlaBlaCar charges a commission on seats booked.
In 2019, the company expanded into coach services after acquiring Ouibus, a French bus company. The new service operates under the Blablabus brand.
As with many other digital platforms, BlaBlaCar has no physical assets (it sold the Ouibus fleet and just fills seats on buses). Its value is based on number of users, its capacity to expand internationally, its agility and its ability to diversify in an environment where the legal environment is lagging.
"Discovering BlaBlaCar has been a great opportunity for students to better understand the digital business reality before we dig deeper into the numerous legal and tax challenges this kind of business raises next semester," says Emmanuelle Deglaire, Associate Professor and member of the LegalEDHEC Research Centre.
The student view
Baptiste Fondeur, French, LL.M. in Law & Tax Management student
"It was very interesting to learn more about BlaBlaCar's strategy. It first builds a user base with a free service, then moves on to monetise the service. There was also a very useful diagram in the presentation on the skills of the company's legal and tax professionals, set out as a three-storey pyramid. The base of the pyramid is the "technical" element and a prerequisite to the second-level "communications" and third-level "management" elements. I was also surprised by the international dimension of the speakers' work. I thought the legal profession was pretty sedentary, given the specificity of jurisdictions. But in a digital startup, it's not!"
Related resources:
EDHEC Augmented Law Institute launched
Meet Morgane Jehel, LL.M. in Law & Taw Management Alumna
Impact of technology on law practice
Meet Huang Zhang, L.L.M in Law & Tax Management Alumnus
Meet Professor Christophe Roquilly, co-head of the LL.M. in Law & Tax Management