Bloomberg L.P. becomes Corporate Sponsor of the EDHEC MSc in Financial Markets
EDHEC Business School is pleased to announce that Bloomberg L.P., the global business and financial information and news leader, has signed an agreement to become the Corporate Sponsor of the MSc in…
Reading time :
10 Mar 2017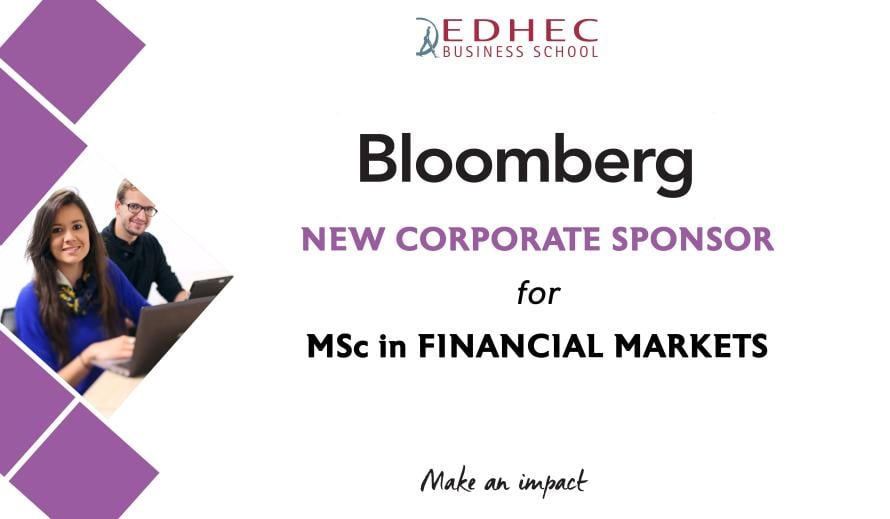 EDHEC Business School is pleased to announce that Bloomberg L.P., the global business and financial information and news leader, has signed an agreement to become the Corporate Sponsor of the MSc in Financial Markets.
Students studying the Financial Economics track of EDHEC's MSc in Financial Markets can now access the Bloomberg Professional service, or Terminal, which has more than 325,000 leading business and financial subscribers worldwide.
The Bloomberg Professional service or Terminal, is a software platform providing trusted real-time and historical data, market moving news and analytics to help business and financial professionals make better informed investment decisions. The service also features execution platforms for every asset class, research and a global network to communicate securely and reliably. EDHEC's subscriptions to the Bloomberg Terminal will serve as a resource for both students and academic staff. It will enable students to become familiar with tools used by financial professionals, thereby reinforcing classroom theory, while academic staff can use it to further their own research.
Bloomberg representatives will offer regular training and the Bloomberg Terminal offers multiple learning tools including the Bloomberg Market Concepts (BMC) certificate, an e-learning course providing a visual introduction to the financial markets, covering economics, currencies, fixed income and equities. Bloomberg will also award the annual Bloomberg Prize to one Applied Master Project during future graduation ceremonies.
"We are delighted to announce this innovative partnership with one of the leading providers of financial data," explains Pascale Viala, Director of EDHEC Business School's Financial Economics track. "It will allow our students to access cutting-edge learning tools and resources, and also to acquire skills increasingly sought by recruiters faced with the big data and fintech revolution."