Butagaz becomes Corporate Partner of EDHEC's MSc in Global and Sustainable Business
EDHEC's MSc in Global & Sustainable Business programme has signed a corporate sponsorship agreement with energy provider Butagaz, starting in September 2019. Butagaz, part of DCC plc, supplies…
Reading time :
23 Sep 2019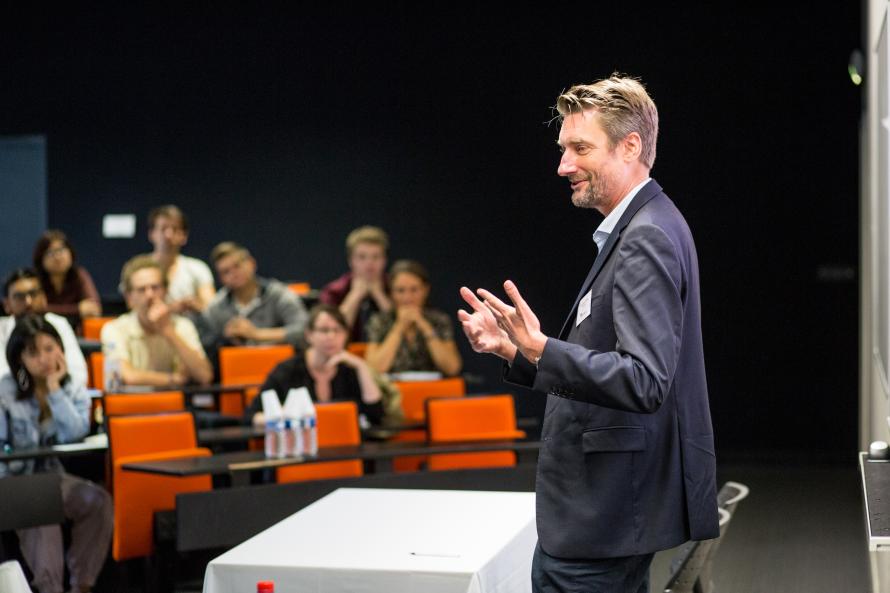 EDHEC's MSc in Global & Sustainable Business programme has signed a corporate sponsorship agreement with energy provider Butagaz, starting in September 2019. Butagaz, part of DCC plc, supplies liquified petroleum gas (LPG), natural gas, electricity, and wood pellets to more than 5 million households in France.  Emmanuel Trivin, Butagaz CEO and Emmanuel Métais, EDHEC Dean, signed the partnership on 4 September in front of MSc students in Lille. Emmanuel Trivin took the opportunity to engage with MSc students in a one-and-a-half-hour Q&A session on topics from Butagaz's strategy to his career path, role and personal motivations as CEO.
Real case studies for students
"As a corporation, our aim is to grow sustainably and profitably," Mr Trivin said. "We are embracing the energy transition and it's effectively changing the business. We are diversifying our portfolio of energy sources, products and services. Our business model is transitioning from selling energy to helping consumers save energy."
By sponsoring the MSc in Global & Sustainable Business, Butagaz is strengthening its relationship with EDHEC and investing in tomorrow's business executives. "Last year, we participated in the Explora certificates," Mr Trivin said. "EDHEC students helped us find solutions to issues we were facing. Looking ahead, sponsoring the MSc in Global & Sustainable Business is another great opportunity for students to continue taking part in our innovation centre."
Over the course of the next academic year, two Butagaz executives will deliver courses on real case studies. The partnership will also include two four-month projects, with students working closely with Butagaz, in groups of four, on topics related to corporate social responsibility and energy sobriety. Projects will have cross-over contributions to courses including 'Innovation Policies for a Sustainable Energy Sector'.
Talent sourcing
Bastiaan Van der Linden, Programme Director of the MSc in Global & Sustainable Business, says that students will find Butagaz to be "an excellent example of how businesses today shape their strategy, including the issue of sustainability." The partnership "ties in perfectly with Butagaz' open innovation strategy and reveals how EDHEC's research for business strategy works."
Beyond its academic potential, this partnership is also a talent-sourcing opportunity for students, EDHEC and Butagaz. "These projects will help us identify talented students who could join Butagaz or its shareholder DCC's graduate programme," says Mr Trivin. "We will certainly be engaging in talent sourcing."
Related resources:
Video: Discover EDHEC MSc in Global & Sustainable Business master projects
Sustainability in the fashion industry: Kim Poldner aims at teaching students how to be changemakers
How guest speaker talks provides insights on seizing opportunities in the real estate business
'Mosquito killer' Bart Knols joins the line-up for EDHEC's new MSc in Global & Sustainable Business
Climate change: the big test for public and private regulation?
EDHEC launches new Data Sustainability of Internet-based Industries course
Bringing sustainability to business education
New rankings confirm EDHEC as a top-tier international business school