Call for applications: join the EDHEC incubator in Paris
The EDHEC incubator opens its call for applications to recruit the future startups incubated at the STATION F Campus in Paris. Apply before September 17th.
Reading time :
28 Aug 2023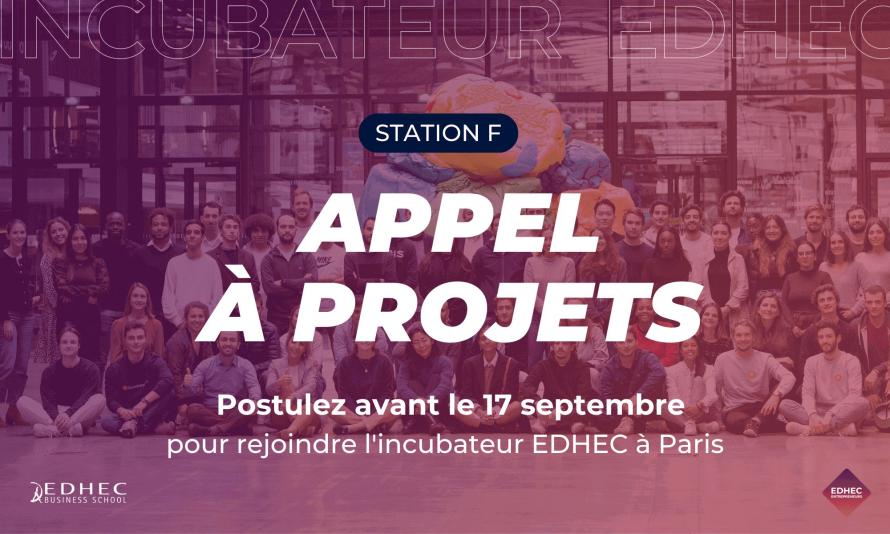 EDHEC Entrepreneurs opens its new call for applications to recruit its next batch of startups incubated at STATION F in Paris. Apply before September 17th to access a tailor-made program and support in your entrepreneurial adventure.
The EDHEC incubator supports bold and committed entrepreneurs who wish to open new paths. Our one-year program offers human support and access to numerous exclusive resources to help our entrepreneurs realize their ambitions, including :
A Program Manager available and attentive to our entrepreneurs to guide them, meet their needs and challenge them
A unique support for a global performance (economic, societal, environmental and social)
Exclusive advice from a community of over 300 passionate experts and mentors in financing, marketing, legal, recruitment, product, etc.
Financial support through a network of +100 partner investors and the opportunity to apply for a grant of up to €30,000 thanks to the incubator's accreditation by the Parisian Innovation Fund.
A close-knit community of entrepreneurs to rely on and numerous highlights throughout the year: competitions, major events, inspiring meetings, etc.
A privileged access to EDHEC Business School's resources: the strength of its network of over 50,000 alumni, access to over 8,000 students, numerous partner companies, etc.
About STATION F Campus in Paris
The entrepreneurs selected as a result of this call for applications will evolve for a year within our incubator in the STATION F campus in Paris. Located in the 13th arrondissement, STATION F is an essential hub of the French entrepreneurial ecosystem. A true living space, it provides an ideal working environment for launching and growing your startup.
Good to know 💡
The EDHEC Entrepreneurs incubator at STATION F is accredited by the Fonds Parisien pour l'innovation (FPI). If your startup meets the eligibility criteria, this initiative can provide you with financial support of up to €30,000, which you can use to cover your incubation expenses.
Conditions of access to the program
Although it is attached to EDHEC, our incubator is open to all types of profiles, alumni of EDHEC Business school or not. EDHEC Entrepreneurs recruits startups on the basis of a finalized and tested prototype that demonstrate a strong market interest and a significant growth potential. The founders must be working full time on their project and show a willingness to take a full part in the program and in the animation of the community.
Finally, we want to support entrepreneurs who are actively committed to positively impacting our society. The selected startups will be those that adopt responsible practices from the beginning. Learn more about our admission criteria.
How to apply?
You want to join the adventure? Apply before September 17th, 2023 to join the EDHEC incubator in Paris:
Complete the eligibility test before September 17th
If you are eligible, you will receive directly by email the online application form to fill in to learn more about your startup and your motivation to join the incubator.
Your application has been accepted? You will then move on to the final stage: a 7-minute pitch in front of a panel of professionals from the ecosystem (VCs, entrepreneurs, mentors, etc.) to present your project.
The integration of the new batch of startups will take place on October 16th, 2023.
MORE INFORMATION 👀
Do you have questions about the selection process or the incubation program? EDHEC Entrepreneurs invites you to an online information event. 
This event will take place on Tuesday, September 12th, 2023, from noon to 1:00 pm. Register now.
KEY DATES TO REMEMBER 📅
The call for applications is open from August 28th to September 17th: during this period, entrepreneurs are invited to complete an initial eligibility test, which will give them access (or not) to the official application form.
An online information event will be held on Tuesday, September 7th from noon to 1:00 pm, online.
The announcement of the pre-selection results to the startups will take place on September 21th.
Pitching sessions will be held on September from the 26th to the 28th, online.
The announcement of the final results to the startups will be on October, 2nd.
The program will begin on October 16th, 2023.