Campus life: a business case with SEB
Groupe SEB, a French electrical appliance consortium has been a supportive partner of EDHEC's MSc in Marketing Management program for the past seven years. In the Sales Management class taught by Dr…
Reading time :
22 Feb 2022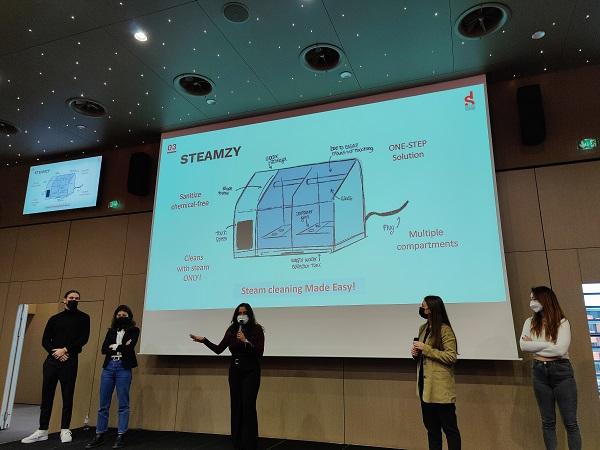 Groupe SEB, a French electrical appliance consortium has been a supportive partner of EDHEC's MSc in Marketing Management program for the past seven years. In the Sales Management class taught by Dr. Yenee Kim, students had the opportunity to work on a real company project with Groupe SEB as a team in collaboration with engineering students from ENSAM, an engineering school. Each team consisted of one or two engineers and a few marketers to strategically develop and persuasively pitch a new product innovation.
A new perspective
In 2021, EDHEC MSc in Marketing Management students were asked to develop an innovative product solution for Groupe SEB's steam textile/accessories range. EDHEC Business School students worked hand in hand with engineering students from ENSAM, an opportunity for them to build a project innovation from its product creation to its marketing. "For us, ENSAM students, the SEB Challenge is an occasion to express our engineering talent through a designing project while working alongside EDHEC students who express their business-driven mindset. It's a new design approach for us. I was looking for this new perspective when I decided to join the project. Working with teams from all walks of life is also a skill that I will use later in my career", says Kilian Dalmasso, Master 2 student. "Through this project, we have learned some aspects of marketing and sales management that are slightly studied in an engineering school. Students from ENSAM focus on the design, the user experience, while EDHEC students focus on the marketing aspect", adds Yoan Racouchot. Both of them evolved in an international team. 
Being an ex-engineer, Ranan Parashar (Master 2 EDHEC) felt that the chance of working together with engineering students from ENSAM on a business case with Groupe SEB presented the opportunity of the best-of-both-worlds project. "Personally, this project was unique as it was for the first time, I worked with students outside EDHEC and I learned so much from them during the course. Several conversations we had throughout the project supplemented our usual business-driven conversations with talks on product conceptualization, product development, and product engineering feasibility and the learnings were invaluable. I was able to capture insights and hurdles from both ends of the table in terms of marketing and engineering that usually would come up in a real-life business. These were particularly useful for me as my career inclination is towards product marketing." Coming back to campus from a professional gap year, Ranan brought back his managerial skills and a sense of conduct. "Having dealt with real-life business problems, I could bring to the table all the knowledge I learned in PR, media, and consumer engagement." The situation was likewise for all students in the class as they each brought their skills and experience in different sectors of marketing. This allowed them to take a more realistic approach in working for the Groupe SEB project. "For our projects, we worked on creating a steam clothes cleaner for young adults: a device that makes steaming seamless, all with the push of one single button, he explains. Our work started from conceptualizing a product based on our market research, STP conceptualizing, working on the product itself from an engineering perspective, formulating a sales pitch, and even strategizing a distribution network. Who knew that a team lunch in front of the "Manoir" at the EDHEC campus and seeing a dustbin would lay the foundation of our product design?"
Presenting at Groupe SEB Headquarters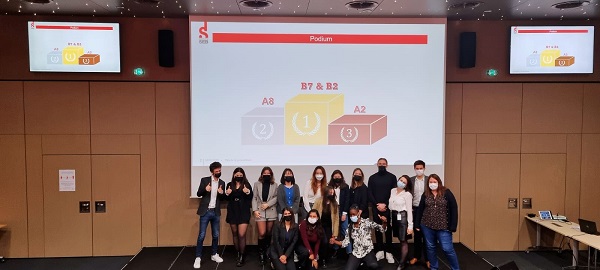 After working on the project for the entire semester, four winning teams were invited to the headquarters of Groupe SEB in Ecully to present their product innovations and deliver their sales pitches in front of other winning teams, professors, and Groupe SEB employees.
Here are some quotes from a few students who presented at the Groupe SEB Headquarters.
> Lu Liu (Master 2 EDHEC): "During the project, I particularly appreciated the group work that lasted for a full semester. Everyone was highly engaged in the project and I enjoyed the communication and problem solving we managed together. Everyone had original ideas when we first brainstormed about the project and it was meaningful to develop these ideas into concrete pictures."
> Megha Singha Roy (Master 2 EDHEC): "It is my first time winning a project and I really enjoyed visiting the Groupe SEB headquarters. The project was very interesting, and I really liked developing the sales pitch and trying to present the idea to others. I particularly remember the first time our team brainstormed about our new product innovation. Everyone had great, wild ideas and it was very fun. Thanks, EDHEC for making this whole project happen!" 
> Victoire Billet (Master 2 EDHEC): "This project, in collaboration with the SEB group, allowed us to develop a team spirit, to pool our knowledge, our ideas, and our creativity. Having the opportunity to present our product idea at the SEB's headquarters was a very good way to understand the group's organization and the projects developed by the brands. The exchanges we had with some employees were very enriching and our work was valued thanks to this experience."
> Aashna Khanna (Master 2 EDHEC): "It was great to be a part of this innovation project, working with people from different nationalities coming together with ideas for the innovation and then winning the challenge as well. Groupe SEB is a huge group, working for them was an amazing opportunity for us. "
For most students who participated in the Groupe SEB real company project, the overall experience was fulfilling, and most look forward to working on more cross-school projects in the future.