Campus life: EDHEC helps me broaden my international horizons
EDHEC's Welcome Day for International Students took place on September 2, 2022, at the Lille campus. Shujuan Zhu, who joined EDHEC's Master in Management, Business Management track this year, shared…
Reading time :
15 Sep 2022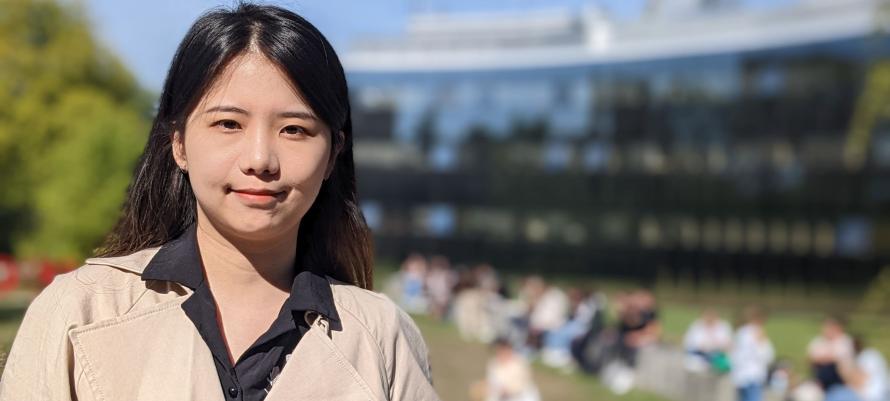 EDHEC's Welcome Day for International Students took place on September 2, 2022, at the Lille campus. Shujuan Zhu, who joined EDHEC's Master in Management, Business Management track this year, shared with us her experience of studying in France for the first time.
ABOUT YOU
What was your undergraduate major before joining EDHEC?
My undergraduate major is French Language and Literature.
Why choose to join EDHEC Business school?
EDHEC is a top business school in the world. The international environment, the pursuit of innovation, and the hands-on approach at EDHEC were key elements for me. I have earned an undergraduate degree in liberal arts, and I wanted to gain knowledge in business. EDHEC can provide me with these valuable courses and resources. These knowledge and professional qualities are indispensable in a rapidly changing society. Different cultural environments and business models can also help me broaden my international perspective.
ABOUT THE WELCOME FOR INTERNATIONAL STUDENTS
What was the ambiance like? What were the activities?
The event lasted for a whole day. After entering the venue, everyone received a bracelet with the team number marked on it. I formed a team with classmates from different countries and fought side by side. "The best dancer in the world" kicked us off with a hot dance. The ambiance was very lively. Everyone wore scarves with different logos, ran, cooperated, and solved puzzles together. I had a lot of fun!
There were many kinds of activities on the day: tangrams, a LEGO challenge, Boya Fortress, and more. I love the LEGO challenge the most, full of creativity and imagination. Some teams even built the Eiffel Tower!
Have you met classmates from different countries through the event?
Yes, I met a girl from South America, and we chatted about some Chinese dramas on Netflix. I was pleasantly surprised to find that she had been learning Chinese for six years.
Our classmates come from different countries: South America, India, Europe... Everyone is friendly and outgoing. It is a fun experience to interact with them.
ABOUT LIFE IN FRANCE
What is your impression of Lille?
Lille is a city with a lot of history, and many medieval buildings are preserved. There is a huge collection in the Palace of Fine Arts, which is very suitable for people who are interested in the theme. When you hear the bell ringing in the morning, you can feel the comfort of the slow-paced life. Now I am very much looking forward to the arrival of winter.
The location is also convenient. We are at the heart of Northern transportation, it is quite easy to travel from Lille to Paris, Belgium, Brussels, and London.
How are the meals provided by the school?
Chicken skewers are the best in the world! I think the desserts are delicious too – apple pie and chocolate cakes.
You have just arrived in France, is it comfortable to live and study here?
I feel that I am relatively comfortable because many procedures can be completed online, which is similar to how it is done in China. Coupled with the guidance of the International Students Office and the help from other students, all kinds of problems can be solved easily.
I also met a lot of kind passersby in France – when meeting a technical failure on the tram, taking the wrong bus, ringing the bell at a stop, returning a supermarket trolley, etc. – all these occasions, I got help from the people around me.
Any plans for the near future?
I plan to travel around Europe in my free time.