Charpak Master's Scholarship: the benefits are susbtantial
After a few years of work experience, Annie Abraham decided to join the MSc in Corporate Finance & Banking in 2022. She wanted to seize all the opportunities of professional growth offered by EDHEC. She is the recipient of the Charpak Master's Scholarship and the EDHEC Women in Data Science & Finance Scholarship.       
Reading time :
8 Nov 2022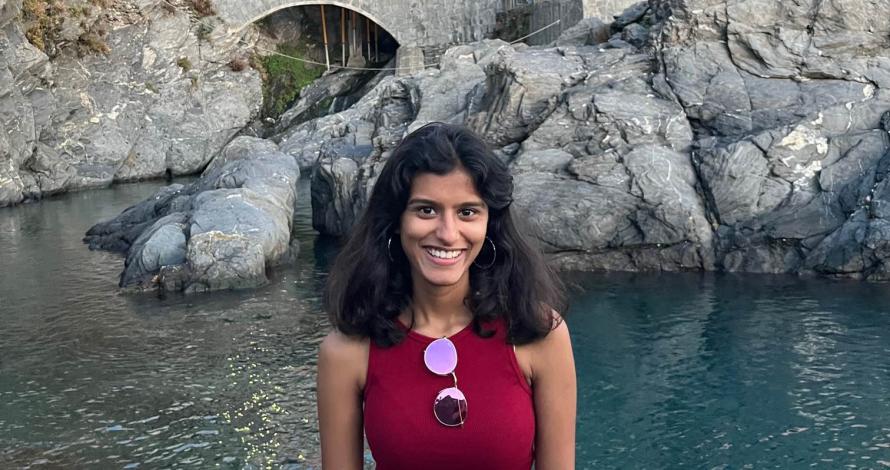 What is your background prior to EDHEC?
I worked at the Boston Consulting Group (BCG) in Bangalore, India for 3 years before joining EDHEC.
You have three years of work experience in India. Why did you decide to go back to school? What do you hope to achieve by joining the Master's in Corporate Finance & Banking?
It was not an easy decision leaving a good job to go back to school, but I knew that I wanted to upskill myself for a successful long-term career in the financial services industry. Joining the Msc in Corporate Finance & Banking, I hoped to benefit from the challenging coursework, renowned faculty, inter cultural interactions with students across the globe, and also, the strong alumni network of the programme.
How did you learn about the Charpak Master's Scholarship?
I read about the Charpak scholarship on the Campus France website.
How was the process of applying for the scholarship?
The application process is straightforward, yet quite detailed. I had to upload several documents and provide details about my education, achievements, background, and work experience. Further, I had to write essays to 3 questions on topics such as my motivation to study in France, my future goals, and reasons for choosing my university and programme.
How long did you wait for the results and how did you find out that you had succeeded?
I waited for about 2 months from the application deadline to find out that I had succeeded. I was sent an email by the Embassy that the results had been published, alongside a link to a document with all the names of selected students.
How does it feel to be chosen among thousands of candidates?
It definitely feels out of this world. The benefits associated with the scholarship are substantial, so I was very overwhelmed when I first found out.
You also benefitted from the EDHEC Women in Data Science & Finance Scholarship. What is your view on gender balance in the finance field?
I would say it is quite disheartening to see the kind of gender gap that exists in financial services, especially in fields such as Trading or Private Equity. However, I do think that the disparity is only going to get better henceforth, as a large majority of firms increasingly have initiatives aimed at reducing this gap.
Do you have some tips to share with students willing to try, and get the Charpak scholarship?
I would say, focus on bringing out your authentic self through your essays. It is essential to highlight what studying in France, and specifically your university, means to you, and also how it will have a positive impact on your professional and personal life.
--------
> What are the benefits of the Charpak Master's Scholarship?
The Charpak Master's Scholarship is designed for one to two years (September - June, 10 months per academic year) of studies in France at the Master's degree level for all streams and fields of study. The awardees benefit from a monthly living allowance of 700 euros, a tuition fee waiver up to 5000 euros, an assistance to find affordable student accommodation (priority access to CROUS residencies, subject to availability) and student visa and Études en France fee waiver.
More details on the scholarship, click on the link.
> What is EDHEC's Women in Data Science & Finance Scholarship?
Women are underrepresented both in Finance and Data Science. To empower and encourage them to build up their expertise and pursue a career in both fields. EDHEC Business School offers a dedicated scholarship: the Women in Finance & Data Science Scholarship. "EDHEC Business School takes pride in the great diversity of its student body. The Women in Finance and Data Science Scholarship is a new step towards more inclusivity in our school and beyond. It is our duty as a leading international business school to empower women into embracing promising careers in fields where the gender imbalance is still too significant," says Michelle Sisto, Associate Dean of Graduate Studies.
The scholarship covers 35 % of the tuition fees.
--------