Develop your international leadership skills with EDHEC's Global MBA
Alongside Entrepreneurship and International Finance, Global Leadership is one of the specialization tracks available to EDHEC's Global MBA students. It started in April, with a week of classes on…
Reading time :
4 May 2017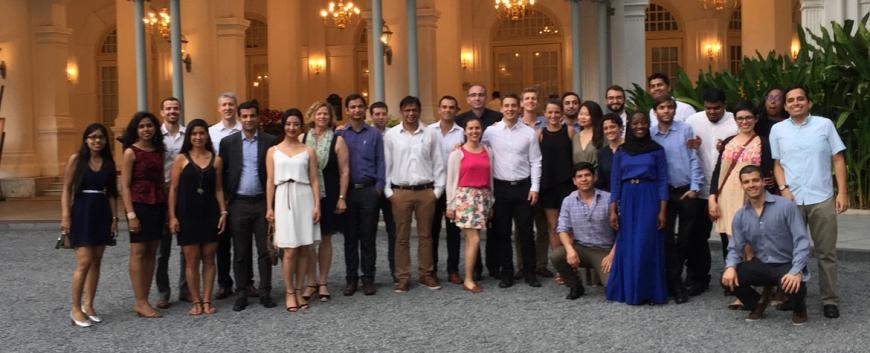 Alongside Entrepreneurship and International Finance, Global Leadership is one of the specialization tracks available to EDHEC's Global MBA students. It started in April, with a week of classes on EDHEC's Nice campus followed by a one-week business trip to Singapore. An opportunity for these executives and entrepreneurs from all over the world to open up to new trends in international strategy and learn how to manage multicultural teams.
The EDHEC MBA Global Leadership Track
The Global Leadership track opened with a week dedicated to: "Strategy 3.0: Anticipating global trends and emerging technologies". In this class, Professor Karin Kollenz, PhD, addressed the disruption phenomenon that occurs when technological innovations or new business models revolutionize entire business sectors – we may give the example of the way the music industry was transformed by digitalization. MBA students examined the different strategic options companies can resort to when their market is disrupted or to become disruptive themselves, a key challenge for today's global leaders. Then, to understand how these principles are implemented on the ground, they flew to Singapore the next week for an exceptional business trip, to meet Singaporean and international companies.
Multicultural Singapore, a large-scale business case
"Singapore's dynamism gives hope to managers from emerging countries and fresh ideas to the ones working in more mature economies." Pierre d'Huy, Director of EDHEC's International Programs.
A gateway to Asia, Singapore is a cosmopolitan country where very different nationalities collaborate daily. A particularly interesting model for the professionals of the Global Leadership track, who wish to give their career a multicultural dimension: "This hands-on experience has helped me realize how diversity contributes to greatness", explains Claudia Lomelí, one of them.
Discovering the thriving Singaporean economy also enables MBA students to go further than the usual business cases, which focus on a single company: "Singapore is a country-city that behaves like a company, explains Pierre d'Huy. It is like a large-scale business case: its dynamism gives hope to managers from emerging countries and fresh ideas to the ones working in more mature economies."
Back in France, MBA students completed their Global Leadership track with two additional weeks of training modules ("Leading Global Change through Design Thinking" and "Managing Global Projects") and team work.
To learn more about EDHEC's Global MBA, feel free to contact us: [email protected].