Discover the Business Strategy course, part of the Business Management track
EDHEC International BBA goes off the beaten track to teach its students business strategy.
Reading time :
10 Aug 2023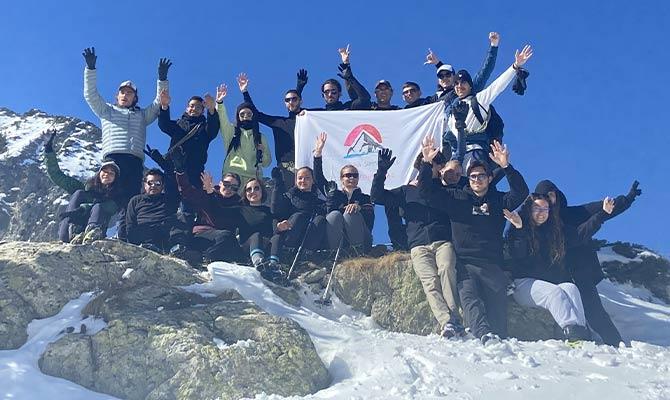 The BBA Summit is an elective that students can choose to take in their 2nd year. The course is designed to teach students how to plan, visualise, and adapt to deal with any unforeseen events they may come up against in their career as a manager. They'll need to be both flexible and quick thinking to adjust their initial project while identifying opportunities and threats, just as they will have to do later on in a company.
Philippe Very, Professor of Business Strategy, teaches the course: «It's an original teaching experience where students leave the classroom and learn in the field. It's totally in line with our learning by doing teaching philosophy. In this specific context, students have to manage difficult conditions to achieve a common goal, namely, to work as a team to climb one of the Mercantour peaks. This field experience, with its obstacles and successes, provides an excellent parallel with business and is the absolute basis of the course.»
Learning to excel in an unfamiliar environment
«We decided to do this elective in the mountains to put the students in a very challenging situation. They have to identify together how the group's resources can be used, with a single goal in mind - to reach the summit. Given the weather conditions, it's only once they're on the ground that they can take the often unpredictable environmental factors around them into consideration, as well as the terrain, and the walking and trail conditions. To complete the exercise, we ask them to prepare an action plan in advance. The aim is to confront them with the idea of working as a group to plan ahead before they leave. They then put their plan into action in the field, adapting their strategy if necessary.» Philippe Very, Professor of Corporate Strategy
Our students share their experience
«I expect this exercise to challenge me physically and mentally, so that together we can reach the summit, despite all of our different levels. The exercise gets us to work on our capacity to adapt. Together we have to find a shared pace and adjust our strategy according to the difficulties we encounter so as to achieve the team objective. Other essential qualities in the business world are also brought to the fore, such as team spirit and analytical skills.» Léna Gerstle, 2nd year Business Management Track student
«We're a little tired, but the most important thing in this exercise is mental fitness. Yesterday, we had a tough climb to get to the refuge, and we weren't necessarily physically ready, but we all managed thanks to the group cohesion, supporting each other and helping each other out. Today, we're getting ready to climb to the summit, and we have to deal with the cold and the difficult terrain. For my part, I'll remember this project as one in which we managed to unite the group - despite our differences - so we could all achieve our goal together. This two-day elective gave me a new experience that I was able to share with my fellow students, and it will stay with me forever.» Nathan Adhoute, 2nd year Business Management Track student
«I chose this business strategy course because I found it very different from the other subjects on offer. For this elective, we have to rely more on our soft skills such as pushing the boundaries, solidarity and team spirit - essential qualities for a managerial position. And as a Franco-Irish woman, the experience also allowed me to discover the Mercantour region. It's so rewarding to learn in an environment other than a classroom, and it has strengthened the ties with my classmates.» Louise Callens, 2nd year exchange student, Business Management Track
A course in line with their study plan
The course gives students a good grasp of the notions of corporate strategy. In facing up to an unfamiliar environment, they are able to demonstrate their flexibility and to develop group cohesion to achieve their goal. These are qualities they will need throughout their careers. In the 3rd and 4th years, the students will have an opportunity to extend their knowledge through strategy courses such as Management and Responsible Entrepreneurship, Entrepreneurship, Strategy and Supply Chain 4.0.